The Century Mark — Rasmus Sandin, Jamie Drysdale, Jake Bean
Alex Wyatt
2022-03-28
Every month, Alex Wyatt digs into some players who have reached the 100 NHL games played threshold, as this is the mark, or near it, that many leagues use as their threshold for players casting off their minors eligibility.
Rasmus Sandin, 22 — LD (Toronto Maple Leafs)
Sandin has finally arrived in Toronto, to the exultation of a fanbase who has been hearing about the bounty of high ceiling defensive prospects who have seemed to be stuck in the AHL for ages. But on the top-heavy team, with the "Big Four" receiving just about 50% of Toronto's cap hit, the Leafs are going to need contributions from their young, high-upside players, not only to carry the torch when their mainstays enter their 30s, but to slot in around the big contracts and complement them.
The opinions out of Leafland on Sandin thus far are that he is acclimating well, and will always find himself behind the likes of Morgan Reilly, who has played 70% of his even strength minutes next to TJ Brodie, and 99% of his PP time by himself (96.5%) or with Brodie (2.5%).
He doesn't project as a defensive defenseman either, so those assignments go to Muzzin and Holl, who might not look like they deserve it much this season. So what do we fantasy owners and the Toronto Maple Leafs have in Sandin, as he approaches the Century Mark?
He is currently injured, and will be out for the "foreseeable future" after sustaining a knee injury, just several games into his return from another knee injury.
Sandin has been playing mostly with fellow neophyte Timothy Liljegren (30% of his even strength minutes), the now-Canuck Travis Dermott (28%) and the slow-starting Justin Holl (17%). When he is used on the power play, he usually patrols the blue line alone — 93% of his 64 minutes of power play deployment.
In terms of his play driving, he has fantastic numbers, both in general and relative to his teammates. He is being sheltered more than most Leafs blueliners, playing against a lower quality of competition than all but the elder statesmen who patrol the fourth line. He also gets most of his shifts starting in the offensive zone. He's doing great with the deployment, as his circle is blue (positive relative corsi), and darker than Morgan Reilly's (more positive), though larger (more ice time) than Liljegren's, which shows slightly better relative corsi numbers despite less ice time.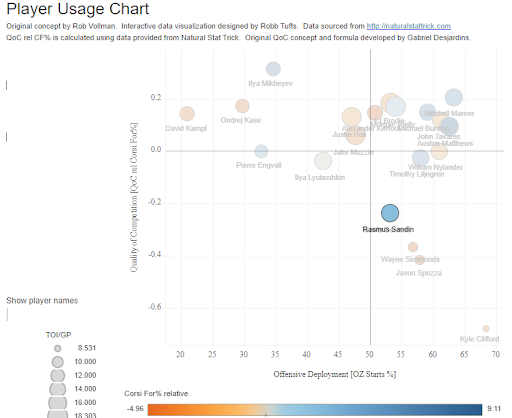 Sandin is getting great matchups, more minutes than previously in his career, but still playing less than 20 minutes a night. Toronto isn't throwing him to the wolves, and he is rewarding that deployment by performing well with it, in general and relative to his peers.
Performance-wise, Sandin is sitting right on his NHL career average of 0.32 points per game — he's at 0.31 this season, but we'll spot him that .01 — but is seeing much more use this season, averaging just about 17 minutes a night prior to being injured. For leagues that count hits and blocks, he is providing 1.75 hits per game, and 0.75 blocks, not bad for an offensive defenseman, while giving us just under a shot per game. His shooting percentage this season (10.3) is higher than his NHL career average (7.8%), but in between his AHL rate (8.8%) and OHL rate (12.8%). It may be possible as he is gaining confidence and experience, his NHL shooting percentage could sustain or just slightly underperform current levels.
Sandin never shot the lights out at any point in his career, and hasn't paced for more than 12 goals per 82-game season going back to his season with Brynäs in the J20 SuperElit league in 2016-17.
Fantasy managers will be happy to take all the assists they can get — especially if he were to get deployment on the power play — but may want to temper any all-out offensive power coming from Sandin.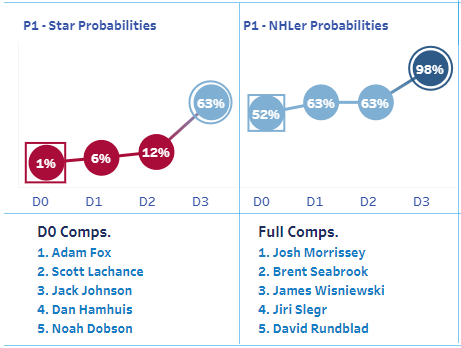 Sandin's draft-year (D0) comparables have some names that might catch your eye in Noah Dobson and point per game threat Adam Fox, but the names have calmed down as his development has progressed to the reliable Morrissey and Seabrook.
You will notice a remarkable jump in his Star Probability (a measure that gives the likelihood of producing at a 0.45 points per game, or a 37 point season pace for his career), that goes along with an increasing trend in his D0-D3 years.
With Morgan Rielly signed through 2030, it's safe to presume he will be the top power-play quarterback for that duration, barring an injury, a trade, or Sandin outperforming Rielly, which will leave Sandin as the heir apparent for the second unit. He certainly looks like a safe bet to be a 40-50 point defenseman who drives play well, and one may be wise to value him as such until he gives us hope for more or concern for less.
I would feel very comfortable keeping him on my roster — or my IR currently, unfortunately — as he crosses the Century Mark, and would look to acquire him if the manager in your league doesn't have room or is down on his injury luck this season.
If you have someone willing to pay the Blue and White premium for him, and you can receive 50+ point defenseman value from a player more established, you might be wise to inquire.
Jamie Drysdale, 20 — RD (Anaheim Ducks)
Since the lead up to his draft year Drysdale has been touted as the top defenseman in the entire draft, with Elite Prospects' 2020 Draft Guide stating: "He's the only defenceman in this draft with clear No. 1 upside". I recall plenty of my poolies scoffing at Ottawa taking Jake Sanderson at fifth overall, leaving Anaheim to lap up Drysdale next. He's currently sixth out of every player in his draft class in terms of total points produced, not bad for a defenseman who is still 19 years old as of this writing.
It sure seems the Ducks got a winner to lock down the defense as forward Trevor Zegras is already showing signs of stardom, and exciting young forwards Sasha Pastujov and Jacob Perreault carry their weight in their leagues. Goalie Lukas Dostal looks like a surefire keeper who can tend the twine when incumbent John Gibson is ready to hand over the reins.
So what does that mean for you, if you hold Drysdale on your farm squad right now as he approaches the Century Mark?
One could argue that it would be hard to roster Drysdale currently, as he is pacing for roughly 30 points on the season, if your team is competing for a championship, or if your rosters aren't particularly deep. However, you will notice something very interesting about his deployment in Anaheim this year.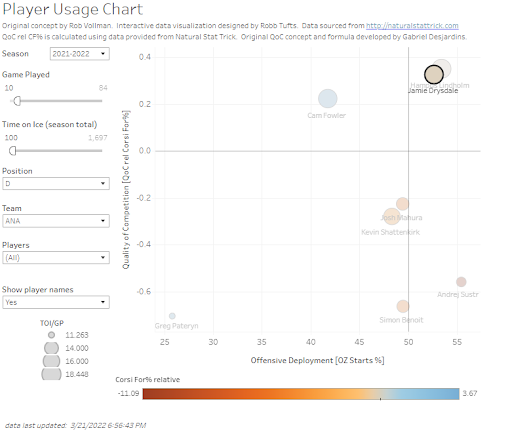 I was not surprised to see that Drysdale gets the majority of the offensive zone starts, and that his circle is similarly toned to Hampus Lindholm's and stacked on top — the two have been paired together for 83% of Drysdale's nearly 1000 minutes played this season- but I was surprised to see that he is not being sheltered at all.
Being North of the zero line means that a player is playing against competition with higher relative Corsi-For, and while his individual numbers are sub 50%, his numbers relative to other Ducks defensemen are better than everyone but Cam Fowler. Now that Lindholm has been traded, the Ducks are going to rely on him even more than it appears they already were. Expectedly, Drysdale has been playing with Cam Fowler since Lindholm moved.
If you're a Drysdale owner, you can expect that he is going to be given a tonne of deployment, and if your league rewards the counting stats that defensemen provide, hits, blocks, shots, assists, minute-munching defensemen will provide them in spades. Drysdale is already playing nearly 20 minutes a night, against a high quality of competition, and performing decently. I've heard some rumblings recently about the legitimacy of Drysdale's offensive ceiling, and if he were to be turned to for playing tough minutes against better competition, that could be a legitimate concern, but Drysdale is not a shut down defenseman.
He was recently one of a handful of defensemen mentioned in Dobber's 28 Defensemen Who Could Reach 80 Points article, Dobber himself questions his offensive ceiling, but the fact that he is included in the list at all, you can see where even tempered expectations put him. 
Drysdale is providing decent points through assists, as he is a playmaker with vision more than a scorer with a cannon. He plays 20 minutes a night and is averaging less than a block and less than half a hit per game, which can be explained by the fact he starts more than half his shifts in the offensive zone, where hitting wouldn't be a defenseman's modus operandi. Interestingly to the optimist, and concerningly to the pessimist, he is taking just over a shot and a half a game.
Perhaps he had been more focussed on setting up Lindholm (2.0 shots per game) and could get the shot more frequently when he pairs with Fowler (1.7 shots per game with more ice time than Lindholm). Digging into the shots per 60 for Drysdale shows he's increased from 3.6 shots per 60 minutes of ice time to 4.7 this year. 
On the topic of shots. Drysdale owned a 6.3% shooting percentage across 114 OHL games, and is sitting at a 4.6% rate thus far in 88 NHL games (his 11.1% in 14 AHL games is too small a sample size to rely on). Part of the reason his percentage looks so low in the NHL is he is shooting a relatively unsustainable 2.9% this season. Last year in a 24 game stint with the Ducks, he was shooting 10.7%. Were he even just to have fired at his OHL rate, which is a very reasonable percentage to expect, he'd have 6 goals, doubling his output this year.
He'd have 10 goals, putting him at a 40 point pace, if he shot last year's pace. It's a bit too early to reliably hone in on Drysdale's shooting percentage at the NHL level, but an argument could be made that even though he's a pass-first point man, he should have more goals than he does. With him being still so young and the Ducks being a team on a very strong come-up, he's a great player to target as a buy low if your league's manager has lost sight of what he has in Drysdale. 
In the end; Jamie Drysdale has been a long-touted top-end prospect defenseman, coming up on a team that is teeming with young offensive talent. The thought of Drysdale patrolling the power-play blue line with Jacob Perrault and Trevor Zegras up near the net is a fantasy manager's dream.
One play I would be interested in making, were I a Drysdale holder, would be to acquire Olen Zellweger to help hedge any bets. Zellweger has been on an absolute tear in the WHL, and should he end up being the offensive dynamo he is looking to be, and Drysdale does become more of an all-weather tire, you will be certain to hold the Ducks' PP1 QB no matter who ends up with the spot. 
Jake Bean, 23 — LD (Columbus Blue Jackets)
Jake Bean has likely been a name you have been seen bandied about in prospect posts and league chat rooms, but never really got to crack the lineup in Carolina, despite no clear cut offensive dynamo on their blue line during his tenure. Now that he is in Columbus, behind Zach Werenski and the oft-injured Adam Boqvist, what should you do with him if he is ticking closer to the Century Mark while stashed on your farm squad?
At almost 24 years old, Bean will likely be among the older prospects we discuss in this column, and is still looking to make his mark in the NHL, now with his second team, the Columbus Blue Jackets. He wasn't able to find regular playing time in Carolina, and was famously exposed — and even more famously passed over, in the Seattle expansion draft- and then shipped to Columbus for a second-round pick. I blame Seattle's poor decision-making more than Bean for that snub, but it's not a positive sign to see Carolina so interested to move on from him, and an expansion franchise disinterested in him. 
In his draft year, he was highly rated, with good reason, putting up a 60+ point pace as a 16 year old in the WHL and beating that mark every year after, finishing his WHL career with a 73-point full-season pace. He was seen as a puck carrying offensive defenseman who was not a slouch in his own end. Passing was the main aspect of Bean's game, as he only broke the 15-goal mark once, with 24 goals in his 17 year old season in the WHL.
Bean transitioned to professional hockey well, establishing himself with the Checkers, and showing why his Star Probability popped on his Hockey Prospecting chart, with a 51 point pace season (13 goals and 31 assists for 44 points in 70 games) as an AHL rookie. He proved it wasn't a fluke, showing growth with a 66 point pace follow-up season (10 goals and 38 assists for 48 in 59 games).
This budding stardom has not translated to the NHL however, as in 2020-21 with Carolina, he scored one goal and 11 assists in 42 games, and is at five goals and 13 assists in 51 games this year. Some adjustment is to be expected for a young player jumping into the NHL — there is a reason why Cale Makar is so special after all. 
We can see that this year, playing roughly 20 minutes a night, his overall Corsi is sub-50%, meaning that Columbus sees more shot attempts against than for while Bean is on the ice, but his numbers are still positive relative to his peers.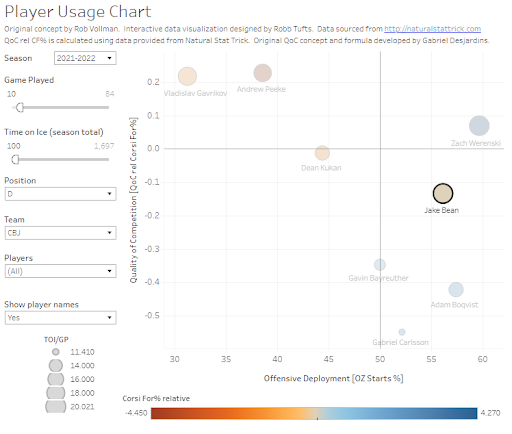 Given that more than 55% of his shifts begin in the offensive zone, against relatively weaker play-driving competition, having more shot attempts taken against than for might be a bit of a concern. That he has seen more than half of his even-strength playing time partnered with Zach Werenski who is very strong (dark blue circle) is more puzzling.
Currently, Bean is providing fantasy managers a 28 point pace, half a PIM, and just under a shot and a half, half a hit, and a block and a half a game. These aren't exactly world-class numbers, but decent enough production if your rosters are deep enough to give your last defensive spot to him. Each one of those categories shows an improvement over his production in Carolina last year, which is to be expected with an increase of six minutes of ice time a night.
Interestingly, Bean is seeing his overall time on ice drop as the season goes on, but seeing an uptick in his PP time. 

He's played the vast majority of his PP time (76% for a total of 35 minutes) as the lone blueliner on the PP, with a goal and two assists to show for it. Unless he really carves out a niche as a power-play specialist, which he hasn't done yet, Werenski and even Boqvist are more apt to get the PP deployment.
Bean is shooting about 6% this season, which is right around his 7.5% rate in the AHL, and above his career NHL average of 4.2% across 92 games. It doesn't really show that he's waiting to break out there or is experiencing bad puck-luck(in fact, his PDO is almost precisely neutral over his NHL career). This makes it all the more difficult for a manager facing dedicating a pro keeper spot to him when his minors eligibility runs out.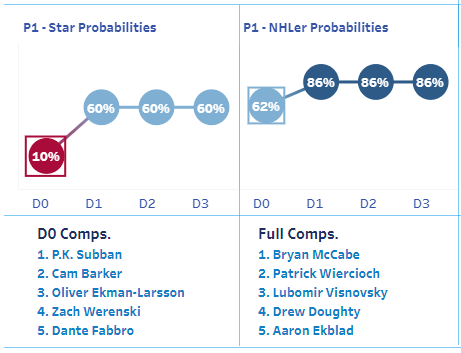 As mentioned, Bean is almost 24, and given his tenure, he has aged out of the Hockey Prospecting chart. You can see why he was such a hot commodity for a period, given his leap in Star Probability, and high-rated NHL probability (likelihood to play 200 NHL games). His draft-year season would have been 2016, and now, 5+ years later, it seems like he has stalled out on reaching his star potential, but should still see his 200th NHL game come to fruition.
Seeing a top tier defenseman like Ekblad under the Full Comps section might make a manager nervous to sell Bean for an underwhelming return, though it doesn't appear that you're sitting in a position to get a 50 point defenseman level return for him. The massive leap in his Star Probability from D0-D1 was a great sign, but the fact he plateaued from then on suggests he stalled out in growing, although maintained consistency.
Perhaps the wisest move would be to test the waters in your league, bring him up in conversation and read the room. Maybe there is a team in your league who is rebuilding and would view Bean as a high potential acquisition to build around, and you could get a prospect who still has a long tenure left of eligibility, a pro to help you contend, or a pick to add to the stable in the upcoming draft. If you're a competitive enough team right now, I would have a hard time holding Bean at the expense of another pro, unless your roster is deep enough to do so. 
I wouldn't outright cut Bean, there's a decent likelihood he develops into a serviceable defenseman and you'll be kicking yourself in a few seasons, but sometimes, you need to risk selling off an asset who could end up becoming the best version of himself before he proves he won't while you are still holding him. Just as Carolina did when they traded him to Columbus.
***
LATEST RADIO & DRAFTCASTS