2022 NHL Draft Fantasy Rankings
Peter Harling
2022-03-20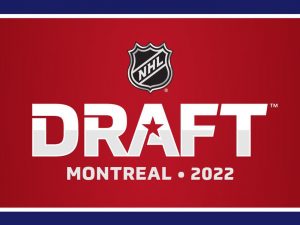 Welcome to my annual DobberProspects fantasy ranking for the NHL Entry Draft.
This draft ranking is specifically ranked for fantasy hockey purposes. There is no shortage of sources out there these days for ranking the up coming NHL Draft. The top destinations are The Hockey News, Elite Prospects, McKeens, the Athletic and of course right here at DobberProspects.
While all these outlets provide excellent rankings, analysis, and scouting reports on the top players in the draft, this is the ONLY place where the rankings are designed to help you have your own successful fantasy draft.
Another factor that helps make these rankings the best source for your draft research is the rankings are a consensus rankings with contributions from the above-mentioned sources. It takes all the hours of scouting and hockey watching from the experts and compiles them together for the best rankings for fantasy hockey you will find.
To determine the rankings, I assigned a point value to each ranking and the sum is the player's overall score. Like Golf, the lower the score the better. For example, I ranked Shane Wright and Joakim Kemell first and second. Wrights scored 1 point and Kemell scored 2. If all eight contributors ranked Shane Wright first, his overall score would be eight. I will include each players score as well after their league.
I would like to thank this year's contributors for their input.
Scott Wheeler – The Athletic – @scottcwheeler
Russ Cohen – Elite Prospects, Sportsology – @sportsology
Brock Otten – McKeens Hockey – @BrockOtten
Steven Ellis – The Hockey News – @StevenEllisTHN
Victor Nuno – Fantasy Hockey Life on Fantrax, Hockey Writers – @VictorNuno12
Nick Richard – DobberProspects – @_NickRichard
Eetu Siltanen – DobberProspects – @siltaneneetu
Peter Harling – DobberProspects – @pharling
The fantasy rankings are based on dynasty leagues considering points only scoring formats.
Shane Wright, C – Kingston Frontenacs (OHL) 11
He blends versatile skill with a heady, detailed game that will allow him to drive a line and be relied upon in all situations down the middle at the next level. – Scott Wheeler, Athletic
The shot is elite. The vision and decision making are elite. His projection is still that of a high-end top line center who can play any role asked of him.  – Brock Otten, McKeens
OHL exceptional status recipient may not have the fantasy upside of Connor McDavid or Steven Stamkos, but his Patrice Bergeron comparison give you an idea of what you will get if you win your draft lottery – Peter Harling, DobberProspects
The consensus #1 in this draft for a while now. I'm as confident in saying he will be an NHLer as I am that he will NOT be the best fantasy asset from this draft. If I had to choose, I'd easily take the field.   – Victor Nuno, Fantrax
Most complete player in the draft. Could be a two-way franchise player, with also great point production. NHL ready – Eetu Siltanen, DobberProspects
Whatever we see Wright doing on the ice is a portion of what he does off the ice. The one thing you never would question is his dedication to the sport and that will equate to a successful NHL career. – Russ Cohen, Elite Prospects
Logan Cooley, C – U.S. National U18 Team (USDP) 29
Arguably the most electrifying player in the draft, Cooley can create his own opportunities with his great speed and work away from the puck. He can beat defender's one-on-one, set up teammates, or finish plays himself. – Nick Richard, DobberProspects
Cooley is one of the most complete players in this draft. His skating, hockey IQ, shot, and defense and highly projectable to the NHL. His motor is outstanding and should help him generate points at the next level. – Victor Nuno, Fantrax
This is a player made to play in today's NHL era. His elite quickness allows him to consistently keep defenders on their heels and his vision/skill are underrated IMO. His well-rounded profile does lead to him being compared to Matty Beniers, but I actually feel Cooley's upside as an offensive player is slightly higher. – Brock Otten, McKeens
Electric center with good two-way game, who can both score goals and create chances. NHL ETA 1 year. – Eetu Siltanen, DobberProspects
As a potential top-six center in the NHL someday, speed is important. He was fast last year but that ability has reached another level. – Russ Cohen, Elite Prospects
Joakim Kemell, RW – JYP (Liiga) 35
Kemell has been the biggest riser in public draft circles since the beginning of the season. He plays an energetic game and doesn't shy away from the physical aspects but it his outstanding shot that will help him find success at the next level. – Nick Richard, DobberProspects
Kemell's a slick, play-creating winger who excels in possession, carves teams up through coverage to take play from the flanks to the interior, and possesses quick, light hands. – Scott Wheeler, Athletic
One of the best shooters in the draft. He's healthy and will only get better from here. – Steven Ellis, The Hockey News
Kemell is currently on pace for the 7th best points per game mark in Liiga history for a forward over 20 games played, better than Patrik Laine, Jesse Puljujarvi, Mikko Rantanen, Sebastian Aho, Roope Hintz, and Teuvo Teravainen – Victor Nuno, Fantrax
Juraj Slafkovsky, LW – TPS (Liiga) 36
I'm concerned about his numbers in Finland, but the toolset is there. – Steve Ellis, The Hockey News
Had a coming out at the Olympics leading Slovakia to the Bronze Medal by scoring a tournament leading seven goals. At 6-4 he also hits adding value to bangers leagues. – Peter Harling, DobberProspects
Highly skilled winger with big frame. Very good puck skills and elite ability to protect it with body. Real potential to produce points. NHL ETA 1-2 years. – Eetu Siltanen, DobberProspects
The team that drafts him will be betting on his upside, which grades at or near the very top of this class. – Scott Wheeler, Athletic
Matt Savoie, C – Winnipeg Ice (WHL) 37
when we talk about the draft's highest upside offensive players, we have to mention Savoie near the top. His blend of small area quickness, skill, sense, and tenacity makes him an incredibly dangerous player inside the offensive zone. – Brock Otten, McKeens
Electric dual-threat, who can score a lot of goals and create scoring chances. Good value pick for fantasy leagues, as might have the highest offensive upside of the class. NHL ETA 0-1 years. – Eetu Siltanen, DobberProspects
I see a dynamic, high-tempo, top-six, goal-creating package. He's an exciting talent in a draft that's short on them. – Scott Wheeler, Athletic
Savoie is undersized but possesses high-end offensive ability. He is more elusive than he is fast, but he knows how to find and create space for both himself and his teammates. I'm not sure he sticks in the middle at the NHL level, but his offensive talents should translate. – Nick Richard, DobberProspects
Frank Nazar, C/RW – U.S. National U18 Team (USDP) 62
Nazar will be one of those players that pundits look back on when they re-draft 2022 and decide that too many teams passed on him and then wonder how it happened. He's that good. – Russ Cohen, Elite Prospects
His offensive tools are all excellent with maybe only his IQ being elite. He can do it all offensively and could end up being the highest point getter from this class – Victor Nuno, Fantrax
He's not large and he will need to improve his ability to play through contact, but the offensive upside is probably as high as anyone in this draft class because of his skating ability, skill, creativity, and ability to blend all three. – Brock Otten, McKeens
Nazar is a shifty, versatile forward who plays the game at a high pace. He has great hands and can play through traffic in the offensive zone, but he is dangerous off the rush as well. He may take a bit longer to reach his potential, but he has plenty of it. – Nick Richard, DobberProspects
Danila Yurov, RW – Metallurg Magnitogorsk (KHL) 72
Has first line potential, great vision, and offensive creativity. Inconsistency in decision making and performance raises some question marks. – Victor Nuno, Fantrax
Don't let Yurov's lack of KHL production fool you – this kid has plenty of offensive talent. He plays a bit more of a straight-ahead game but his pace and ability to make plays under pressure stand out. With greater opportunity, those talents will shine through. – Nick Richard, DobberProspects
Limited minutes in KHL have kept him off the score sheet, but 11 points in U18 and well over a point per game in the MHL. He is a player to watch when the WJC returns in August – Peter Harling, DobberProspects
He may not become a star, but he's got projectable top-six tools. Now it's just about getting a real opportunity in the KHL (one which has not been afforded to him to date). – Scott Wheeler, Athletic
Jonathan Lekkerimaki, RW – Djurgardens IF (SHL) 85
Great goal-scorer with very good upside. Threat on even strength and PP. Has a good toolkit all-around. Needs 1-2 years before jumping to the NHL. – Eetu Siltanen, DobberProspects
He's got A-level hands, a deceptive release, and a slyness to his game that allows him to get to spots to score with and without the puck. With the right development and patience, he's got clear upside as a top-six creator off the flank. – Scott Wheeler, Athletic
Very young for this draft class (18 on July 24) so plenty of room to grow. If he hits his full potential, could be a 30-30 guy or more – Victor Nuno, Fantrax
Since 1990, only one U18 player has scored 10+ goals in the SHL (Markus Naslund). Lekkerimaki has a chance to hit that mark. Great company to keep. – Brock Otten, McKeens
Simon Nemec, D – HK Nitra (Slovakia) 85
Best defender available in the draft. Great two-way skills and potential to produce points. One of the smartest players I've ever seen at this age. NHL ETA 0-1 years. – Eetu Siltanen, DobberProspects
Let me be clear. I think Nemec is the top defenseman available this year. He deserves to be in the top 5 of the draft. However, if we're talking about points only future projection, he's not at the top. – Brock Otten, McKeens
Nemec is a top five ranked prospect on almost every draft ranking. But this is a fantasy ranking and that drops his value. Let others in your league that did not read this article burn a top five pick on him. – Peter Harling, DobberProspects
Brad Lambert, C/RW – Pelicans (Liiga) 86
You can't deny Lambert's talent base. Scouts know what he is capable of, and the tools are all there. It's just a matter of time for it all to click. – Russ Cohen, Elite Prospects
Lambert was supposed to be a top-3 pick but after a difficult season and lots of red flags around him, I'm not sure about his point producing potential. More of a playmaker than a shooter, very strong transitional player. NHL ETA 1-3 years. – Eetu Siltanen, DobberProspects
The 18-year-old may be struggling on the big ice in the Liiga, but he exploded on smaller ice vs his peers in two WJC games with five points. He could be sneaky good fantasy value in a fantasy draft if he falls outside the top ten of your draft and then explodes on the small ice in the NHL – Peter Harling, DobberProspects
He's an excellent skater and transition player. He needs to round out the rest of his game, but if he does, he could be a player teams regret passing on. – Victor Nuno, Fantrax
David Jiricek, D – Skoa lzen (Czechia) 95
Two-way defender with good toolkit, great size and good physicality. Solid point-production upside. Not far from NHL ready but since he misses the whole second half of the season, he definitely needs a season in AHL or Europe before NHL. – Eetu Siltanen, DobberProspects
I think Jiricek is unquestionably one of the top defensemen available this year. However, it's also fair to say that other defenders have higher offensive ceilings than him. The good news is that it sounds like he'll be able to return to action before the U18's, recovering from the knee injury he suffered at the WJC's. – Brock Otten, McKeens
you could get amazing value for him if he falls to the latter half of the top 10 or even beyond 10 in your draft as he might fall in the NHL draft too. – Victor Nuno, Fantrax
Conor Geekie, C – Winnipeg Ice (WHL) 103
He's a legitimate prospect with a desirable set of skills, though — skills that give him clear middle-six upside and value at both ends, even if he's not going to be a top-line player. – Scott Wheeler, Athletic
I think he can be a long-time pro player and someone who can be an integral part of an NHL lineup, but when it comes to offensive potential, he's just a step below a few of the other top forwards available. – Brock Otten, McKeens
His skating stride and overall pace still require improvement but his puck skills, shot, and offensive vision are worth taking a swing on. It doesn't hurt that he has the size NHL teams covet down the middle. – Nick Richard, DobberProspects
Big, strong center with great puck skills and ability to produce points, but problems with skating. Many NHL teams will be fighting over him, probably pretty high in the draft. NHL ETA 1-2 years. – Eetu Siltanen, DobberProspects
Isaac Howard, LW – S. National U18 Team (USDP) 108