Way Too Early 2026 Olympic Roster Predictions – Finland, Sweden & Russia
Kyle Watson
2021-12-06
Two weeks ago, I looked at how Team Canada and USA could line up at the 2026 Winter Olympics in Italy. In terms of overall depth, the North American nations certainly look like the teams to beat. However, the European nations are certianly on the come-up and anything can happen in a tournament format. Should each team's respective group of prospects pan out, the 2026 Olympics could be one of the most-entertaining and greatest displays of talent in the history of the sport.
I decided to enlist the help of our scouting team for this article, as they have thoroughly evaluated the players on these rosters and tracked their development much more closely than I thus far. Make sure to give them a follow on Twitter to stay up to date with each nation's prospects.
Finland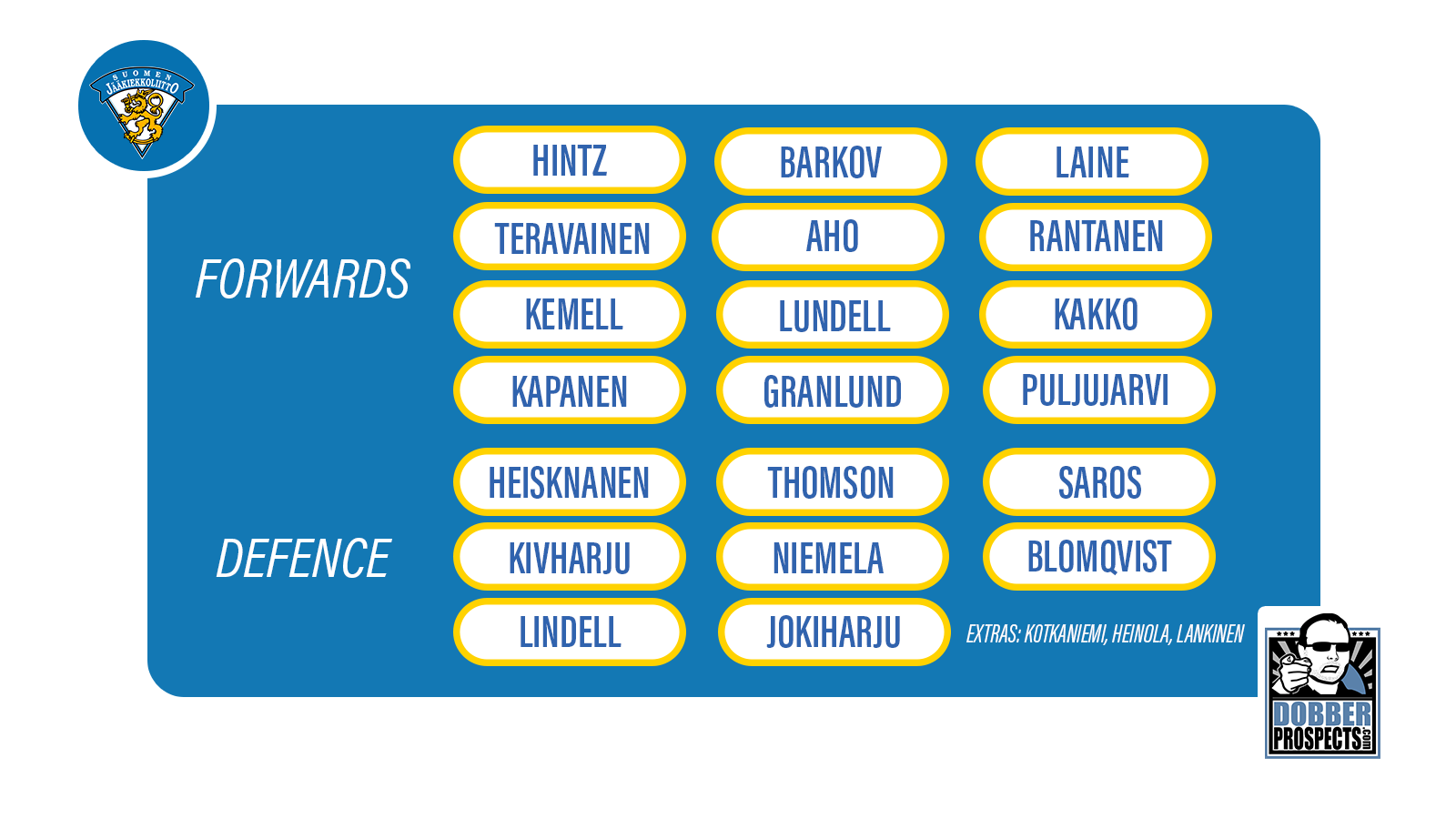 Forwards
Much has been made of Finland's recent success at the World Junors – they won three gold medals between 2014 and 2019 – and this team will boast many of those tournaments' stars. In the very likely event that 2022 eligible Joakim Kemell is picked in the first round, the entire forward group besides Aho and Hintz will consist of first rounders. This is a team of some of the brightest stars the country has ever produced and expectations will be high.
Barkov, Aho, and Rantanen are three of the best players in the world right now and will still be very much at the peak of their powers in 2026. Kakko, Puljujärvi, Kotkaniemi and Laine are all wildcards to an extent, but should they all come to their own in four years' time, they will all have to fight for places in the top-six.
In terms of recent prospects, Anton Lundell looks primed to be a two-way force and should be one of the team's penalty killers. The aforementioned Kemell is a highly-skilled winger who plays with a high level of creatitivy and confidence and Brad Lambert has been fighting with him this season to be the first Finnish player selected in the draft. Both could very well find themselves in this team.
Defense & Goalies
Defense is where things become uncertain for the Fins. Miro Heiskanen will surely lead the way but beyond that, they will need their prospects to pan out. Myself and our Head of Scouting, Eetu Siltanen, have agreed on a group that can move the puck very well but lacks a true shutdown prescence.
In net, they have Jusse Saros, who has recently solidified himself as the starter in Nashville and one of the league's best goaltenders. Penguins prospects Joel Blomqvist has looked excellent in his DY+2 season in Liiga and should challenge him for icetime.
Outlook
Things are just getting started for Team Finland, who will send a very strong but young team to Beijing in 2022. However, the defense will likely need a massive overhaul in four years' time. Miro Heiskanen will still be the leading defender in 2026 and will probably have been nominated for the Norris Trophy at least once. New names like Topi Niemelä, Ville Heinola, Lassi Thomson, as well as top 2024-eligible Aron Kiviharju will likely break into the team should they continue to develop as they have been. The forward group should remain mostly the same in 2026 – but it probably will only get stronger. Names like Barkov, Rantanen, Laine, and Aho will lead the group and Mikael Granlund will probably bring some experience. Roope Hintz is developing well and could be a great top-6 player as well. Anton Lundell will probably be an elite player along with 2021-eligible Joakim Kemell. Kaapo Kakko is still struggling a bit but I have high hopes for him developing a really good player as well. I think Finland will have their strongest team in ages for the 2026 Olympics and they always get an extra kick when they play together. – Eetu Siltanen – Head of Scouting (@siltaneneetu)
Sweden

Forwards
Elias Pettersson may be struggling this season, but make no mistake, his potential is still sky-high and he will likely be this team's star.
The 2002-born trio of William Eklund, Lucas Raymond and Alexander Holtz are all touted to be superstars and could play bigger roles than myself and Swedish scout Alexa Potack have them in here.
Defense & Goalies
The d-core consists of a balance of veterans and players that will be entering their prime in 2026. Hedman, Klingberg, Karlsson all fit the protypical new-age defenseman that Sweden has done so much to create. Rasmus Dahlin, Rasmus Sandin and Simon Edvinsson all play in a similar mold and round out what could end up being the best defence in the tournament. If one of the older guys isn't playing well enough late into their 30s, Sweden has a long line of replacements available.
It's a similar situation in goal, with 2021 first-round pick Jesper Wallstedt starting over current Vezina frontrunner Jakob Markstrom.
Outlook
Sweden's 2026 roster is going to be a strong team, certainly. Assuming the veterans core stays in good shape, I could see Landeskog, Zibanejad, and Hedman being impact players, similar to what they are today. For the younger members, it will be many of their first Olympics – the exception to that being Lucas Raymond, who very well may find himself on the 2022 roster. I expect him to be a strong player on this year's team, so the expectations for him in 2026 will be high. Additionally, I could see Edvinsson and Eklund specifically having strong performances at the games. All of the 2021 draft class members on this team will be 22 or 23 but those two stand out as the most mature or professional-career ready. However, the most important piece of the youth is going to be Jesper Wallstedt. Everything so far has shown that he is on a path to being an outstanding goaltender and in his early twenties, he'll be ramping up to his prime. Overall, I could see Team Sweden being very competitive at the games and when you look at the playing style of this roster, it's going to be very fun to follow along! – Alexa Potack, Swedish Regional Scout (@alexa_potack)
Russia
Forwards
It's a similar situation in 2026 to today with Russia, who possess an incredible amount of skill on the wings and in net but lack depth at center and on defence.
Although Kuznetsov, Malkin and Kucherov will be past their prime, having electric talents Matvei Michkov, Kaprisov and Svechnikov alongside them should help form a very strong top-six.
2021 first-round pick Fedor Svechkov will likely be thrust into an important role as the third-line center.
Defense & Goalies
Russian scout Zack Szweras and I had a hard time arriving at what the defense will look like in Italy. Orlov makes the team as a 34-year-old but may very well be replaced by a prospect like Daniil Chayka. Artyom Zub, Alexander Romanov and Yegor Zamula have looked good as North American pros thus far but will have to show consistency over the next four years for me to be confident in this backend.
Luckily for the Russians, they have without a doubt the best pool of goaltenders in the world right now and that should remain the same in 2026. Beyond the goaltenders listed on our roster, there is still  Samsonov, Sorokin, Georgiev, and 2022-eligible Sergei Ivanov.
Outlook
The 2026 Russian Olympic team is transitioning into a new chapter for international hockey. With superstars like Ovechkin and Malkin aging, it is time for a new era of phenoms to make their mark. Taking a look at the projected roster, Russia's biggest strengths will be their sturdy goaltending and the amount of skill they have on the wings. Russia will most likely have the tournament's best goalie tandem in perennial Vezina candidate Andrei Vasilevskiy and highly-touted prospect Yaroslav Askarov. This new era of Russian superstars will consist of Minnesota's Kiril Kaprizov and the best Russian prospect since Ovi, Matvei Michkov. While Russia will still have loads of talent and firepower, there are a few glaring holes in the team: through the middle of the ice and on the back end. There are very few elite center and defense prospects on the rise in Russia. It will be up to aging players like Kuznetsov and Malkin to step up and complement the dynamic wingers. Russia has never had amazing defencemen, however, their strength in net will hopefully make up for it. Russia will be a major force that should medal in the 2026 Olympics. – Zack Szweras, Russian Regional Scout (@Zack_Szweras)
LATEST RADIO & DRAFTCASTS