Way Too Early 2026 Olympic Roster Predictions – Team Canada & Team USA
Kyle Watson
2021-11-20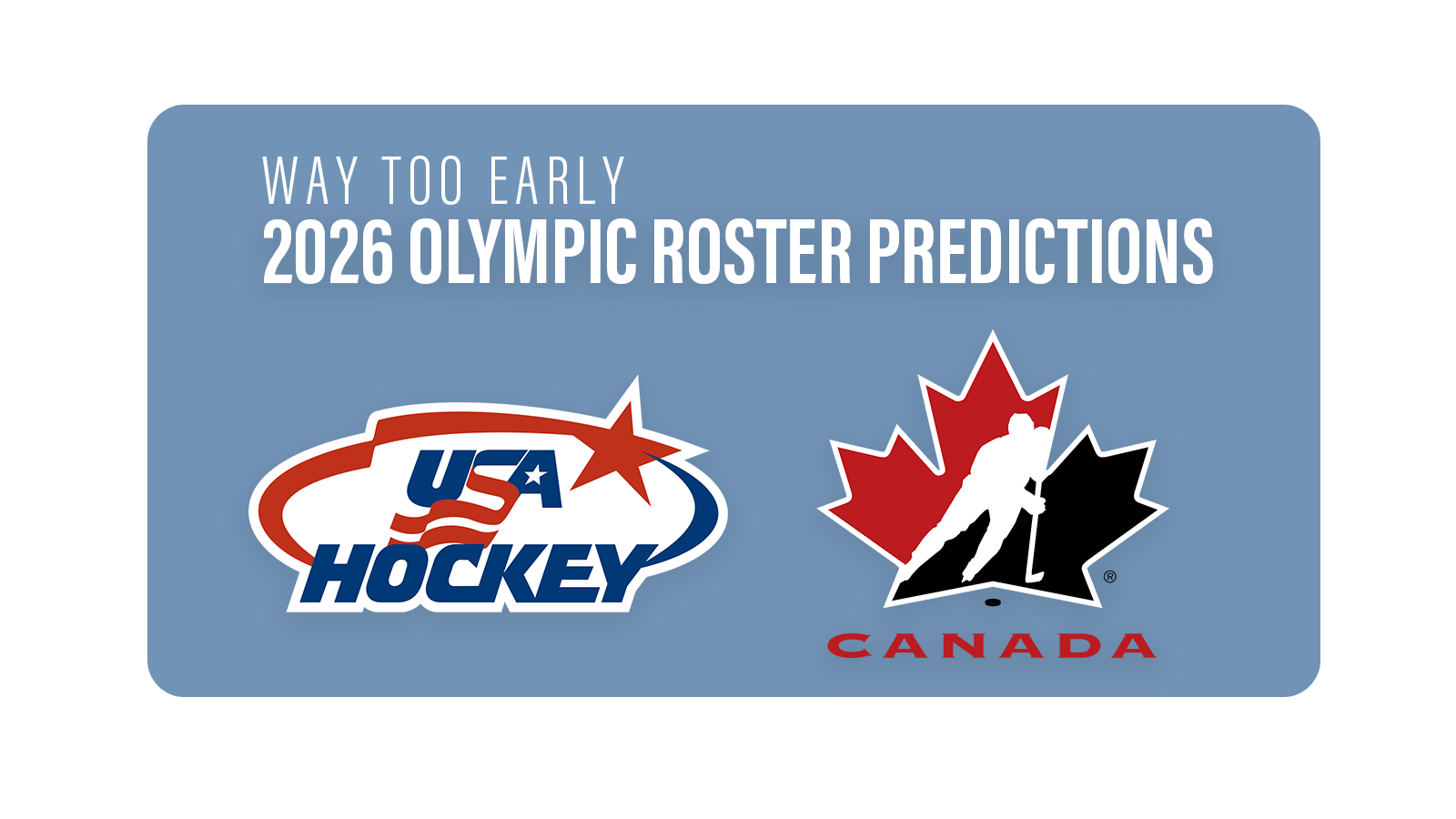 Since the National Hockey League and its player association agreed to let their players participate in the 2022 and 2026 Winter Olympics, there has been plenty of speculation about how the world's best teams will line up in Beijing this winter. There is an abundance of hype surrounding the tournament, given that it will be the first best-on-best international tournament since the 2014 Olympics in Sochi, Russia. 
However, a minority of hockey fans – the ones as obsessed with prospects like me – are more intrigued about the 2026 edition of the tournament.
Many of the game's brightest stars will be entering their prime years in four years' time. Already-established stars such as Cale Makar and Adam Fox will only get better, and talents such as Alexis Lafreniere and Rasmus Dahlin will have grown past their development years. Additionally, the next two drafts are being talked about as of the best in a long time, featuring potential generational talents Shane Wright, Matvei Michkov, and Connor Bedard.
The USA's prospect development program have been steadily improving as of late. Since the last Olympics featuring NHL players, they have won two World Juniors gold medals. In that time, Finland has emerged as an international superpower, winning three. However, as much as other nations seem to be improving, the powerhouse duo of Canada and Russia continue to churn out superstars.
International hockey has arguably never been as competitive as it is right now, and it is projected to only get better with the amount of talent available in upcoming drafts. I decided to look forward to the 2026 Olympics in Milan and Cortina and project the rosters I think the world's top hockey nations should line up with.
First off, we will take a look at the North American rivals and favourites to face off in the final, Canada and the USA.
******************************
Team USA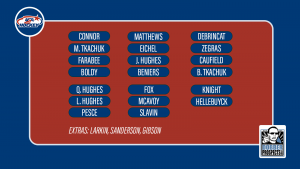 Forwards
If they all reach their potentials, The United States forward group can rival any country – particularly down the middle.
Auston Matthews is  arguably the second-best player on the planet and looks to be a perennial 40-goal scorer – at minimum. Jack Eichel and Jack Hughes have two of the highest ceilings in recent history and should be two of the game's best pivots in four years' time now that they are surrounded by better teammates. Finally, Matty Beniers is one of the best two-way centers we have seen in the draft in a long time and has already shown an ability to dominate possession at a young age.
On the wings, you have two of the best snipers in the league in Alex DeBrincat and Kyle Connor, as well as Cole Caufield who should join them in Rocket Richard races soon (depending how his development goes in Montreal). The Tkachuk brothers bring a combination of G R I T and high-end skills that every team needs, and Trevor Zegras is poised to be one of the game's premier playmakers. He will have to operate on the wing in this team, however.
Defence and Goalies
The back-end I have drawn up features four of the best puck-moving defensemen in hockey and should be incredibly hard to stop in transition and in the offensive zone. Luke and Quinn Hughes, as well as Charlie McAvoy are all incredible skaters. Jake Sanderson, another smooth-skating pivot, could easily slip into a shutdown role – but I have opted for Carolina's top-pairing of Brett Pesce and Jaccob Slavin. Of course, Adam Fox is one of the best players in the NHL right now and will be the driving offensive force from the blueline.
Just imagine a powerplay of Quinn Hughes, Fox, Matthews, Eichel, and one of Zegras, Caufield, DeBrincat, Connor.
In net, the Americans will rival the Russians for the best trio in the tournament. Spencer Knight is becoming a star at just 20-years-old: he backstopped the USA to a World Junior gold medal last year and is part of one of the best goaltending tandems in the league right now with Sergei Bobrovsky.
Behind Knight, Connor Hellebuyck and John Gibson are pretty much interchangeable as they are both elite puck-stoppers with years of NHL experience, but will they still be as good in five years' time.
****************
Team Canada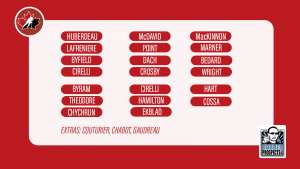 Forwards
It is a similar situation for the Canadians down the middle. Obviously, a lot can happen between now and the winter of 2026, but this team could have the best pool of centers available for selection this century.
In Connor McDavid, Shane Wright, Connor Bedard, they have three exceptional status players. The Nova Scotian duo of Sidney Crosby and Nathan MacKinnon are two of the game's greatest talents – even if the former will be 38 in 2026 – and then you still have Brayden Point, Kirby Dach, Quinton Byfield and Anthony Cirelli.
Alexis Lafreniere has started his professional career off slowly – partially due to a severe lack of game time – but still has the potential to be a very strong play-driving winger. His puck skills are worthy of a first-overall pick alone, he just needs to find his footing.  Mitch Marner and Jonathan Huberdeau are already two of the most-skilled wingers of our generation and two of the league's top point-producers.
In my lineup, I have McDavid centering Huberdeau and MacKinnon on the first line to make the most dangerous line on the rush imaginable. Point between Lafreniere and Marner would be able to dominate possession in the offensive zone and my fourth line of Cirelli-Crosby-Wright would serve as a "matchup" line.
Defence and Goalies
The last time out, the Canadian defense-core included Jay Boumeester, Dan Hamhuis and Marc Edoouard-Vlasic. With all due respect to those gold-medal winning defencemen, the 2026 blueline will be much more modern.
Makar is a cutting edge breed of defenseman who essentially serves as a fourth forward. His teammate in Colorado, Bo Byram, is cut from the same cloth. Shea Theodore, Aaron Ekblad, Jakob Chychrun and Dougie Hamilton bring the big frames that your dad likes in his defenseman, but are also terrific skaters with a penchant for offence. Thomas Chabot fits that description as well as the seventh defenseman, and he is pretty much interchangable with all three of the left-handed defenseman for me.
In net is where things get tricky in terms of selection. 23-year-old Carter Hart has had some serious peaks and valleys in his already tenured career. That would be who my money would be on now, as he has been thrust into a huge role at such a young age and most goaltenders need time to develop.
Sebastian Cossa is probably the most promising goaltender to come out of Canada since Hart and could very well end up better. However, he will only be 23 in four years. Ben Gaudreau is another very promising goaltender from the most recent draft and has started for Canada at the U17 and U18 level – winning gold at the most recent U18s.
*******************
Check back next week for the next set of predictions – covering Finland, Sweden and Russia.
Kyle Watson
LATEST RADIO & DRAFTCASTS