Prospect Ramblings: Rookie TOI, Clague, Krebs, OHL notes and Caldernomics update
Michael Kosciesza
2021-11-03
When it comes to a prospect panning out it comes down to talent plus opportunity. Really, the same could be said for any NHL player but it is especially true with prospects as it's tough to develop and get NHL reps without opportunity. Cole Caufield was given an opportunity depending on who you ask, but when you consider he was playing third-line and about seven minutes a night it's reasonable that he didn't take off like he did when he was leading the Montreal Canadiens in scoring in the playoffs. It's tough for a player to win the Calder without getting the minutes required to produce and heavy minutes early on is an indication a player is doing the right things at the NHL level to earn that time. The thing with NHL coaches is they're paid to win and not to make our fantasy teams better. 
That Cole Caufield needs a reset because he hasn't looked like himself, and that the Canadiens have misused (and underused) him this year, can both be true.

— Scott Wheeler (@scottcwheeler) November 1, 2021
Rookie forward ice time/GP leaders (>5GP)
Trevor Zegras 17:16

Anton Lundell 16:18

Lucas Raymond 16:07

Jacob Peterson 15:10

Michael Bunting 15:07*
Rookie Defence ice time/GP leaders (>5GP)
Moritz Seider 22:26

Jamie Drysdale 21:44

Bowen Byram 20:22

Alexandre Carrier 20:19*

Martin Fehervary 18:13
I'll note that Carrier and Bunting are both rookies but not really prospects so for that sake I'll add that sixth in forwards was Jonathan Dahlen who is barely a prospect still, so on that same team in seventh is William Eklund. On the outside looking in the top five for the Defence was Victor Soderstrom. I think at this point, providing Trevor Zegras is not hurt, the Calder favourites have to be Seider, Raymond, Zegras. Lundell, Dawson Mercer, Byram and Dahlen are on the outside looking in but Byram's TOI will likely decrease as Makar bounces back and Samuel Girard returns to the lineup. 
A couple of quick notes: 
Kale Clague's ice time in his two games since being called up would rank him top five in TOI among rookies. Clague played a decent amount last year so I was surprised to see he was still a rookie but at the same time, I was also surprised to see him sent down to start the year. Prior to Brandt Clarke being drafted, I was of the opinion Clague could turn into the heir apparent of the Kings powerplay when Drew Doughty ages out of that role. With Doughty on the IR Clague has stepped into that role and has two Powerplay helpers, so maybe I was onto something. Clague is an interesting one to monitor now and when Doughty returns. 
Fantasy Free Agent Alert🚨

Kale Clague has been skating on the top PP for the Kings the past two games – averaging over 5 mins of PPTOI there.

He has 2 power-play helpers thus far.

Get that streamer while he's hot!

— /Cam Robinson/ (@Hockey_Robinson) November 2, 2021
Peyton Krebs was leading the AHL in points with five points in two games. The Golden Knights may have realized him not being in their lineup was a mistake or they were forced to call him up with Mark Stone, Max Pacioretty, William Karlsson, Alex Tuch and Nolan Patrick all on the IR. Regardless this is a player who wore a C through most of his WHL career due to his work ethic and two-way responsibility. He is a player worth monitoring and potentially picking up if he starts to spring a few points together in the absence of the big guns. 
Down in the OHL Sasha Pastujov is lighting it up with ten goals and nine assists for a league-leading 19 points. The Anaheim Ducks solidified a deep 2021 draft by taking him 66th overall in the third round and he is looking like a Kingmaker for Guelph this season. Also of note, no one needs to tell Kyle Dubas but the Soo Greyhounds have a trio at two, three, four on the league leaders Tye Kartye, Cole MacKay and Rory Kerins. Kerins was a sixth-round pick by the Calgary Flames and later signed to a PTO by the Stockon Heat. MacKay and Kartye were both invited to the Seattle Kraken training camp but what I love about this trio and the CHL as a whole this year is the number of good stories we will see of players who were on the brink of losing their NHL dreams due to a long COVID stoppage (especially the OHL) and are now given a platform to light it up and get back on track. Tucker Robertson of the Peterborough Petes would be in this category too, OHL player of the month, 5th (tied for third) in scoring and playing in all situations for the Petes. Robertson was one of few rookies to earn minutes on the Petes stacked J Robertson Cup contending team in the Covid shortened 2019-20 season. He is now wearing an "A" for the squad and is ready to earn himself the NHL looks he deserves.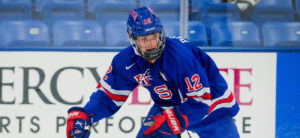 Finally, we have our update on Caldernomics. I'll note there is a lot of regression, which is expected. I wrote the piece and drafted the teams at the beginning of the season when hopes were high for prospects, everyone's willing to lose week one if it means taking a shot at making the right call on a prospect. Obviously, as the season wears on that becomes less so. However, as prospects perform, it increases as well so there is an opportunity for some drastic jumps (see Lucas Raymond)
Team 1 (100%) +41 (141%)
F – Zegras (45%) – 8 (37%)
D – Seider (25%) +37 (65%)
G – Hill (26%) +14 (40%)
U – Pinto (4%) -2 (2%)
Team 2 (98%) -49 (49%)
F – Caufield (87%) – 45 (42%)
D – Lundkvist (2%) -1 (1%)
G- Vladar (1%) +1 (2%)
U- Podkolzin (8%) -4% (4%)
Team 3 (97%) +62% (159%)
F – Kaliyev (2%) -1 (1%)
D – Bouchard (8%) +20% (28%)
G – Knight (79%) -3% (76%)
U – Raymond  (8%) +46 (54%)
Team 4 (97%) -11 (86%)
F – Lundell (2%) +11 (13%)
D – Drysdale (29%) -7 (22%)
G – Swayman (65%) -15% (50%)
U – Perfetti (2%) even
Team 5 (100%) -8 (92%)
F – Eklund (4%) -1 (3%)
D – Byram (44%) -2 (42%)
G – Nedjelkovic (50%) -4 (46%)
U – Sillinger (2%) -1 (1%)
Updated Standings 
Team 3 – 159% (+62)
Team 1 – 141% (+41)
Team 5 – 92% (-8)
Team 4 – 86% (-11)
Team 2 – 49% (-49)
Biggest risers
Lucas Raymond +46%

Moritz Seider +37%

Evan Bouchard +20%
Biggest fallers
Cole Caufield -45%

Jeremy Swayman -15%

Trevor Zegras -8%
That's all for today, keep an eye out for what will become my monthly NCAA ramblings and if you want, follow me on Twitter @mikekosciesza
LATEST RADIO & DRAFTCASTS