September 32-in-32: Tampa Bay Lightning
Ben Gehrels
2021-09-29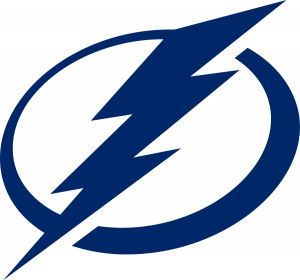 Welcome to the September 2021 edition of the DobberProspects 32-in-32 Series! This month, we will be diving into the depth of each organization, looking at their recent graduates, risers, fallers, and top 20 prospects. 
***********
After winning the Cup two years in a row, the Bolts aren't exactly worried about the state of their prospect pipeline — which is ranked anywhere from mid-pack (20th, Bleacher Report) to dead-last (32nd, Dobber). But while they don't have any elite-level prospects or the deepest talent pool, the Lightning do have solid NHL-ready talent waiting in the wings at forward with Alex Barré-Boulet, on defense with Cal Foote, and in goal with Huge Alnefelt.
Behind these three, the picture gets less shiny. Tampa Bay grabbed Dylan Duke — a speedy, big-toolbelt kind of player — with their first pick in the 2021 draft at 126th overall. Duke shows promise but will need several years of seasoning at lower levels before joining the big club and working towards his ceiling as a versatile, middle-six forward with skill. Taylor Raddysh and Boris Katchouk are two other names of note; both have been playing major top-line minutes for Tampa's AHL affiliate, the Syracuse Crunch, for the past few years and are ready to ply their wares in the Lightning's bottom-six.
Depth has been a key part of the Bolt's recent success, but the entire cast of their highly effective third line signed elsewhere this offseason: Barclay Goodrow (San Jose), Blake Coleman (Calgary), and Yanni Gourde (Seattle). Their departure creates key holes in the forward ranks that the aforementioned players will be hoping to fill.
Graduating Players
With the departure of Gourde to Seattle, the 22-year old Barré-Boulet finally has an opportunity to play in Tampa Bay's top-six and see time on one of their potent powerplays this year. Even if he mostly plays on the second unit, that would still give him exposure to players like Sergachev, Cirelli, Killorn, and Perry at 5 on 4 — a group that is going to score. And Barré-Boulet knows how to score. He averaged an impressive 0.94 points per game pace over 144 AHL games and earned a 15-game audition with the Lightning at the end of last year.
While with the big club, he was given a real chance to succeed. Barré-Boulet was given the most offensive zone starts (OZ%) on the team, playing an average of 15:50 minutes/game primarily with Point and Palat. He wasn't being sheltered either: he drove play against relatively tough quality of competition.
All signs point to Barré-Boulet picking up where Gourde left off for the Lightning: as a high-floor (40 points), decent-ceiling (65 points) member of Tampa's top two scoring lines. If Gourde's time with the Bolts is any indication, Barré-Boulet can become a versatile 50-point player as early as this season who can hang with Tampa's top guns while playing up and down the lineup.
Cal Foote, D
Tampa's other top prospect has also put in time at the AHL level (67 points in 150 games) and is now ready for the big stage. While his AHL numbers are nothing special, Foote excelled offensively in his final two years in junior (0.97 points per game) — showing that he may have untapped upside. Of course, Hedman and Sergachev will consume all the Bolts' powerplay time for the foreseeable future. But Foote is one injury away from potentially earning a look with the extra man.
His bread and butter, though, is being a rugged, physical defender who the Bolts hope can play big minutes in a shutdown role in the near future. Although his playing time increased from 10 to 15 minutes over the course of his 35 NHL games last year, which is encouraging, he was heavily sheltered, given decent offensive deployment, and did not exactly impress — not only on the scoresheet (only three points) but also with his possession and play-driving numbers (brown = bad).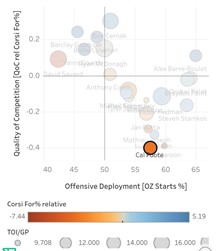 The fact that he was a rookie just easing into the league should remind fantasy owners to cut him some slack. He'll figure it out. As a big man, Foote will likely need around 400 games at the NHL level (almost five seasons) before we see his ceiling. If he can pull it all together, the 6-4, 227 pound Foote has all the tools to become a multi-category stud like his dad, Adam. Statistically speaking, Cal's star potential is low, but his career to date suggests he has a strong likelihood of becoming a regular NHLer. He probably won't score 50 points, in other words, but he'll likely hit 30 points in a couple of years and bring strong hits and blocks numbers right out of the gate. Owners in multi-cat leagues take note.
Ross Colton, C
Colton cemented his place in Lightning history this past spring when he scored the Cup-clinching goal against Montreal. Moving forward, Colton appears to have locked down the third-line center job behind Point and Cirelli. Although he clearly has clutch abilities, don't count on Colton as a scorer in fantasy: his 12 points in 30 games (0.40 points per game) is likely representative and possibly even inflated by his six goals on 18 shots in the third quarter. Expect an increase on his 10:34 time on ice from last year — Coach Cooper has stated his intention of again using Colton extensively on the penalty kill — and for his one hit and 3.4 face-off wins per game to increase accordingly.
Overseas Graduates
Although poolies' main impression of Alnefelt is likely his shaky WJC, where he was eventually replaced in Sweden's net by 2021 draftee Jesper Wallstedt, he remains a solid goalie prospect for the Lightning. He's taking an important step closer this year by crossing the pond and likely occupying the starter's role for the Crunch. This move will allow Lightning brass to get a better feel for what they have in Alnefelt. The 20-year old goalie has already played in 40 games in Sweden's top pro league, posting solid but not spectacular numbers (2.86 G.A.A, 0.905 SV%).
If he can perform well this year for the Crunch, Alnefelt will begin to push for the backup job behind Vasilevsky — whom he describes as "his idol" and has been working closely with this month at Tampa's training camp. It probably doesn't need to be said, but Alnefelt does not pose a threat to the reigning Vezina winner for playing time. Alnefelt will need the stars to align to ever see consistent playing time at the NHL level as long as he's with the Lightning.
On The Cusp
Taylor Raddysh, RW
During training camp several days ago, Coach Jon Cooper said Raddysh is "poised mentally and physically" to take the next step and that he wished he had given him more playing time last year. Raddysh boasts the second-highest star potential in the Lightning's system (only 8% but still…) behind Dylan Duke (12%). He flew onto the fantasy radar four years ago when he scored 1.87 points per game riding shotgun with Dylan Strome and Alex DeBrincat. His scoring declined the next two seasons in junior without those two but was still well above the point per game mark.
After two somewhat inconsistent years in the AHL, Raddysh took a big step forward this past year, posting 29 points in just 27 games and firing just over 3 shots per game. The increased shot rate is a positive sign but if Raddysh makes the big club, as Cooper has hinted, it'll be as part of the middle-six. He protects the puck well and at 6-3 and 216 pounds, he may just be the kind of big, skilled player the Lightning would like to see seize one of those vacant third line spots.
Katchouk and Raddysh appear to be moving in lockstep through their careers: they played together in the OHL; were taken by the Lightning 14 spots apart in the second round of the 2016 entry draft, and have now spent the last three years developing chemistry on the top line of the Crunch. Like Raddysh, Katchouk also experienced a scoring surge this past season, putting up 34 points in 29 games to edge out his linemate for the team lead. He too is a big-bodied, two-way player hoping to secure a checking-line role with the Bolts this year.
Risers
Otto Somppi, C
For a former seventh-round pick, Somppi has already vastly exceeded expectations. He has shown the ability to dominate at the QMJHL, ECHL, and AHL levels — posting above a point per game pace in the first two leagues and then most recently scoring 26 points in 32 games alongside Raddysh and Katchouk for the Crunch. Like his linemates, Somppi has strong defensive acumen, is an average skater, and will likely end up in Tampa's bottom-six before too much longer.
Somppi was signed by the Lightning this past July to a one-year, two-way contract but is not waivers eligible. That means he'll cost the team less, both in terms of money and asset management, if he stays and plays in the AHL this year. They are likely hoping to see him repeat his success from this past shortened AHL season over a full schedule before deciding the dollar and term for his next contract.
By all accounts, Somppi is a talented but raw prospect who may have a higher ceiling than it first appeared. Crunch Head Coach, Benoit Groulx, calls Somppi a "creative and smart player" who will have to "simplify his game when it's necessary while still being creative when it counts." Here's some of that creativity on display:
Dylan Duke, C
Duke is yet another future depth piece for the Lightning. Projected to go anywhere from mid-first round to late in the second, Duke fell into Tampa's lap all the way down in the fourth, likely due to concerns about his average skating ability. As with several of the players mentioned above, he is responsible in his own zone and likely doesn't have the highest offensive ceiling. He showed that he has a good nose for the net when called on, though, by averaging 0.6 goals/game over the last two seasons with the USNDTP U17 and U18 teams.
He's signed with the University of Michigan for the upcoming campaign — a team absolutely loaded with high-end talent like Kent Johnson, Owen Power, Luke Hughes, Matty Beniers, Thomas Bordeleau, and Brendan Brisson. This year should provide a clearer glimpse into what Duke brings to the table for a deep, talented team like Michigan and, eventually, the Lightning. With their high-powered core in place, the Bolts will continue to need cheap, versatile players like Duke to come in and play tough minutes to free up their stars to score. That won't do any favors for his eventual fantasy value, but for owners in deeper dynasties, he does have a fairly high chance of becoming an NHLer (45%) and can be valuable in multi-cat formats in particular.
Fallers
Maxim Cajkovic. RW
Never before have I seen a country's national team cut a player from their roster citing "serious violations of sports and human values." Cajkovic was apparently delivering dirty hits on his potential teammates in practice, one of which left Samuel Krajc with a concussion that took him out of the tournament. On top of that, reports say Cajkovic was swearing at people and refusing to apologize for his actions.
Absolute train wreck.
That snapshot from the WJC is a giant red flag on a player whose ceiling wasn't even that high to begin with. He is a skilled player who was likely destined to play on Slovakia's top line before everything went south, but his numbers in the QMJHL have been solid, though not spectacular for an over-ager. Hopefully for him, Cajkovic will get his head on straight and approach the game with more respect and maturity. Even though he is currently seeing time on a top line (on a practice team of depth prospects only) during training camp, I know I won't be holding my breath for a Cajkovic character renaissance.
Prospect Depth Chart
| | | |
| --- | --- | --- |
| Left Wing | Center | Right Wing |
| | | |
| Cole Koepke | Dylan Duke | Taylor Raddysh |
| | | |
| Mikhail Shalagin | Boris Katchouk | Maxim Cajkovic |
| | | |
| Remi Elie | Ross Colton | Cole Guttman |
| | | |
| McKade Webster | Otto Somppi | Maxim Groshev |
| | | |
| Jaydon Dureau | Antoine Morand | Declan McDonell |
| | | |
| | Gabriel Fortier | Nick Capone |
| | | |
| | Odeen Tufto | |
| | | |
| | Sammy Walker | |
| | | |
| | Jimmy Huntington | |
| | | |
| | Gage Goncalves | |
| | | |
| | Jack Finley | |
| | | |
| | Ryan Login | |
| | | |
| | |
| --- | --- |
| Left Defense | Right Defense |
| | |
| Andreas Borgman | Cal Foote |
| | |
| Dmitry Semykin | Max Crozier |
| | |
| Quinn Schmiemann | Eamon Powell |
| | |
| | Alex Green |
| | |
| | Jack Thompson |
| | |
Goaltender
Hugo Alnefelt
Amir Miftakhov
Ty Taylor
Top 20 Fantasy Prospects
Alex Barre-Boulet
Cal Foote
Hugo Alnefelt
Dylan Duke
Taylor Raddysh
Boris Katchouk
Ross Colton
Otto Somppi
Antoine Morand
Maxim Cajkovic
Cole Koepke
Gabriel Fortier
Odeen Tufto
Sammy Walker
Mikhail Shalagin
Cole Guttman
Dmitry Semykin
Amir Miftakhov
Max Crozier
Maxim Groshev
Thanks for reading! Follow me on twitter at @beegare for more Lightning and Panthers insights.
LATEST RADIO & DRAFTCASTS