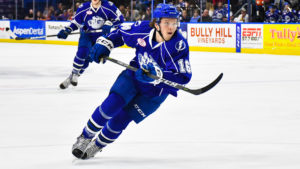 Syracuse Crunch
Fantasy Summary
Playmaking center with two-way ability and strong offensive instincts, though he struggles with pace and will need to work his skating ability to make it as an effective pro.
Observations
Click to Expand

November 2019 – Otto Somppi has secured a steady role with the AHL's Syracuse Crunch, and in the early moments of the 2019-2020 season has already bested his AHL totals from 2018-2019. Through 10 games with the Crunch, Somppi currently sits at three goals and seven points, which bodes well for his overall projection. Should Somppi continue to find his footing at the pro level, there remains optimism that the young Fin can develop into a quality NHL forward. Brandon Holmes

March 2019 – Somppi has had a hard time fitting into Tampa's farm system in his first pro season, as he's primarily found himself split between a depth role on Syracuse or in the ECHL with the Orlando Solar Bears. Thus far in his AHL career, Somppi has struggled with the pace of the pro game and has largely been ineffective on the offensive side of the puck with just 2 points in 21 games, though his ECHL numbers are much more optimistic with 14 points in 12 games with the Solar Bears. Skating remains the biggest issue for Somppi and will be the biggest hurdle for him to overcome in order to push his way further up the lineup at the minor-pro level. However, there is still hope for Somppi because of his natural skill level. Brandon Holmes

April 2018 – In his final Major-Junior rally, Somppi made significant strides as an offensive weapon with the QMJHL's perennial gold-standard for prospect development, Halifax Mooseheads. The former seventh-round pick was left off of Finland's World Junior squad and has since made the decision seem extremely foolish, more than doubling his points-per-game rate from his draft+1 campaign. The Lightning will seek to sign the 20-year old this summer so that the Syracuse Crunch can put him to the test against some more developed competition. His trajectory is looking extremely positive, but so is his competition's on the Lightning farm, a 2020-21 NHL arrival would be realistic in his current standing. Brayden Olafson

January 2018 – Somppi continues to show strong development at the junior level with the Halifax Mooseheads. He's trending upwards offensively but despite the trend of smaller players making an impact in the NHL, he will need to prove that he is capable of converting in the AHL next season before having a chance with the Lightning. Regardless of his future development, Somppi being picked in the late seventh round appears to have been a savvy selection so far. Brayden Olafson

October 2017 – After an offseason upper-body injury, Somppi has returned to the Halifax Mooseheads and broken out offensively in the early going. The seventh-round-pick will look to join Team Finland for a chance at redemption in the World Junior Championship over the holidays, and so far is showing that he could become a leader for the National team. Expectations for Sompii are not high but the 19-year old seems to be exceeding his seventh-round pedigree just a little over a year removed from his draft. – Brayden Olafson

June 2017 – The Finnish pivot concluded a second season with the QMJHL's Halifax Mooseheads posting no offensive growth, in yet another injury-shortened season. The 2016 seventh-round pick has proven to be a responsible playmaker at the junior level, and will likely get one more shot at refining his offense next year with Halifax before jumping into a crowded Lightning farm system. Another year of junior is certainly in Somppi's best developmental interests. Brayden Olafson

June 2016- Somppi had a good rookie season with the Halifax Mooseheads, putting up 46 points in 59 games. A slick playmaking center, Somppi has quick hands and can dish the puck to the open man with consistency. Definitely needs to bulk up before making the transition to the pro game. Great value as a seventh-round pick, but Will need to add strength in order to fill the potential role of bottom forward. Skating is another area of concern that will need to improve to have success at higher levels.