August 32-in-32: Florida Panthers
Pat Quinn
2021-08-12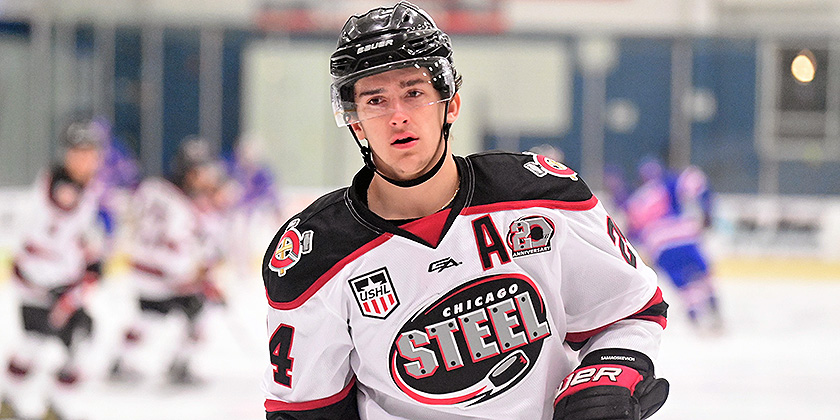 The 32-in-32 Series is an annual event here at DobberProspects! Every day in August we will be bringing you a complete breakdown of a team's draft and insights into their off-season movements thus far. Following this up, the September 32-in-32 Series will dive into every team's prospect depth charts with fantasy insights and implications for the upcoming seasons. Check back often, because we plan on filling your hockey withdrawal needs until the season begins!
*****
After a successful 2020-2021 partial season that saw the Panthers lose in the first round, and possibly the best series of the 2021 playoffs, to the eventual Stanley Cup (repeat) champions. Florida is now gearing up to not only make the playoffs again but leave the Maple Leafs as the only team to not make the second round since 2003-2004. Though the Panthers' own record of not winning a round since 1995-1996 is horrifying in itself. Here is hoping this team can make it to round two after a positive off season, but one that still holds a $10 million issue in net that was not resolved.
Draft Recap
Round 1, 24th overall – Matthew "Mackie" Samoskevich, C/RW
Depending on who you read, Samoskevich went either slightly too high or slightly too low but one thing is for sure is that he has a lot of skill. The Chicago Steel forward was one of the better forwards in the USHL last season. Samoskevich can dangle through defensemen, carry the puck in transition, find open players with ease, and finish plays if required. He can do a lot of everything, but he needs more bulk and to work on his skating to really make the NHL. Realistically Samoskevich projects to be a skilled top six forward who can help on the powerplay, and while he will not wow with high goal scoring or assist numbers he will always just be one of those fantasy players that get points at a good rate.
If you want one more reason to like the kid: https://theathletic.com/2694439/2021/07/13/the-nhl-draft-and-the-aching-sandy-hook-connection-that-carries-on-for-one-prospect/
Round 2, 56th overall – Evan Nause, D     
Nause is a smart play moving two-way defenseman in the making. His skating is great, he can develop plays on the ice with his crisp passes, and can join the play when required. In his own zone he is also quite impressive as he can break up plays with his stick, box players out properly and make a quick turn from defense to offense in a split second. Scoring may not be a big feature of Nause's game when/if he makes the NHL but he can be a middle-pairing defenseman in the NHL.
Round 4, 120th overall – Vladislav Lukashevich, D
Lukashevich is a player you take late in the NHL draft in hopes that there is something there. Playing for Loko Yaroslavl of the MHL, Lukashevich was often played in a lesser role due to the team aiming for a championship with a stacked team to do so. That can both be good and bad. The good is that while he did not get a lot of time to show what he can do, he still showed that he has great offensive instincts in both passing and shooting, but the bad is that if he really is good why did he not force himself to get additional ice time with his play. I would not weigh to heavy on the bad side though, as hockey politics often win over the skill of a rookie. The Panthers are betting that the glimpses of promise they did see from Lukashevich continue to blossom now that he will be afforded more ice time.
Round 5, 152nd overall – Kirill Gerasimyuk, G
Florida took a late round gamble on a goalie from Russia and why not. Gerasimyuk stands at 6-2 is calm in net and can read the play well. He is more of a traditional butterfly goalie (I guess which goalie is not these days) so he is more efficient with his movements and reading plays than using his athleticism to make dynamic saves. Also, as he is one of the younger goalies drafted the Panthers will have plenty of time for him to develop.
Round 6, 184th overall – Jakub Kos, F
Kos is a large forward standing at 6-3 and while he has skill he lacks in the game speed and hockey IQ department. That is not to say that he cannot become an NHL player, but more that he is a late round pick with size that an NHL team hopes, with proper development, that can create an NHL forward out of the frame. It will be a long process but that is what sixth round selections are for.
Round 7, 210th overall – Braden Hache, D
Hache is a late round pick, again with size at 6-3 but this time playing defense. There is not a lot of skill here but there could potentially be a bottom pairing NHL defenseman, as much of a long shot as it can be. He will play for Kingston of the OHL this upcoming season and the Panthers hope they can eventually see something there to keep him in the system.
Offseason Moves
Incoming and outgoing via trade:
Sam Reinhart for Devon Levi and a 2022 1st round pick
Anton Stralman and Vladislav Kolyachonok to Arizona
Free Agents / Signings / Expansion
Incoming:
Anton Lundell signed his ELC and looks to immediately make the Panthers and provide an impact
Maxim Mamin is back from the KHL with a one-year one-way contract, but the value of the contract ($975k) is not enough to force the team to keep him in the line up as it is easily able to be buried if needed
Brandon Montour signed three-year contract as Coach Q and the Panthers must have loved what they saw
Juho Lammikko signed a one-year contract
Zach Dalpe agreed to two-year two-way contract
Sam Montembeault agreed to one-year two-way contract
Sam Reinhart signed a three-year contract, and surprisingly has the highest cap hit at forward for the Panthers
After just 22 games Sam Bennett was given a four-year contract based off of those games and not his previous tenure in Calgary
Anthony Duclair re-signed with a three-year deal
Noah Juulsen signed a one-year two-way contract as he hopes to become a full-time NHL defenseman again
Logan Hutsko signed a two-year ELC as he is finished with the NCAA
Christopher Gibson signed a one-year two-way deal for insurance in net
Chase Priskie signed a one-year two-way deal
Outgoing:
Chris Driedger was selected by Seattle in the expansion draft and given a nice three-year deal. He was looking to be the 1A starter in Seattle until they oddly signed Grubauer to a large contract
Anton Stralman and Vladislav Kolyachonok via contract dump trade
Devon Levi via trade
Keith Yandle was bought out rather than potentially scratched in the 2021-2022 season
Alex Wennberg signed an overly flattering deal based off of his on-ice production and results continuing a rash of odd moves from Seattle
Brady Keeper signed with Vancouver
Ethan Prow signed with Buffalo
Notable UFAs:
Nikita Gusev and Lucas Wallmark
Result:
The Panthers had an incredibly busy off season as they looked to improve the roster, and it was one they will need to stay busy with. Florida currently has 13 forwards signed to one-way contracts (including Maxim Mamin), with line up regulars from 2020-2021 Owen Tippet and Eetu Luostarinen on the final year of their ELCs. With 13 forward slots seemingly taken up the Panthers will need to move out bodies, especially if they hope to someone fit top prospect Anton Lundell in to the line up on opening night. That also does not take in to account that other two top prospects, Grigori Denisenko and Aleksi Heponiemi, are right at the NHL door needing a shot as well. Logan Hutsko will be forced to need some AHL time too. That is potentially 18 forwards vying for 12 opening night roster spots. It will be interesting to see how the line up shakes out once the season begins.
On defense the team is set, even after buying out Yandle in the off season. This is a team on the rise and is likely a Stanley Cup contender if not for a big issue in net. The team needs Bobrovsky to at least live up to being an above-average NHL starter, which he has not been since Dale Tallon wheeled a bunch of money to his door. Lots of people are expecting Spencer Knight to come in and save the day if Bob falters, but those people are also forgetting that Knight just turned 20 in April of this year. Can he both mentally and physically handle the rigors of an NHL season at such a young age? There is no Chris Driedger to save the day this season, unless Chris Gibson or Sam Montembeault can save the day. It will be an interesting season for sure and one thing is guaranteed, there will be lots of goals scored either way.
************
Thanks for reading, follow me on twitter: @FHPQuinn
Pat Quinn
LATEST RADIO & DRAFTCASTS