Prospect Ramblings: Prospect Goalie Chances – East Division
Pat Quinn
2021-04-01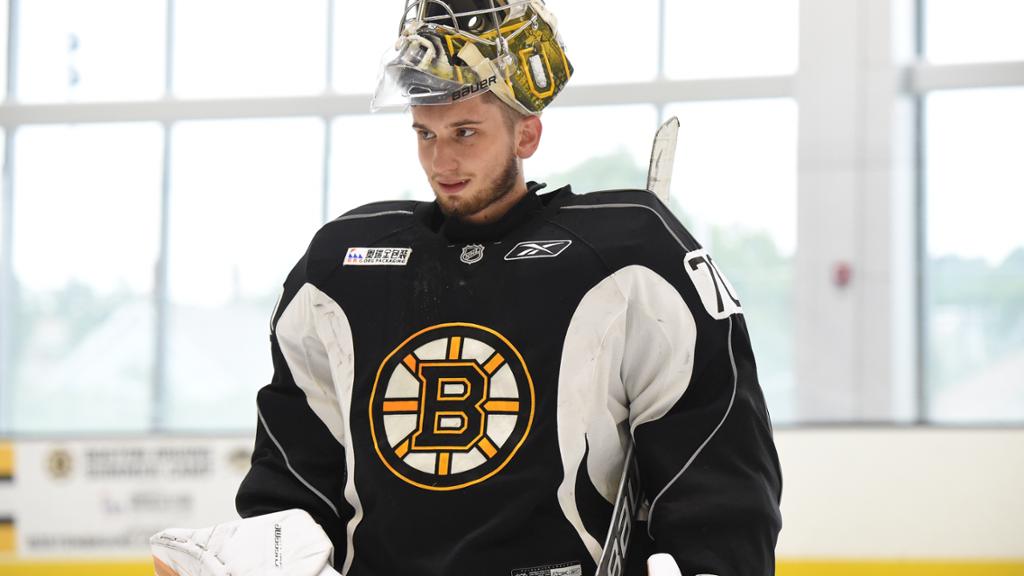 Welcome to the Thursday prospect ramblings. This week I will continue my series of looking at NHL teams' goalie prospects, if there is room for them in the near future, and how long I estimate they could take to be on the roster. I have already completed the West division (check it out) and the North division. Just remember with my "analysis":
"Goalies can take a long time to get to the NHL and sometimes us Fantasy GMs forget that as they are the shiny new toy that we falsely proclaim "will be the starter if they give him a shot next season." I always remind myself to look at goalie prospects differently. There are only so many NHL spots, and one year a goalie can be unstoppable and the next year he is on waivers because he is so bad. Goalies need to be looked in a way where you look at the team, see who is starting what their contract(s) are like, and how likely the prospect will get to actually start." –
Here is my #GoodTweet of the week:
**********
Boston
Rask and Halak are both UFAs this off season and are 34 and 35 respectively. With Boston being in "Cup Contender" mode there are a few options Boston can do, and of course no one knows if Rask will really retire as rumours suggest. Option one has both Rask and Halak returning with one, or both, contract(s) being at least a year; option two has Rask retire or move on to another team; option three has Halak retire or move on; and option four has both leave the franchise. If there is one, or two, goaltending spots open on the Bruins then it will be a battle between:
Buffalo
I am an Ullmark fan and think people underrate him as a 1A starter, but he also gets hurt all of the time so he does himself no favours in securing the #1 position. He is a UFA after this dreadful season for the Sabres and there is no reason to not extend him. The goalie of the future battle in Buffalo is between Ukko-Pekka Luukkonen (UPL) and Eric Portillo. With Ullmark in town neither goalie will get the #1 role outright. UPL has the inside track being about two years older and playing in the AHL since 2019. Portillo has just begun his NCAA career so he is at least two to three years away from playing in the AHL, giving UPL plenty of time to establish himself. I would expect UPL to play NHL games next season and Portillo to play in 2024-2025 at the earliest, if he stays in the NCAA for three years but I have a suspicion it will be only two years.
New Jersey
The Devils are pretty set with Blackwood in net and he is 24, there is not much more to add. There is no one really in the system to challenge him for the next three years at least. In 2025-2026 Nico Daws may be able to battle him for the starting role but other than him there is not much there. There is some promise in Gilles Senn but not much more than a 1B shot especially as he is 25. There is a slight possibility for Evan Comier, and more promise in Cole Brady but he will take at least three seasons.
New York Islanders
Varlamov is signed until the end of the 2022-2023 season, and Ilya Sorokin at 25 should be the Islanders goalie for probably a decade, seeing as he is pretty good. With those two locked up for the next two seasons there is not much pressure from within the organization to find another starter. A skilled young netminder is Jakub Skarek, and at 21 he can wait the two additional years to play in the NHL with Sorokin. That is all I would expect from the Islanders in terms of goalies for the foreseeable future.
New York Rangers
I feel as though I should just copy and paste my Islanders part down here and replace Ilya Sorokin with Igor Shesterkin. He will be the Rangers starter for at least a decade, and hopefully Rangers management give him more up front than Lundqvist has to deal with all those years he carried the Rangers. Tyler Wall, Adam Huska, and Olof Lindbom are all intriguing goalie prospects but none will usurp Shesterkin for the starter's role. They could be used as trade bait down the road as I am a fan of Wall and think there could be good upside with Lindbom. Expect Wall and Huska to challenge for the back up role in the near future, while Lindbom is a much linger wait.
Philadelphia
I feel like I the previous three teams and the next three teams are all the same. They all have good young goalies at the helm. The Flyers have Carter Hart, who right now is playing terribly (hello just being 22), and he will be the start for at least a decade. Unless he falls off the earth as a goalie, no one will challenge him for the starters crease once he is more enshrined. The Flyers have a couple intriguing prospects that have been dealing with injury issues in Kirill Ustimenko and Felix Sandström. Both have a chance to be more 1B starters than 1A or full-on number one goalies. Samuel Ersson likely has the best chance to challenge Hart in probably two seasons, keep an eye on him.
Pittsburgh
Tristan Jarry is 25 and signed for until the end of the 2022-2023 season where he will be a UFA. Casey DeSmith will be the back up until the 2022 off season as well. There is not much in the pipeline for the Penguins but they also just tend to just develop any goalie they have in to a potential starter. That means watch Alex D'Orio and Emil Larmi in the short term, though I think nothing is there personally. The 2020 second round selection Joel Blomqvist is the likeliest to become a starter but do not expect him to see NHL action until at least 2025.
Washington
The Capitals are set in net and will have to decide between Ilya Samsonov and Vitek Vanecek in the near future. The smart money is them keeping Samsonov. In a couple seasons more people will be talking about Mitchell Gibson as another potential starter for the Capitals, but the net will not be lost to Samsonov (or Vanecek). Hunter Shepard is playing well in the ECHL this season, and he will be another goalie to watch, but surprisingly was not drafted by the Capitals. He was only signed after a great career in the NCAA with the University of Minnesota-Duluth. Also, do not look now but Zach Fuclale is on fire in the AHL for the Hershey Bears, even earning himself a two-year contract extension.
*******************************
Thanks for reading, follow my twitter: @FHPQuinn
LATEST RADIO & DRAFTCASTS