Prospect Ramblings: Cole Caufield Takes his Next Steps
Michael Kosciesza
2021-03-31
Cole Caufield, the likely Hobey Baker winner, put up 30 goals in 31 games with 52 points for the Wisconsin Badgers in the NCAA Div 1 this season. This was not Caufield's coming out party as he was already touted as a gifted goal scorer when he broke not only Auston Matthews' single-season USNTDP record of 55 goals, with 72 but also Phil Kessel's career mark of 104, with 126. They don't call him "Goal Caufield" for nothing. Now, this prospect isn't one-dimensional and his playmaking game is impressive as well. He proved any doubters who said his 72 goals were inflated from playing alongside the likes of gifted playmakers such as Jack Hughes and Trevor Zegras on the greatest USNTDP team of all time. This is not to say Caufield's Wisconsin team was not talent-packed, he played a lot of his time alongside another top prospect, Dylan Holloway. Like all good players do they both took their game to new heights together this season despite an early exit from the NCAA tournament. The early exit however is much to the excitement of Habs fans everywhere as Caufield was signed to an ELC almost instantly and will be joining the Laval Rocket as soon as his quarantine (and homework binge) is over. 
Caufield: "For the [quarantine], I think I'm going to do as much homework as I can to finish the school year out, so that's out of the way." #GoHabsGo #THW

— Ryan Szporer (@rszporer) March 29, 2021
So what can we expect when he gets there? (I'm glad I asked). 
Lighting up the NCAA at 5'7 is going to draw comparisons to another short king who took the NCAA by storm and gained himself a nickname that still sticks with him today. From Boston Cawlidge, Jawney Hawckey. 
Caufield had better production in his D0 and D-1 years which would be why he was a first-round pick and Gaudreau was a fourth-round pick but their D+1 year got an identical score of 31. However, Caufield's production seems to be taking off at a higher rate than Gaudreau's at the D+2 point of his career. It will be interesting to see if he can make the same splash in the NHL. The comparison becomes increasingly different when you consider Gaudreau's D+3 year at Boston College before his 64 point NHL rookie campaign. Caufield will be spending his D+3 season in the AHL or NHL. I would bet on the latter if he ends up getting in some time this season. 
Stylistically Caufield has a lot of Gaudreau in him, they are both good skaters, receive pucks well in their feet in motion, attack defenders one on one, occasionally doing too much but always maintaining a presence in the offensive zone creating space for themselves. At the end of the day Caufield is more of a volume shooter and despite being a creative playmaker he is not on the same level of playmaking as Gaudreau as Gaudreau is not on the level of finishing ability as Caufield. The comparison likely ends at their D+1 year and mutual short king status. 
Jack Eichel BU

16.9% of team goals
Involved in 46% of team goals

Kyle Connor Michigan
19.3% of goals
Inv in 39.2% of team goals

Johnny Hockey 20 BC
17.8% of goals
Inv in 43.3% of team goals

Cole Caufield UW
25.4% of goals
Inv in 44% of team goals

Elite Prospect.

— Stock Guy 🍷⛵🚵🏻‍♂️ (@stock_guy1) March 26, 2021
Another sharpshooter who has carved out multiple 20 goal seasons, a 30 goal and a 40 goal season for himself in the NHL, who interestingly, tallied 30-22-52 in his final season at Boston College (compared to Caufield's 31-21-52). The player I'm talking about is of course Cam Atkinson. However aside from a knack for filling the net, being under 5'10, and an eerily similar final season in the NCAA, the comparison likely ends there. 
So who can we use as a reference point of what may lie ahead? The best comparison I could find was the king of short kings Marty St Louis.
St Louis was the first of two players I could come up with that bested Caufield's D+2 score of 50. It's actually kind of odd how similar their scores were and one was a first-round pick and the other was undrafted. We have come a long way with evaluating short players and St Louis walked so Caufield can likely run. If Caufield is the next Marty St Louis he is an absolute home run pick at 15th overall and there will be 15 NHL teams wondering why they passed on him (instead of 26 teams through 11 rounds in St Louis's case). 
Ultimately Caufield is an extremely unique prospect and one of the top goal-scoring prospects we have seen in a while. His dynamic skill set, play-driving ability, and personality are the earmarks of a star in the making. We can try and compare him to anyone we want and draw all sorts of comparisons to try and draw a narrative or predict future production on our fantasy team when drafting him. What I have a good feeling about is that we won't have to wonder for very long but starting his career off (hopefully) coming out of the Bell Centre tunnel to "Fix You" by Coldplay to then play in a top-six with Nick Suzuki, Jonathan Drouin, and Brendan Gallagher is a heck of a stage to start his career. Consider me excited. 
Here are some other former NCAA standouts I tried to compare Caufield to, including the one player at the end of this list that I mentioned earlier that was the only other player other than St Louis who bested Caufield's D+2 score of 50 (by a lot).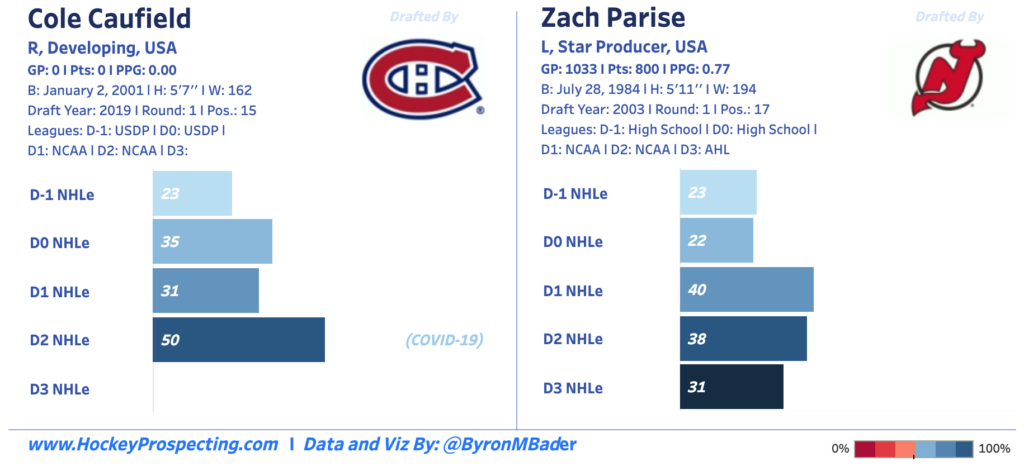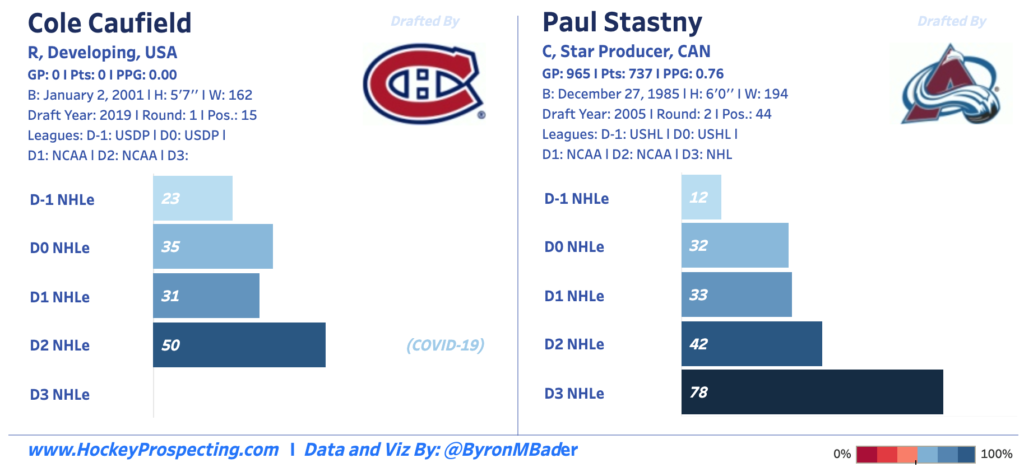 And finally 
Paul Kariya was a sick joke, what an unbelievable player. I wish we could see Kariya in the modern game, he deserves that. I've actually found a lot of people my age consider Kariya their favorite player growing up. For anyone who has not seen the documentary about Kariya's legendary 1993 season with Maine it's a must-watch. 
Also, keep an eye out for former Dallas Stars Head Coach and Maine Captain Jim Montgomery playing a key role in the documentary.
You can follow Mike on Twitter @mikekoscieza
LATEST RADIO & DRAFTCASTS