Prospect Ramblings: Scouring the Forums
Pat Quinn
2020-12-10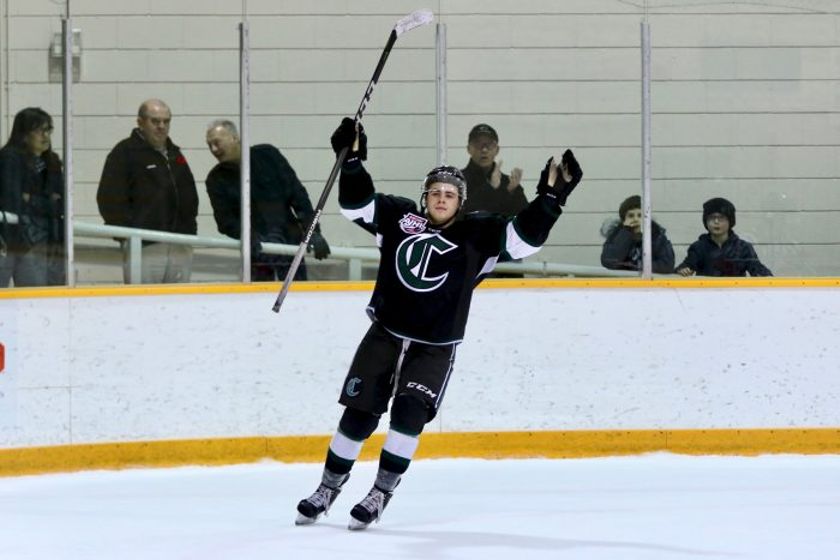 Welcome to the Thursday Friday prospect ramblings. With the 31-in-31 coverage still ongoing at dobberprospects (HERE) and our monthly reports (HERE) it is tough to still mine more prospect information to write about. I decided to take a look at the dobberprospect North American and Europe forum for questions. It does not get posted in often, so a few of these questions will already be old or answered by community members, but I will weigh in my opinion as well.
I do not have many #GoodTweets right now as I have been mostly retweeting the 31-in-31 series and slightly off of twitter a bit. However, here is myself on DobberProspects Radio with Peter Harling (give @DPR_show a follow if you have not, and @pharling)
**********************
Could Carter Savoie be the steal of the 2020 NHL Entry Draft? After scoring 53 goals in 54 AJHL games last year, he picked up right where he left off last season with 3 goals in his first 2 NCAA games. His two goals tonight were assisted by his teammate last year Michael Benning. (This thread was answered by the community already)
I mean he could be, but we are probably at least three years away from discovering who the biggest steal of the draft is. Also steal is tough to describe here as picks past the second round have a very low probability of making it, so would Savoie at #100 be as big of a steal as Anton Johannesson at #133, Veeti Miettinen at #168, or Oskar Magnusson at #211 if they all become second line wingers. I think rounds can matter, especially early round four versus late round five so to narrow it down, it would be better to say "Could Savoie be the steal of round four?" That is a much simpler way of describing the situation. Also taking goalies completely out of this conversation.
With that being the case Savoie could easily become the steal of the fourth round. He will have competition from Brandon Coe (SJ at #98), Michael Benning (Fla at #95), Zion Nybeck (Car at #115), and Antonio Stranges (Dal at #123).
Is Shane Wright Legit?
Well, 2022 is quite far away but yeah he is legit. He should at least be in the top five no matter what. There is still Brad Lambert and Matthew Savoie. Well, there are actually quite a few others that could sneak in anywhere from #2 to #8. There are also injuries that can occur dropping anyone, and Wright is no exception. I think as of right now he is the consensus #1 but, like I said, a lot can change.
Who has the best potential between Lundell, Jarvis and Quinn? (my order right now and league set up)
This person's league stats consist of:
31 TEAMS keep all multi-cat dynasty with 4 lines, 6 def and 2 goalies.
Offensive stats : Goals, Assist , PPTOI, SOG
Defensive stats : PKTOI, BLKS, TakeAway
To me this is very close between Lundell and Jarvis. Quinn does not have the potential of those two (however, I may be more down on him than most as I had him in the mid-20s). With it being that close I looked at the future of both teams. Carolina is deep with prospects up front, much deeper on the wings and at forward than Florida. Carolina also has the fuller top six/nine already in the NHL, meaning there is less room available. That is why I lean Lundell. He could step in to Florida and become the 2C (dependent on Borgstrom and Heponiemi's development as well) and at worst he could become a high-ceiling 3C. More availability for Lundell gives him the edge for me
After finishing our draft, I have more prospects than I'm allowed to keep on my farm team. I need to cut 2 from this list:
Alexis Lafreniere
Seth Jarvis
Jacob Perrault
Griogori Denisenko
Liam Foudy
Eeli Tolvanen
Sasha Chmelevski
Arthur Kaliyev
Vitali Abramov
Kieffer Bellows
Samuel Poulin
Nils Hoglander
Evan Bouchard
Michael McLeod
Who do you cut?
The easiest cut is Michael McLeod. As of now, unless he somehow gets the NHL and his playmaking breaks through, he is a speedy third liner. With Columbus seemingly planned to put Foudy in the middle six, with a chance at top six, he is an easy keep. I bring him up because I do not think there is as high a ceiling as the others but he has the opportunity. For me the cut would come down to Sasha Chmelevski, Arthur Kaliyev, and Vitali Abramov.
With as full as Ottawa is getting on the wings, I still think Abramov can break in to the middle-six so I will biasedly not cut him.
As full as LA is with prospects, Kaliyev has the higher ceiling despite the higher chance to never make it. His shot and puck skills alone may carry him, but he really needs to get a couple steps faster and smarter without the puck. So with that I would cut Chmelevski, even though he has a higher floor (and making the NHL chance) than Kaliyev, as a lot of San Jose's rookies that are close to making the NHL are really not that special.
Damien Riat, can anyone provide some feedback on him? What are his chances of making the NHL?
Riat is an at best second line goal scoring winger and at worst will just not make the NHL. He is as boom and bust as they come. I was initially excited about him as a nice sleeper when drafted in 2016, but through 2017 to 2019 he mostly just stagnated in the NL men's Swiss league. In 2019-2020 he played better than he ever had before. Riat finally signed a two-year contract with the Capitals to come play in the AHL, but COVID has not helped that. On loan to Genève-Servette HC of the same Swiss league he has 14 points in 15 games.
He has NHL potential but the Capitals also have a boatload of forwards filling the NHL roster, and McMichael in the wings. Nine Capitals are signed until the 2023 off season, with Vrana and Ovechkin likely to be included soon, with only Nic Dowd as a UFA in 2022. The Capitals need to make room in the organization if they want any of the team's young players to make it.
Without drastic moves I would bet Riat heads back to Switzerland after two years in the AHL. If the Capitals free up three spots in the 2022 off season, when Riat's contact expires, he should have a good chance to make the roster based on his AHL play.
Who would you rather have Nils Lundkvist or Ville Heinola in a points only keeper? How far do you think each are and what's their upside?
In terms of available powerplay time, and favorable zone starts, I would pick Heinola
In terms of total even strength time, I would pick Lundqvist
Lundqvist could play in the NHL now
Heinola initially made the roster in 2019-2020 but was sent down after eight games (where he went back to the Liiga), yet on that Winnipeg blueline I think he could make it (though he should still wait until 2021-2022)
If both had equal roster opportunities I would give the upside argument to Lundqvist, but with how the rosters are set up I can see Heinola grabbing the PP1 spot in Winnipeg a lot easier than Lundqvist could grab the PP1 slot in NYR
As big of a Lundqvist fan as I am, I would select Heinola based on opportunity
***************
Thanks for reading. Send me fantasy prospect questions, I need more ideas on what to write about.
Also follow my twitter: @FHPQuinn
LATEST RADIO & DRAFTCASTS