Czech Prospect Report: Karjala Cup
Samuel Tirpák
2020-11-13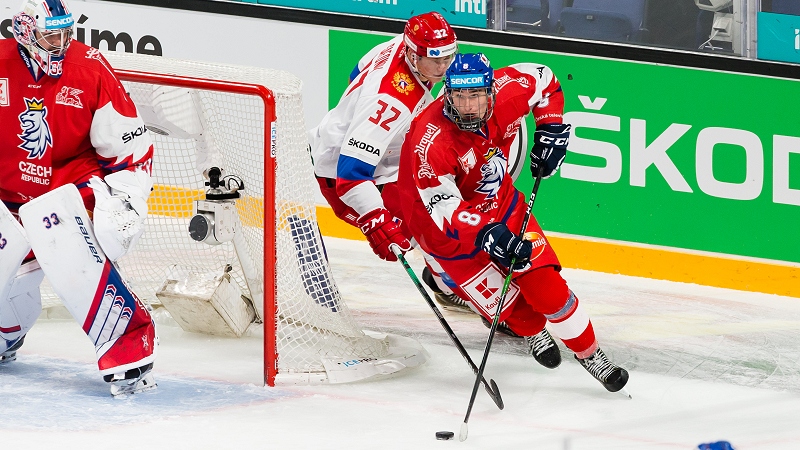 The Karjala Cup just ended a couple of days ago and now it's time to go back to it and recap how individual prospects who will likely go to World Juniors for the Czech Republic did. And they did really well. Czech coach Filip Pešán was not scared to start young players and I really loved that. It's a step in the right direction for Czech hockey and maybe even motivation for other national team's head coaches. I will start with Draft eligible prospects and move on to the already drafted ones.
Stanislav Svozil
While Svozil only played one game at Karjala Cup, 2021 NHL Draft eligible (who ranked 28th in our November rankings) was one of the most noticeable defensemen for the Czech team against Russia. He was paired with Detroit's top right shot defenseman Filip Hronek. Svozil played just over 19 minutes of ice time and was incredible in what he does best and that is smart defending. Svozil was calm under pressure in every shift, involved physically if necessary, and great defensively. To specify, his defensive gap and ability to read play and cut off the lanes of the attacking team were second to none. Svozil found himself quite often on the right side in defensive parts of the game. I'm not sure if it was Hronek and Svozil's individual decision as a pair or coaching decision, but he handled it really well. His first pass was excellent throughout the game. He struggled offensively a little bit. But I don't think that's a big concern at all.
Šimon Kubíček
Kubíček went undrafted in the 2020 NHL Entry Draft, so he is eligible for the 2021 Draft as an overager. He was dressed as seventh defensemen for games against Sweden and Finland and did not see any ice time in those two games. But he did see a ton of ice time against Russia. Kubíček played 23:07 minutes against Russia and was pretty good overall. He is a two-way defenseman and showed those capabilities again in that game, being active offensively and creating opportunities for forwards higher both from the neutral zone and offensive zone. Defensively, he was responsible and did not make many mistakes. His skating was an issue for me since his first three steps were always relatively slow compared to the rest of the team and especially his defensive pair, Jakub Galvas.
David Jiříček
2022 NHL Draft eligible and projected first-round selection did rather well. He played 16:58 minutes against Russia and did not play in the other two games. Defensively, there were a lot of issues I saw. One of the big ones was the lack of positional awareness, as he was beaten a lot in his own zone by speedy and active Russian forwards just due to bad positioning. His defensive gap was rather good, but not that effective. Offensively, however, he was really active and contributed a lot in terms of creating opportunities in the neutral zone and in the offensive zone. His shot was good and it was always used with purpose and target. Jiříček's offensive smarts would always be his go-to attribute going forward. He also made history as the youngest player in the independent Czech Republic's history to play for Men's national team.
Jan Myšák
And now we go to already drafted prospects. Jan Myšák was a faller in the 2020 NHL Entry Draft and was selected 48th overall by Montreal Canadiens, and let me tell you, he is going to be a good one! He played 8:35 minutes of ice time in the win against Sweden and 17:03 in the l