July 31-in-31: Nashville Predators
admin
2019-07-17
***
Welcome to our annual 31-in-31 Summer Series here at DobberProspects! Every day in July we will be bringing you a complete breakdown of a team's draft, notes from their development camp, and insights into their off-season moves so far. Following this up, the August 31-in-31 Series will dive into every team's prospect depth charts with fantasy insights and implications for the upcoming seasons. Check in often, because we plan on filling your hockey withdrawal needs all summer long!
***
After an early playoff exit in Round 1, there was a feeling that change was coming in the Music City.  It is often said that the Entry Draft and the Trade Deadline are the most pivotal points in the year to reface your team and GM David Poile did just that.  The PK Subban trade rumours finally ended on Day 2 of the draft with the all-star defender moving on to New Jersey for two 2nd round picks and prospects Jeremy Davies and Steven Santini.  The trade cleared much needed cap space for the highly anticipated UFA signing of Matt Duchene. While big move were made to the main roster, the Predators had a full slate of picks to make and made good on restocking organizational depth.
DRAFT RECAP
Round 1, 24th overall: Philip Tomasino, C
In a 1st Round that was unpredictable at best that saw the value of defenceman rise up the ranks, the Predators pounced on centreman Philip Tomasino with the 24th overall selection.  With many mock drafts slotting Tomasino in the teens, Nashville scored great value on a young centreman only just scratching his offensive potential.  
Tomasino is known as one of the fastest and most improved players in the OHL this season.  He has a great first step and excellent acceleration. He is also described as an absolute workhorse with a non-stop motor and he addresses a need down the middle in the Preds system.  He displays fantastic speed while carrying the puck, which creates great shooting angles for him and helps him draw in defenders opening up passing lanes to teammates. While he may not be an elite scorer, Tomasino has already established himself as a responsible and hard-nosed pivot at a young age.  His style of play matches a fast paced and aggressive Smashville group and is sure to eventually transition well to the next level. On many a night, Tomasino's tenacity and relentless work ethic cannot be overlooked.
"He's a fearless puck-carrier, willing to pay the price to take the puck to the high-danger parts of the offensive zone. His hands are elite." (EPrinkside.com)
"Tomasino is a swiss-army knife forward whose versatility made him effective." (Hockeyprospect.com, 2019)
Tomasino played behind a roster of OHL headliners in Niagara this past season and still posted a significant increase in his offensive production from 24 points in 2017-18 to 72 points in 2018-19.  Seeing as many of the Niagara over-agers will be moving on, Tomasino is poised to earn more ice-time and more favorable offensive nuggets and should continue to improve his scoring output.  
Round 2, 45th overall: Egor Afanasyev, LW
After many wingers got passed-over in Round 1, Day 2 at the draft was loaded with scoring options on the wing.  In the middle of Round 2, the Preds couldn't pass up the raw size and skill of Egor Afanaseyev and selected him 45th-overall.  The Russian factor was an issue once upon a time, but seeing as Afanaseyev is already playing in North America with Muskegon (USHL), there was no hesitation on the part of the Preds.
The hulking left winger adds skill and size to the Predators depth on the wing as Afanesyev presents great potential for a big man.  You can't teach size and in combination with his strong puck skills, Afanasyev adds a unique element to the Nashville system. He already uses his size to his advantage and off the rush, he uses his long and powerful stride to out muscle defenders to the net and uses his soft hands to find a trailer in stride.  Afanasyev isn't shy to shoot the puck either and a great release. As with many big men, there are some concerns about his pace of play and effort without the puck, but his deceptively powerful stride continues to improve and should round into form in time. While Afanasyev is not a complete package, there is certainly a great deal to like.
"He is a big, powerful winger with a monster shot from the circles. Although a natural shooter, he is an accomplished playmaker as well." (McKeen's Hockey, 2019)
"He shows good vision and anticipates passes while also looking for a good outlet pass." (Future Considerations, 2019)
Afanasyev led Muskegon with 62 points last season, a 48 point jump from the previous year, which garnered significant attention from scouting panels.  He showed just as well in the playoffs recording 6 points in 8 games. Look for Afanazyev to play for the Windsor Spitfires in the OHL in 2019-20. Predators fans alike should be excited about a big bodied skill winger that is continually improving his skating as we are seeing many more players of Afanasyev's mold impacting the NHL.
Round 3, 65th overall: Alexander Campbell, LW
In the 3rd round, the Preds added another slick scoring left winger picking Alexander Campbell 65th-overall.  The wingman to Alex Newhook in Victoria of the BCHL, Campbell proved he was capable of playing with elite linemates and finishing scoring opportunities all year. Scouted out of Montreal, Campbell is another product from the surging BCHL Junior A league that has been drawing much attention the past few years as a strong talent pool.  He is a welcomed addition to the Preds system looking for added skill and speed on the wing and projects as a middle 6 winger.
Campbell stands at 5'10" and only 150 pounds, but where he lacks size, he makes up with great edgework and creative puck skills.  He has a great first step and accelerates to top speed quickly. Campbell is also a smart and cerebral player that releases the puck quickly in high traffic areas and is a smooth puck distributor.  
As with all smaller skaters, he will need to continue to add strength and muscle to be effective at the next level when he makes the move to Clarkson in 2020.  While he finished 7th in league scoring and led all BCHL rookies in assists last year, the jury is still out on whether Campbell can replicate his production without Newhook by his side.  Being awarded BCHL Rookie of the Year honours and representing Canada at the World Junior A Challenge should bolster his confidence moving forward into his final season in Victoria next year. 
Round 4, 109th overall: Marc Del Gaizo, D
With the first of two 4th-round selections, the Preds continued to stockpile scorers, but this time on the blueline with Marc Del Gaizo.  The overager out of UMass at Amherst will add a heavier scoring threat to the Preds system of defenders. At just under 6 feet, Del Gaizo is among the next generation of blueliners that boasts quickness and first pass capabilities when exiting the zone to support a faster transition game.  In his first year in the NCAA, Del Gaizo earned a spot on the All-Rookie team, the 3rd All-Star team and practiced alongside Hobey Baker award winner Cale Makar. Not a bad game to emulate. Del Gaizo could eventually make his mark on the main roster as a power play specialist in time. Look for Del Gaizo to log heavier minutes next season in UMass with an increased role offensively.
Round 4, 117th overall: Semyon Chystyakov, D
With the 117th selection, Nashville selected two-way Russian defenseman Semyon Chystyakov out of Tolpar Ufa in the MHL.  Chystyakov scored 11 points in 32GP for Ufa, but is better known for his stout defensive style. He has a strong stride and carries the puck well on the rush and he leg strength translates well in battles down low.  Chystyakov is capable of earning power play time due to his above average shot and his ability to unload a one timer. While not an overly large defender, his low center of gravity helps him engage physically in the defensive zone.  
Chystyakov had a strong year internationally winning a Bronze Medal for Russia in the Hlinka-Gretzky Cup and was named one of the top 3 players for the Silver medal winning Russia squad at the IIHF World Under 18s.  Predators faithful will have to wait a few years until Chystyakov makes the trip to North America to get a true read on his fit in the organization, but his game looks to suit the role of a solid third-pairing defender.
Round 5, 148th overall: Ethan Haider, G
At 148th-overall, the Preds added another goalie to their depth charts in NAHL Midwest Goaltender of the Year, Ethan Haider.  At 6'2″ and 205 pounds, Haider fits the trend of towering tenders filling the crease in the NHL these days. He is known to have a strong glove hand and a strong lateral push from post to post.  When he drops down, he stays upright and covers a great deal of the net. He had a decorated season with the Minnesota Magicians and is slated to play in the USHL for the Muskegon Musketeers in 2019-20.  By many accounts, Haider is said to be a real find for the Predators and should challenge for a goaltending spot within their pro ranks in a few seasons.
Round 6, 178th overall: Isak Walther, RW
Putting even more focus on the wing position, Nashville selected left shooting Swedish big man Isak Walther 178th-overall.  Similarly to Afanasyev, the Predators targeted Walther for his unique combination of size and skill. In his 2nd season with the Sodertalje J18 squad, Walther led his team with 17-17-34 in 21GP and even saw time with the Sodertalje U20 team in the SuperElit and scored 2-2-4 in 5GP.  While his 6ft3in frame still requires time to bulk up, Walther appears to be a project for the Predators and could contribute as a 3rd line scoring option in the system down the road.
Round 7, 210th overall: Juuso Parssinen, LW
With their final selection in 2019, Nashville chose Finnish centre/winger Juuso Parssinen in the 7th round.  While playing for TPS in the top junior league in Finland, Parssinen scored a healthy 14-22-36 in 28GP. He has a good blend of size and  strength and has been relied upon as a leader in the role of assistant captain in a number of occasions. He was part of the gold-medal-winning Finnish WJC team in 2019 and is projected to play for TPS in the Liiga next season where he is locked up until 2021-22.  Long term, Parssinen looks to be in the making of a reliable bottom-six option. 
DEVELOPMENT CAMP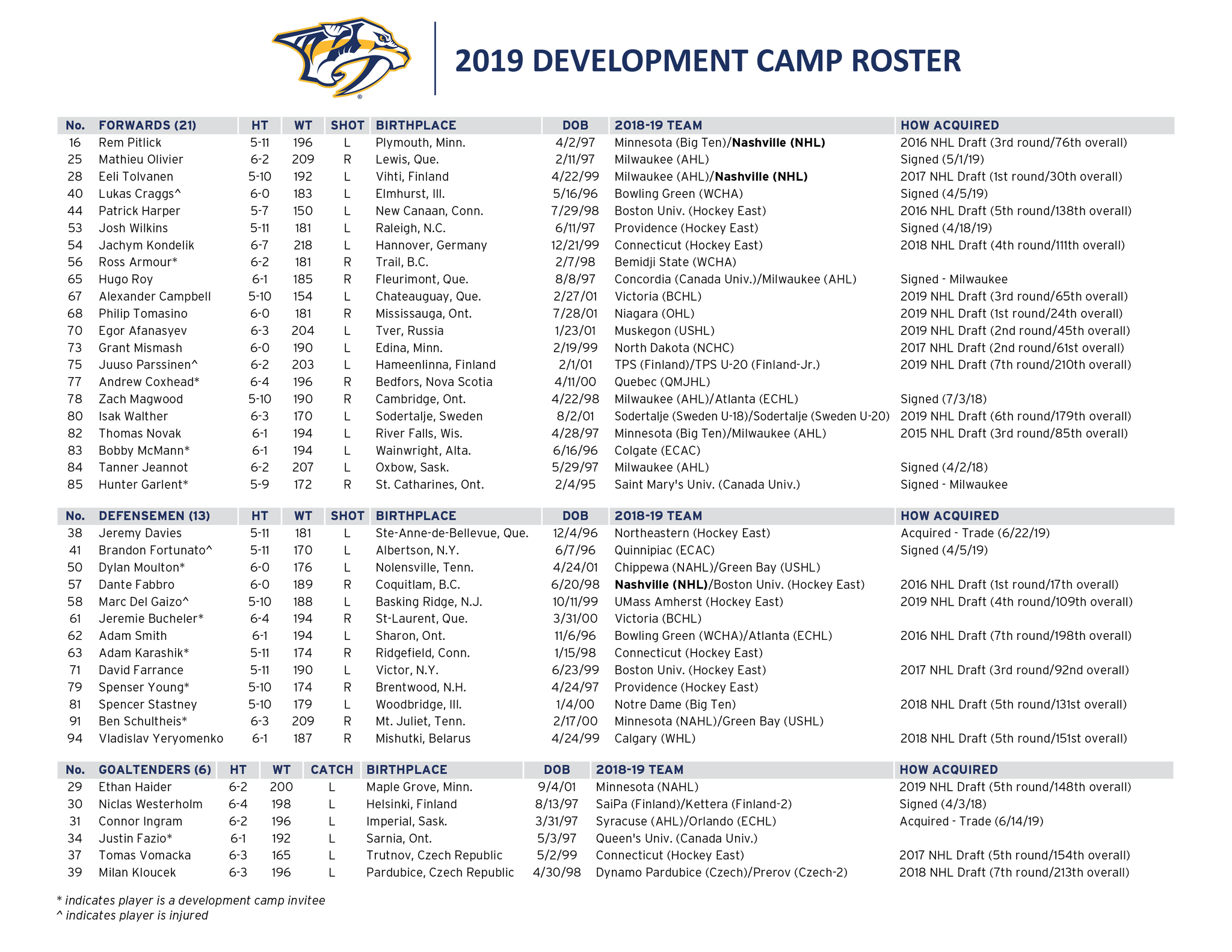 With a busy draft selecting eight picks in 2019 and inviting several outside skaters, there were a number of new faces around the Predators D-Camp at the end of June.  Among the new bodies on the ice were former NHLers Rob Scuderi and Sebastien Bordeleau hired on as new Player Development coaches. The additional investment in coaching at the development level speaks volumes about the how the organization values their young assets and can only help expedite prospect success.  
By most accounts, the new draft class showed extremely well throughout the week long camp, most notably Philip Tomasino, Egor Afanasyev and Isak Walther, all of whom showed their scoring touch several times during the concluding rookie squad games.  The true standouts, though, were veteran prospects looking to make some noise and stick around with the big club at training camp.
Dante Fabbro – Arguably the most veteran of the group, Fabbro was head and shoulders above the rest of the field.  Aside from the steadiness of his play and crisp pinpoint passing, Fabbro was a leadership standout throughout the week.  From his preparation to presence on the ice, his late signing and appearance last season into the playoff run have done wonders for his maturity and overall development.  It may have only been development camp, but Fabbro looks ready to take hold of a position as a Top 4 defender on the big club.  
Eeli Tolvanen – After a mediocre first full season in Milwaukee, Tolvanen fell slightly short of expectations as pure goal scorer, but he took full advantage of all the eyes watching development camp.  Tolvanen showcased his speed and shot that fans and scouts have come to expect. He had a jump is his step and dominated at certain stages in the rookie squad games. With goal scoring at a premium, Tolvanen could be in line for a long look at training camp and a spot on the main roster and his performance at development camp can only help his chances.
Rem Pitlick – Pitlick came off a career year at UMinn scoring 45 points, a 14 point improvement from the previous season, and he played to his offensive strengths all throughout camp.  His quickness and edge work looked a cut above the rest and his poise and vision with the puck really set him a notch above most of the other skaters. Pitlick signed his ELC in March and the Predators brass clearly knows what he has to offer and he definitely showed the rest of the onlookers at camp what kind of a scoring threat he has the potential to become.
OFF-SEASON MOVES
Re-Signed:
Incoming:
Matt Duchene – FA (CLB)

Daniel Carr – FA (VGK)

Ken Appleby – FA (WPG)

Josh Wilkins – FA (NCAA)

Pat McCarron – FA (DET)

Brandon Fortunato – FA (NCAA)

Jarred Tinordi – FA (PITT)

Connor Ingram – Trade (TB)

Jeremy Davies – Trade (NJ)

Steve Santini – Trade (NJ)
Outgoing:
PK Subban – Trade (NJ)

Adam Helewka – Trade (NJ)

Brian Boyle – FA

Tyler Gaudet – FA

Wayne Simmonds – FA

Cole Schneider – FA

Zac Rinaldo – FA

Cody McLoed – FA

Thomas McCollum – FA

Taylor Aronson – FA

Justin Kirkland – No qualifying offer

Philip Di Giuseppe – No qualifying offer
Hope you enjoyed the rundown.  Check back next month as we gear up for training camp.  Check me out @therookieranks.  
Nicholas Kawka
LATEST RADIO & DRAFTCASTS