Prospect PNHLe: Organizational Ranking Metro Division (Part 2)
Mason Black
2019-07-02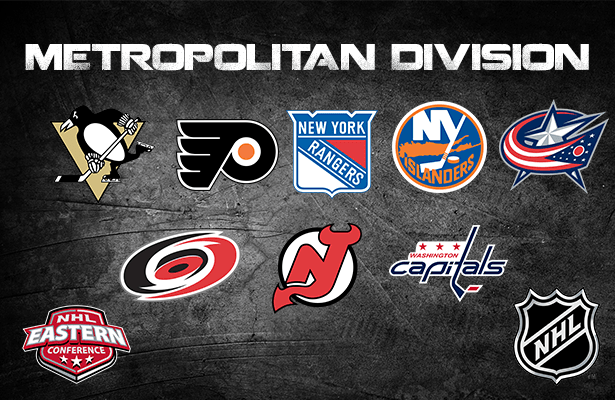 (Photo Credit to Icing.no)
Keeping with the theme of the previous divisional articles, no recently drafted players will be discussed in the following piece. Fret not; I will be ranking the top organizations based on their prospect pools and PNHLe potential in the coming weeks, and you can guarantee the recent acquisitions will play a huge part in those standings.
If you are interested in the previous articles in this series you can find those posts here:
Over the course of a long season, a prospect's point production can swing greatly based on many variables: linemates, usage, time-on-ice, slumps and streaks, only to name a few of the factors. However, the trend that has been developed over the course of an entire season can give great insight into how that production translates to NHL success if a prospect is able to maintain that current point production trajectory.
PNHLe is a stat that looks at prospect point potential at the NHL level based on historical production set by current NHLers from a variety of different leagues. I thought it would be valuable to look at the current rates set by each team's prospects – according to NHL divisions – to give a greater sense of systemic depth.
PNHLe is certainly not a sure-fire statistic that can benchmark a prospect's potential with 100% accuracy, but it should be seen as a piece of the overall puzzle that can help to paint a greater picture of a player's conceivable value and ability. With the number of fantastic writers and scouts already contributing fantastic content at DobberProspects, it is quickly becoming a one-stop shop for all of your fantasy needs. As a diligent fantasy G.M. it is your responsibility to evaluate the greatest amount of information that you can fit into your busy life in order to construct a juggernaut roster based on league settings. The scouting, anecdotal evidence and statistics analysis provided throughout this website can give you a huge advantage over your competition.
I've included the top-10 prospects, based on the PNHLe ranking, for each team in their respective division. In case you are wondering why a player shows up multiple times, if a prospect has played on more than one team, or in different leagues, those PNHLe stats are broken down separately, which may give greater insight into their overall value. Please remember that PNHLe is not a stat that predicts whether a player will make the NHL and should not be used to compare if one player is 'better' than another.
The minimum games played requirement to end up on the list is a maximum of 40 games played for a given NHL before they graduate, however there may be a few irregularities of players that I missed when combing through rosters. It should also be noted that the 2018-19 DobberProspects organizational prospect rank included for each team took into consideration under-21 roster players, in case you are wondering why some teams are ranked much higher/lower than prospect-only rankings. Let us begin.
The Rangers made it very clear this would be a rebuild year, and despite stretches where you could see the potential in the younger players that will eventually make up the future roster, they were a cellar-dwelling team for most of the season. However, the New York's strategy to stockpile prospects and draft picks paid off in a huge way when the landed the second lottery selection in this year's draft, and used it to grab future superstar: Kaapo Kakko.
A lot of mock draft-boards were thrown off last season when Kravtsov was taken inside the top-10 and it is starting to look like the Rangers nabbed a dynamic, first-line wing with the ninth overall pick. His potential is much higher than his 46 PNHLe would suggest, as the KHL is one of the toughest leagues to project future production; especially for younger players that see limited ice-time.  The Rangers second round pick, K'Andre Miller is also looking like a sensational selection, and picked up 22 points in only 26 games as a freshman defender for the Wisconsin Badgers. He was solid in the World Junior Championship despite only producing one point in six games.
Morgan Barron is another collegiate prospect to keep an eye on as the powerful pivot nearly doubled his production in his sophomore campaign with the Cornell Big Red. In 36 games he was able to post 34 points, and I'd expect another marginal gain this year before the Rangers sign him to a pro contract.
It's hard to imagine that a prospect with one of the highest offensive potentials for their respective position has already been traded twice, and a part of three separate NHL organizations. However, when it looked as though Adam Fox would not give sign with the Carolina Hurricanes after his junior year at Harvard, they parted ways in a swap for two decent draft picks. The Rangers were quick to sign Fox, who has been one of the top offensive producers in terms of PNHLe over the past three years. He does have some deficiencies in his defensive game, but could be a power play quarterback for years to come in Ranger blue.
The Flyers have had one of the best prospect pipelines in the NHL for the past few years, and as those prospects have started to graduate it has left another wave of players ready to take the next step towards their dream of cracking an NHL roster. That starts with the dangerous two-way forward that they used their first selection in the 2018 draft on, Joel Farabee. He had a fantastic freshman year in the NCAA with Boston University racking up almost a point per game: 17 goals, 19 assists in 37 games. Farabee's IQ sets him a part from other prospects and he will almost undoubtedly round out as a top-six forward for the Flyers very soon.
Another first round pick, German Rubtsov, made progress despite only suiting up for 14 games this year in the AHL. He looks like he is fully adjusted to the North American style and ice size, but will probably need another full year in the AHL if he can stay healthy before making the jump to the NHL full time. Isaac Ratcliffe is as steady as they come and a monstrous winger that will almost assuredly crack the Philly line-up in the coming years. He was an integral part of Guelph's production that propelled them to the Memorial Cup and knocked off some big-time contenders before ultimately coming up short in the final tournament.
As one of the fastest rising stars in the entire NHL last season, he put any consistency issues to bed with another fantastic year. Frost averaged just under two points per game with the Sault Ste. Marie Greyhounds (OHL) in the regular season, sniping 37 goals and 109 points. He followed that up with 18 points in 11 playoff games. For Canada's WJC he showed he was one of the top prospects in the world and gathered eight points in only five games. He'll push for a roster spot on the Flyers this fall and he may force their hand into keeping him for the entire season.
There is no question that the success over the last decade for the Pittsburgh Penguins has left the prospect cupboards almost empty, and without any blue-chip prospects left on the top shelf. Through free agency and the draft the Penguins have done a decent job of adding supplementary role players that could eventually jump into the line-up as depth scorers. The way the Penguins have succeeded by implementing a three-line offense has allowed skilled, yet supportive, players to be situated up and down the line-up with some of the game's future hall of famers. That leaves plenty of opportunity for mid-range prospects to carve a niche at the NHL level and provide scoring depth on your fantasy team.
An underrated player that was signed as a free agent but continues to show off his offensive upside is Jordy Bellerive. A freak off-season injury probably diminished his overall point totals, but 83 points in 68 games is no small accomplishment. Expect some AHL seasoning and if he's able to translate his scoring to the pros, he may get a shot much sooner than if he was in another organization.
Prior to the 2019 NHL Entry Draft, Filip Hallander was the top drafted forward by the Penguins in the last three years. Playing for Timra in the SHL he was able to score 21 points in 45 games and could be a decent two-way centre in a middle six role. Calen Addison was selected five spots earlier in the 2018 draft and barely missed a point-per-game pace with the Lethbridge Hurricanes (WHL) as a defender. 
Passed over in his first draft before he was taken in the fifth round of the 2018 draft, Almeida has done nothing but exceed expectations. He led all WHL players this past season with a whopping 78 assists; 13 more than any other player in the league. Almeida's 33 goals helped him finish third overall in league scoring, but first in points-per-game.
Washington Capitals – 30th  (2018-19 Dobber Prospects Organizational Prospect Rank)
One year after their first Stanley Cup, the Washington Capitals have one of the most depleted prospect pools in the NHL. Interestingly, in 2018 they had four picks in the first three rounds, compared to zero a year earlier. They have not added an impact player from the draft since taking Jakob Vrana with the 13th pick overall in the 2014 draft. Only one player, Jonas Siegenthaler (26 games played), from the next five drafts has played in a single NHL game. Nonetheless, most NHL teams would trade their entire prospect pools and switch places with the Capitals who were able to engrave their name on Lord Stanley's Cup, and enjoy the escapades that followed.
At 25 years old, Riley Barber had his most successful professional campaign with the storied Hershey Bears franchise. His 60 points helped him finish top-20 in AHL scoring, but he is on the threshold of becoming obsolete as an NHL prospect as he is only accrued three total games played for the Capitals since being selected in the 2012 draft. Connor Hobbs' adjustment to the AHL is taking longer than most expected after tallying 85 points in 67 games as a defensemen for the Regina Pats in his final WHL year. He is trying to remedy deficiencies in his game that are keeping him out of the Capitals' roster at the detriment of his offensive ability.
The big Swiss defender, Siegenthaler should round out on the third pairing and split time between Hershey and Washington this year. In leagues that provide peripheral statistics, he could end up becoming a depth commodity. He will always be more efficient in the defensive zone but could pick up additional points depending with whom he pairs with.
The one player with the clearest trajectory to the NHL is the Capitals' first round selection in the 2018 draft. He's big, plays a mean game at times, can skate and has a decent shot from the point. All signs point to him becoming a key component in a Cup run when he makes the jump and adjusts to the NHL in the next few years. Washington has the luxury of locking up most of their star players for the next while, so will need contributions from entry level players and Alexeyev could fit that bill.
 ****
You can read up more on the PNHLe stat, where it comes from, and the methodology behind how the algorithm was created here.
If you are interested in seeing full team rankings, player cards and their stats, a prospect's progression and how their PNHLe stacks up against other prospects, every profile is available in a completely free iOS app that I've created specifically based around fantasy hockey. If you have an iPhone or iPad you can download it here. 
If you have Twitter, please give me a follow @NHLRankKing
Thank you, and I hope you enjoyed.
Mason Black
LATEST RADIO & DRAFTCASTS