Colorado Avalanche July 31-in-31: Draft Review, Development Camp, Off-season moves
Hayden Soboleski
2018-07-08
Thanks for joining us for our July 31-in-31 series! Every day this month we will be taking a look at how each team fared in the NHL Entry Draft, as well as checking in on incoming/outgoing prospects and Development Camp notes. Check back every day for a new team profile, and next month when we begin the August 31-in-31 series diving more into prospect depth charts.
—————————————————————————————————————-
Draft Review
1st Round: 16th Overall – Martin Kaut, RW
Kaut was considered a safe pick at the draft. His upside isn't as high as some other forwards, but he brings a full package of skill, size, and good two-way play, all demonstrated on the world stage against tough competition. He has already signed an ELC and will be playing in the AHL to start the season unless he really forces his way onto the Avs out of camp. Most likely a part-time NHLer (or more) in 2019-20, so is worth drafting now in many leagues.
3rd Round: 64th overall – Justus Annunen, G
The Avs needed goaltending depth, and trading for Grubauer wasn't enough for them to put the matter to bed. Annunen is a massive body at 6'4" and 216 lbs, and is still only 18 years old so could very well continue to grow. His save percentage numbers aren't outstanding historically, but he had a strong U18 tournament and he's getting a good amount of starts in the Finnish Jr. league. A long ways out from fantasy relevance (like most drafted goalies), but definite starter potential.
3rd Round: 78th overall – Sampo Ranta, RW
The Avs have had trouble identifying good power-forward draft targets of late, but Ranta is a good bet to break the streak. He wields one of the hardest shots of the draft and plays a heavy game, giving him outstanding fantasy upside. The knock is that most of his experience is in the USHL, and his scoring stats don't exactly jump off the sheet. He has the tools they just need to be polished. He has committed to the NCAA and he's a few years away.
4th Round: 109th overall – Tyler Weiss, LW
Weiss has been categorized as a "boom or bust" forward. Good skating, good shooting and passing abilities, but hasn't been truly tested yet with the USDP, where he put up fine numbers in a secondary role. He is underweight for his frame so needs to develop physically before he becomes a prospect to bank on, but he has committed to the NCAA so clearly wants to show that he can handle himself in a league of bigger men. Wait and see how that goes before drafting.
5th Round: 140th overall – Brandon Saigeon, C
If the Alternate Captain of the OHL champions has truly put his injury worries behind him, Saigeon may be a real value pick for the Avs. After going 6h-overall in the OHL draft, he broke two bones in his arm and battled ankle injuries, putting him essentially a year behind in development and stopping him from being drafted in his first two years of eligibility. But he has played 66 and 65 games in the last two seasons, respectively, and passed the point-per-game mark in 2017-18. He's got good size, he can score goals, and he puts up peripheral stats to boot. He isn't turning pro yet by the looks of it, so don't get too over-eager, but I wouldn't sleep on Saigeon if he continues to improve
5th Round: 146th overall – Danila Zhuravlyov, D
Zhuravlyov is new-wave two-way defender. Underweight and slightly undersized, he relies on strong body and stick positioning to break up plays (so don't expect peripheral stats), and his speed to quickly move the puck up the ice. His U18 tournament numbers give us hope that he can reach a fantasy-relevant offensive level when playing alongside top talent, but he's not yet playing in the top Russian league so definitely wait and see before considering him in any fantasy draft.
6th Round: 171st overall – Nikolai Kovalenko, RW
The later rounds of the draft is when teams often start swinging for the fences, and Kovalenko is a perfect use of a 6th-rounder. He is a dynamic player who can make plays with and without much space, but more of a disher than a finisher (I don't foresee a volume shooter future). Had a strong MHL regular season and playoffs, and will try to lock down KHL ice time next season. He becomes fantasy relevant if he does stick in the KHL, and shows interest in coming to North America at some point.
7th Round: 202nd overall – Shamil Shmakov, G
Goalies are voodoo, and 18-year-old goalies are the riskiest possible picks out there. But Shmakov is 6'6", and got 51(!) starts in the Russian MHL last year. Not only that, he managed a .932 save percentage in those starts. Needs to prove himself at a higher level, but appears to be a high-upside goaltender worth keeping an eye on.
———————————————————————————————————————
Off-season moves
RFAs Qualified:
Matt Nieto, LW/RW (signed 2-year contract)

Patrick Nemeth, D (filed for arbitration)

Spencer Martin, G

Ryan Graves, D

Mason Geertsen, D
RFAs Not Qualified:
Duncan Siemens, D

Nail Yakupov, RW (signed in KHL)

Reid Petryk, C

Felix Girard, C

Jesse Graham, D
Incoming:
Philipp Grubauer, G

Ian Cole, D
Matt Calvert, LW
Sheldon Dries, C (AHL)
Scott Komaschuk, RW (AHL)
Joe Cannata, G (AHL/ECHL)
Outgoing:
Blake Comeau, LW/RW (UFA – signed w. DAL)
Rocco Grimaldi, C (UFA – signed w. NSH)
Andrew Hammond, G (UFA – signed w. MIN)
Joe Colborne, C (UFA)
No surprise qualification moves here. Those not qualified don't have fantasy relevance anymore (or never did), and those that were qualified are the guys with move still to give. Yakupov and Comeau moving on means a middle-six winger spot opens up (most likely for Kamenev – this is a very positive fantasy-relevant note for owners). New netminder Grubauer coming in doesn't affect any prospects other than himself since Martin is unlikely to be NHL-relevant unless he really pushes the issue.
Nieto is a solid 4th-liner for the time being, and Nemeth received huge minutes at the end of the year so will clearly remain in the picture on the left side of the blueline. Martin gets another shot as AHL workhorse and Graves/Geertsen will continue to bring some size to the AHL blueline.
Next month's 31-in-31 article will get more into the current depth chart hierarchy of every organization.
————————————————————————————————————
Development camp notes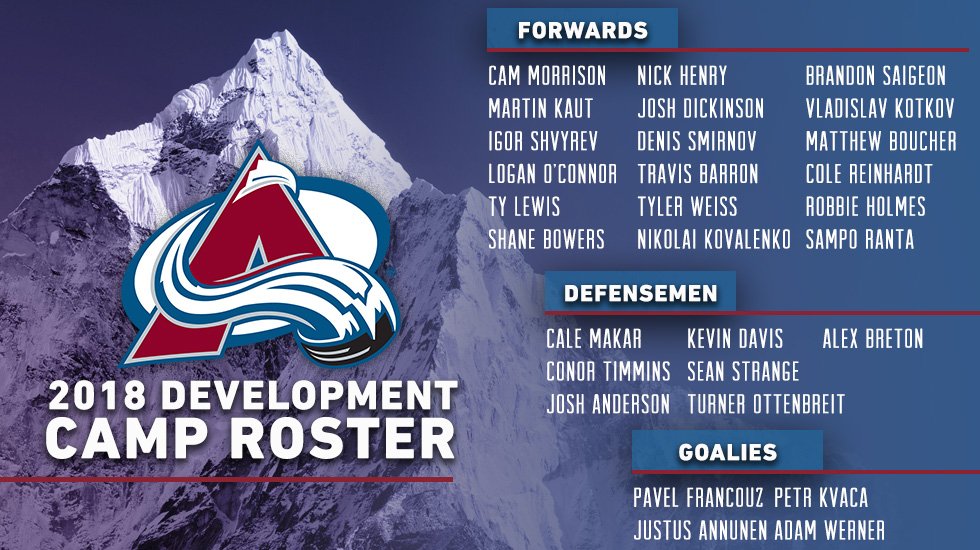 The Avalanche held development camp June 29-July 1. Most prospects without pro experience were present. This was our first North American look at many 2018 draftees, as well as international signees Pavel Francouz (UFA) and Igor Shvyrev (ELC). Conor Timmins was present but did not participate due to concussion symptoms and ankle problems.
Undrafted invitees included:
Matthew Boucher, LW (QMJHL)

Vladislav Kotkov, D (QMJHL) (has since signed with SJS)

Alex Breton, D (QMJHL)

Robbie Holmes, LW (WHL)

Cole Reinhardt, LW (WHL)

Turner Ottenbriet, D (WHL)

Kevin Davis, D (WHL)

Sean Strange, D (WHL)

Logan O'Connor, C (NCHC)
It's hard to judge players too meaningfully when its kids vs. kids, but a few notables from dev camp included:
Sampo Ranta's great shot,
Nick Henry's ability to get to the net and knock pucks in close,
Cale Makar explosive skating and overall fitness,
—————————————————————————————————–
Thanks for reading, check back next month for our August 31-in-31 Series that dives deeper into each organization's prospect depth charts and players development towards making the big jump!
Hayden Soboleski
@soboleskih