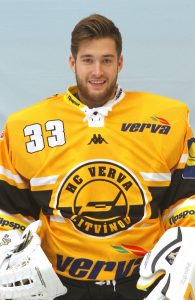 image courtesy of tyden.cz
Fantasy Summary
From KHL star to top-tier NHL backup. Still more to see if he gets the chance.
Observations
Click to Expand

April 2021 – After being expected to be the full-time NHL backup for Colorado, Francouz never hit the ice in 2020-21 due to injury and has now been pronounced done for the season, requiring lower-body surgery. This has eliminated most of his fantasy value, as it's safe to assume that the cup-contending Avalanche will prefer a less injury-prone option in the crease going forward. He still has 1 year left on his NHL deal so he can hopefully return to the backup role and recoup his value in 2021-22. Hayden Soboleski

February 2020 – Francouz has signed a 2x2M extension with the Avalanche. His 0.925 sv% through 25 games is fantastic for a backup, and his usage likely deserves to increase next season and beyond. He may end up being a prime target come expansion draft time in Seattle. Wherever he plays out this new deal, he has graduated from prospect status as a very successful gamble when signed out of Russia. Hayden Soboleski

December 2019 – As expected, Francouz received the Avalanche backup netminder position out of training camp and never looked back. He's made it into 11 contests so far and holds a 0.931 save percentage in a league where a good backup has been hard to find. He has quickly become a very valuable fantasy own as a reliable backup who sees more starts than average and has no one in the organization nipping his heels very hard. Given the goaltending success of teams such as Dallas, Boston, and the Islanders, Francouz will deserve a look as a tandem option in the future, which would boost his fantasy value even more. Hayden Soboleski

March 2019 – Francouz has stayed hot, earning AHL Player of the Week Honors thanks to a 4-0-0 record and 0.959 sv%. His chances of being a full-time NHL backup next season are very high. Hayden Soboleski

January 2019 – Francouz has been named to the AHL All-Star team, thanks to his strong 0.915 SV% in 24 games for the Eagles. His time is certainly coming in the NHL. He has been an injury call-up already, posting a 0.943 SV% in two relief appearances, but has not received any starts so far. If he keeps this up, he will be an NHL backup in 2019-20. Hayden Soboleski

November 2018 – In 6 AHL appearances, Francouz has amassed a .916 SV% – not bad for someone new to North America. It's only a matter of time before he gets a call-up opportunity. Hayden Soboleski

September 2018 – After a few training camp and preseason appearances, Francouz will start the season in the AHL, but don't think this is the end of his chance. Its only a matter of time before he sees injury-replacement call-up duties, and that will be his real chance to prove he's NHL-caliber. He has yet to make us think otherwise.  Hayden Soboleski

May 2018 – Colorado has signed Pavel Francouz to a one-year deal. The 27-year-old is coming off his 3rd straight outstanding season in the KHL, where he played 35 games and carried a .946 SV% (actually down from an incredible .953 in 2016-17). This is a low-risk, high-reward move for the Avs who spent almost no money on this proven net-minder. Hayden Soboleski Francouz going unsigned until now is most likely due to his height – at 6-0 he is at the bare minimum of most teams' size expectations these days. But his track record in the KHL in undeniable in both regular season and playoffs, and he has international tournament experience to boot. He should receive every opportunity to earn the role of Varlamov's backup come training camp, and that role comes with a lot of starts given how injury prone the Russian is. If his game translates even half-decently, Francouz will be an immediate fantasy asset.
Highlights