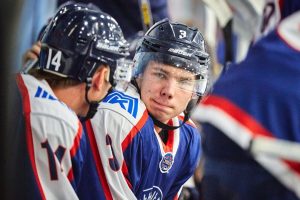 image courtesy of MileHighHockey
Fantasy Summary
Skilled centerman yet to develop into any particular specialty
Observations
Click to Expand

August 2020 – At the conclusion of the shortened 2019-20 season, the Avalanche terminated Shvyrev's contract. The 22-year-old has signed a two-year KHL deal where he can hopefully find some ice time and opportunity to put his energy to better use. He has the skills to be a useful forward, but he was unable to click in a bottom-six role and didn't score consistently enough to fill a top-six role. Hayden Soboleski

January 2020 – The good news: Shvyrev has already matched last season's goal total of 6, halfway through the campaign. The bad news: his scoring pace is still disappointingly low (8 points in 32 games), and he is spending most of his time on the fourth line. He needs to earn consistent ice time to develop fantasy value to match his skillset, until then, he doesn't shoot much, he doesn't hit much, and he doesn't take penalties, so it's hard to justify owning him in any fantasy formats. Hayden Soboleski

September 2019 – Shvyrev has been assigned to the AHL Eagles for the 2019-20 season. he showed flashes of offense in 2018-19, and can build upon that if he earns a full-time roster spot this season. He is a darkhorse prospect with real upside if he can manage this. Hayden Soboleski

June 2019 – Shvyrev was named "Class Clown" of the 2018-19 AHL Eagles. It's good to know he kept his spirits up and was enjoyed by his teammates despite being a regular healthy scratch by the end of the year. Hayden Soboleski

April 2019 – The Eagles were not nice to Shvyrev at the conclusion of the season, opting not to play him in the playoffs. He was unable to battle back into the lineup which favors straight lines and grinders to precision plays. Hopefully he returns next season to give it another go, because he showed us flashes of excellent playmaking abilities that just needs a couple years of pro refinement. Hayden Soboleski

February 2019 – Shvyrev's pace has cooled significantly since the start of 2018-19, sitting with only 8 points in 39 games so far. Worse is the fact that he isn't seeing serious time on the man-advantage, and his SOG numbers are poor (even for a pass-first playmaker). Still, this is his rookie season and his first in North America, so he deserves patience given his skillset. Hayden Soboleski

October 2018 – Shvyrev is wasting no time acclimating to North American hockey, scoring twice in his first three games in the AHL. He is starting to look like a gem, but his upside is still likely a middle-six scorer. Hayden Soboleski

September 2018 – Shvyrev didn't look NHL-ready in rookie tournament and preseason, but he has proven he has the instincts and skill to be a difference-maker at the pro level. He has been assigned to the AHL Eagles to start the season, and his strong playmaking abilities should lead him to decent TOI, especially on the PP. Looks close, could make a real push for an NHL spot in 2019-20. Hayden Soboleski

May 2018 – The Avalanche have signed Shvyryev to an ELC. In the 2017-18 season, the sizable youngster was once again very productive in the MHL, and earned more games played in the KHL. His offense did not immediately translate to the stronger tier, but he was also not given much of a leash to find his game. Some added patience may have been the deciding factor in convincing Shvyryov to since a North American pro contract. As such, expect some development time in the AHL as he grows his game. Hayden Soboleski

Shvyrev (also seen written as Shvyryov, Svyrev, Shvyrov) has produced in the lower-tier Russian league at a comparable pace to success stories such as Namestnikov and Panarin, but also disappointments such as Grigorenko. In the 2017 draft he was considered a strong value pick in the 5th round given his mix of talent and size. He is a very raw prospect several years from a real NHL shot, but he has the tools to get there.
Highlights