USHL Update – Tyler Madden
Kevin Wickersham
2018-02-16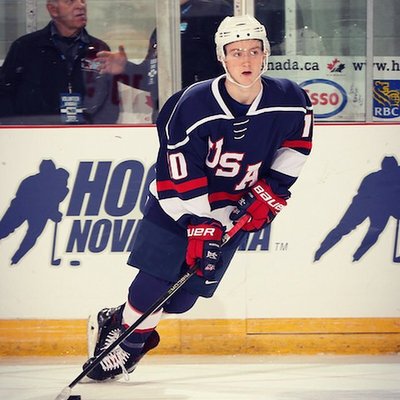 As we hit the two-thirds mark for the USHL campaign, with teams clustered around the 40-game point in a 60-contest regular schedule, one prospect in particular has raced up the rankings.
While the league's generally most highly regarded and publicized this year (Oliver Wahlstrom, Bode Wilde and Joel Farabee) play for the US National Team Development Program, Tri-City center Tyler Madden who began the year largely off the radar has gained momentum as the NHL Entry Draft grows nearer.
Best known as son of respected NHL veteran, winner of three Stanley Cups, and current Cleveland Monster Head Coach John Madden, Tyler is cutting his teeth effectively in post-high school hockey having spilt time with the Storm and Central Illinois Flying Aces as a rookie. He's blazing fast on skates and moves with amazing agility, versatility and explosiveness. He has a great mind for the game, at which he excels both on offense and defense, and really takes charge of matters when he's out there. A true leader at age 18.
While he could stand to add a bit of bulk at this point, his 5-10 frame weighing in at 152 pounds, Madden's play stands out as his recent MVP recognition for the East squad during the USHL/NHL Top Prospects game demonstrated. His two goals were highlights for the game-winners. Madden also put on a show for the silver-winning Team US club during December's World Junior A Challenge with three goals and an assist in four games.
Tied for third among first year USHL players with 11 goals Madden's scoring has slipped a bit lately along with the rest of the Storm. The league's lowest scoring squad with 94 goals in 39 games, Madden arrived via trade in December following six goals and eight assists, with a gritty 20 PIM, in 18 tilts with Central Illinois. Tri-City's defensive strength, as they have also allowed the league's fewest goals with 81, has propelled them to a solid 23-14-1-1 record as the playoffs loom.
A large part of this success continues to be the Storm's league-topping goalie Filip Larsson whose 1.65 goals against average and .940 save percentage both lead the USHL. Larsson also is tied with Omaha's Zach Driscoll, second in both categories at 1.73 and .939, with six shutouts.
LATEST RADIO & DRAFTCASTS