Team: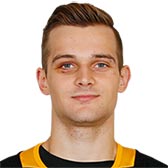 NHL.com
Fantasy Summary
Possible middle-six forward with a bit of upside if things fall into place the right way.
Observations
Click to Expand

April 2020- Blueger had a very consistent season with the Penguins. He was a major contributor to the Penguins' line-up that was pummeled with major injuries. The speedy center fulfilled a bottom-six role and put up nine goals and 13 assists for 22 points in 69 games. Clare McManus

January 2020 – The affordable Latvian ($925,000 AAV) continues to quietly earn his paychecks. He scored the decisive goal in a 4-3 shootout victory over the host Coyotes. Earlier, Blueger excelled on the penalty kill as Pittsburgh killed all four Arizona power plays. He even generated some shorthanded scoring chances. The 25-year-old has meshed well on a trustworthy line with Zach Aston-Reese and Brandon Tanev. Mark Allan

December 2019 – Blueger's speed has helped him to be much more valuable than his modest offensive production indicates. In addition to four goals and five assists in 33 outings, the Latvian's play as a center has helped to solidify Pittsburgh's bottom six and keep the Penguins afloat during a plague of injuries that sidelined Sidney Crosby and Evgeni Malkin simultaneously. The trio of Blueger between fellow speedsters Brandon Tanev and Zach Aston-Reese has routinely hounded opponents. The 24-year-old Blueger, who's working on faceoffs, will keep being a bargain through next season with a $925,000 AAV. Mark Allan

November 2019 – After 14 outings, Blueger's primary numbers (two scores and three helpers) are what you'd expect from a bottom-six forward. A closer look at his performance in a recent 2-1 OT loss to Edmonton reveals six shots on goal in 14:52 of ice time, not the kind of stat you would expect from a fourth-line center. Mark Allan

October 2019 – Serious long-term injuries to Evgeni Malkin and Nick Bjugstad suffered in a 7-2 win over Columbus resulted in a promotion for Blueger from fourth-line center to the third line. It's a great opportunity for the Latvian to add to the goal he recorded in Pittsburgh's first two games. Mark Allan

July 2019 – Blueger signed a two-year contract with an AAV of $750,000 whether he plays in the NHL or AHL. The six-foot, 185-pounder has posted good AHL numbers for three years, leading Wilkes-Barre/Scranton with 39 points in 45 games last season before he was promoted to Pittsburgh, where he had six goals and four assists in 28 outings with limited playing time. The organization's braintrust appreciates his work ethic and commitment as well as his hockey sense. Not the greatest skater, he's on the cusp of sticking with the big team, although he's just as likely to be the first forward called up when needed. Mark Allan

June 2019 – Attracted by the Latvian's intriguing scoring potential and ongoing affordability, the Penguins tendered the 24-year-old RFA a qualifying offer. Expect him to sign a short-term bridge deal while the organization tries to gauge what kind of player he might be. Mark Allan

May 2019 – Playing for an underdog Latvian squad at the IIHF world championship, Blueger had a goal and three assists in seven games. By winning 62.7 per cent of his faceoffs, he was among the tournament leaders. He was also named one of the top three players for his team, which finished fifth in the eight-team Group B with 3-4 record. It was good experience for the 24-year as he enters a crucial off-season. Cap-strapped Pittsburgh GM Jim Rutherford is pondering how to introduce inexpensive younger depth scorers who won't hurt Pittsburgh defensively. If Blueger (who scored five times in five-on-five play in 28 outings on the Penguins' fourth line) has a strong camp, he could start the schedule in the NHL, assuming the RFA is offered a new contract. Mark Allan

April 2019 – Blueger took the biggest step yet toward regular NHL employment, getting into his first 28 NHL games, scoring his first six big-time goals, finishing with 10 points and plus-7. He earned his call-ups by scoring 21 AHL goals, going plus-20 (both second on Wilkes-Barre/Scranton) and totaling 39 points in 45 games. He also made his Stanley Cup playoff début. An average skater, the 24-year-old Latvian is nonetheless trending upward. All the RFA needs is a new contract and some regular NHL ice time. Mark Allan

February 2019 – Scoring in your first two NHL outings and adding another score five games later should be enough to keep you in the lineup, right? Unless you're a 24-year-old center trying to carve out some ice time with the deep-up-front Penguins. When he gets into the lineup, it's as a bottom-six winger, a good fit for an average skater with a scoring touch and defensive dependability. Sitting in the press box doesn't help the impending restricted free agent prove he belongs, although not being demoted to the AHL indicates Pittsburgh is at least interested in him. Mark Allan

February 2019 – Blueger was called up with Evgeni Malkin out (day-to-day upper-body injury) as well as fellow centers Derick Brassard and Riley Sheahan having departed after a major trade with the Panthers. Blueger, leading Wilkes-Barre-Scranton with 21 goals and 39 points in 45 games, scored and had five hits in just 10:42 of icetime on the fourth line in a 5-3 win over Ottawa. Although the Latvian earned the promotion with the fourth-most scores in the AHL and a team-high plus-20, he will still face a challenge staying with the big club after Malkin returns and new Pittsburgh center Jared McCann settles onto the third line ahead of fourth-liner Matt Cullen. Mark Allan

December 2018 – Although Wilkes-Barre/Scranton is not the AHL offensive powerhouse its fans are used to, Blueger is nonetheless leading the baby Penguins with 16 points (including six goals) in 23 games. The numbers project to match or slightly better his second-year stats from 2017-18. His output is neither encouraging nor discouraging. Mark Allan

November 2018 – While he had yet to set up a teammate for a score, the skillful Latvian potted four goals in his first eight games of the new AHL campaign. One of those goals was with the man advantage. Blueger faces a tough battle to separate himself from his fellow Wilkes-Barre/Scranton forwards when Pittsburgh needs a callup. Mark Allan

September 2018 – Coming off a 21-goal, 45-point campaign with Wilkes-Barre/Scranton, Blueger has proved he has a decent scoring touch at that level. Back in the AHL, he must stand out to get a sniff of the big time. A goal and an assist in three NHL pre-season games is promising. Mark Allan

August 2018 – Without the leverage of promising stats, Blueger took a pay cut when he signed a one-year, two-way deal at an AAV of $650,000. He has much to prove and almost no chance to do it in the coming NHL campaign because Pittsburgh has perhaps the deepest, most experienced and talented group of forwards in the league. Mark Allan

April 2018 – Still just 23, the native of Riga, Latvia, still has NHL aspirations. While not wowing anyone in his second AHL campaign, "Teddy" didn't hurt his cause with 21 goals and 24 assists in 70 games, adding a plus-16 rating for a strong Wilkes-Barre/Scranton squad. Assuming Pittsburgh re-signs the RFA, the offensive-minded six-foot, 185-pounder will try to dent a deep forward corps in training camp, aided by his ability to also play as a winger. Mark Allan

December 2017 – A good shooting percentage of 18.8 has resulted in six goals, although Blueger has just 13 points in 20 AHL games, which puts him behind the pace that resulted in 31 points last season in 54 outings. He's clearly behind Dominik Simon in Pittsburgh's system. Mark Allan

September 2017 – The skilled Latvian was among 21 players assigned to Wilkes-Barre/Scranton of the AHL, where had 31 points in 54 games last season. The mass demotions leave 26 players in training camp before final cuts. Mark Allan 

June 2017 – After missing more than a month following a lower-body injury in training camp, Bluegers posted respectable numbers in his first "full-time" pro season. His seven goals and 31 points in 54 AHL games were augmented by a plus-24 rating for Wilkes-Barre/Scranton. The playmaking Latvian had just one goal in seven games at the world championship but that's more a reflection of a weak team than of his performance. The former second-round pick, who played four NCAA seasons, has one more crucial season on his ELC. Able to play the middle as well as on the wing, he remains a viable prospect albeit one in a system awash with similar young players. Starting the 2017-18 season healthy would help to give everyone a better idea what his NHL odds might be. Mark Allan

February 2017 – After missing the early part of the AHL season while rehabbing an injury, the Latvian is enjoying a solid season in his first substantial pro campaign. In 29 games, he's augmenting five goals and 14 assists with a plus-17 rating, good for fourth on Wilkes-Barre/Scranton. A second-round pick, Blueger is working on an all-around game that includes physical play, retrieving loose pucks, faceoff ability, and a good hockey IQ. He even added 10 pounds. Although Blueger faces a tough challenge cracking Pittsburgh's deep forward corps, he has the makings of a solid pro. Mark Allan

October 2016 – Already out for three weeks with a lower-body injury suffered at Wilkes-Barre/Scranton's training camp, Blueger has to wait another three to five weeks before he can begin his first real pro season after going pointless in 10 games at the end of the past AHL campaign. Pittsburgh selected him in the second round and he has some upside, but Blueger has some promising forwards ahead of him in the organization, and starting late will not help him to catch them. Mark Allan

June 2016 – The Latvian native began his pro career meekly after joining Wilkes-Barre/Scranton right after finishing his fourth hockey season with Minnesota State Mankato. Blueger went pointless in 10 AHL league games, adding just one assist in 10 playoff games. He'll be back next season to try to better translate his dynamic stickhandling and playmaking into points. Mark Allan 

March 2016 – In the latest of a flurry of contracts negotiated by Pittsburgh GM Jim Rutherford, Blueger was inked to a two-year, entry-level contract after he finished his senior season at Minnesota State-Mankato. The 21-year-old alternate captain made the WCHA first all-star team by leading the Mavericks with 35 points and 24 assists. His 11 goals in 41 games included seven game-winners a four-season run in which his numbers improved each season. The native of Riga, Latvia, will play with Wilkes-Barre/Scranton of the AHL on an amateur tryout contract for the remainder of this season. Besides having extensive international experience with his fellow Latvians, Blueger has already got a taste of winning, having helped the Mavericks win consecutive WCHA championships. Mark Allan

November 2015 – The Latvian native is an alternate captain in his senior year with the Minnesota State Mavericks. He has three goals and four assists in 14 NCAA games this season. Mark Allan

December 2014 – Playing hockey in North America since he was 14, the native Latvian is a dynamic stick-handler and passer. After four seasons with Shattuck St. Mary's prep school, Blueger has seven goals and nine assists in 17 games in his third season with Minnesota State University. Good with faceoffs and protecting the puck, the slight Blueger must put on some muscle to make it in the pros, where he projects as a top-nine forward. Mark Allan

October, 2013 – Teodors is poised to have a good offensive season for Michigan State as a sophomore. He will look to stay more consistent from game-to-game, and will be given more defensive responsibilities. Seth Brisendine

March, 2013 – Teodors 'Teddy' Blueger is one of the better prospects to come out of Latvia in the last few years. He is playing in his first year with the Minnesota State Mavericks of the WCHA, after attending the prestigious Shattuck St. Mary's prep hockey school for the last three years. Blueger has had an up and down freshmen season, going through hot and cold streaks, but it has been a productive one as he has tallied 19 points on the year. Blueger will stay in college until at least his junior year. He has tons of offensive ability, and is a good penalty killer.
Highlights