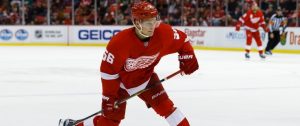 Fantasy Summary
Decent upside is held back by defensive deficiencies and other parts of his game.
Observations
Click to Expand

June 2018 – The knocks that have held Pulkkinen out of the NHL in his first eight years as a prospect still remain, and with the success of Vegas' fast-paced style he doesn't look like he'll be a fit with the Golden Knights either. He's already had opportunities on several NHL teams including teams at the top of the conference, rebuilding teams and now even an expansion team, but hasn't found a fit.  There is no question that Pulkkinen has a top-end sniper's ability marked by his quick release and powerful shot, but his foot speed is the determining factor that is preventing him from becoming a regular in the NHL. He finished this past AHL season with the Chicago Wolves and led them in scoring posting 29 goals and 35 assists in 75 games played.  Mason Black

June 2017 – The Vegas Golden Knights have selected Teemu Pulkkinen in the Expansion Draft. Paul Zwambag  

 

February 2017 – After being placed on waivers and clearing just days earlier, Teemu Pulkkinen has been traded to the Arizona Coyotes for future considerations. While he continued to produce at the AHL level this season (18 goals, 36 points in 47 games with Iowa Wild), Pulkkinen still struggled at the NHL level with just one goal in nine games with the Minnesota Wild. The rebuilding Coyotes give him a excellent opportunity to potentially play a top six role with power play time, this might be a good chance to buy low on Pulkkinen. At the same time if he struggles to produce once again, this might be Pulkkinen's last chance to prove he's an NHL player. Keith Duggan

 

November 2016 – In a sudden turn of events, Teemu Pulkkinen was waived by Minnesota. He reported to the Iowa Wild upon clearing waivers where he will look to get use to the ebbs and flows of the Wild system at a more manageable pace. In any event, averaging more than 9:08 in ice-time the way he did with the big club is all but certain. Edric Joseph

 

October 2016 – Teemu Pulkkinen scored his first goal as a member of the Minnesota Wild against the Los Angeles Kings. While several questions have been raised about his game at the NHL level, none have to do with the quality of his shot. Pulkkinen makes for a good low-risk gamble for the Wild given the harmonious work he did with Mikael Granlund at the World Junior Championships in years past. If they can click once again when reunited, this waiver claim could be found money. Edric Joseph

 

October 2016 – Teemu Pulkinen has been claimed off waivers by the Minnesota Wild. With the Detroit Red Wings adding vets like Steve Ott and Thomas Vanek in addition to their young prospects pushing for NHL time like Andreas Athanasiou, Tomas Tatar and others, the Wings were forced to put Pulkkinen on waivers. The Wild acquired Pulkkinen with the 15th waiver priority claim. While it is surprising to many that Pulkinnen was waived, and passed on by 14 teams he does have some warts in his game. However, he has an incredible shot and is a proven goal scorer at every level but the NHL and the Wild will give him a chance to score. Peter Harling   July 2016 – Pulkkinen had a rather underwhelming season, registering just 6 goals and 12 points through 36 contests after earning his spot with the big club last fall. A large portion of the season was lost after a devastating hit in December put him out of the lineup for an extended period, and it looks like after off season surgery he'll miss at least the start of the 2016-17 campaign as well. Despite the low numbers, Detroit still opted to sign the young Finn to another one-year deal worth $812,500. Pulkkinen really impressed with his AHL numbers, but so far hasn't been able to translate that into any NHL success. Slated mostly on the fourth line and playing as little as 6-8 minutes some nights, he hasn't been truly able to display his high end shot while playing mostly in his own end. It wil be even tougher for him to move up the lineup with the acquisition of Thomas Vanek and will most likely be playing 3rd and 4th line minutes again this season barring any unforeseen injuries. Joseph Highgate   December 2015 – Teemu Pulkkinen coming off a dominant 2014-15 AHL campaign carried the momentum right into the 2015-16 season pushing management into creating a roster spot for the Finnish sniper. Detroit couldn't risk losing their talented prospect for nothing and quite frankly his time was long over due to secure his top nine role. His 11 points (6G-5A) in 24 games has already surpassed his previous career totals through 34 games (5G-3A) and his shot has proved to be a lethal addition especially on the powerplay. Unfortunately, the Red Wings will be missing Pulkkinen's goal scoring ability over the next six weeks and possibly beyond after taking a nasty lick from Arizona's Martin Hanzal who was assessed a boarding penalty on the play. It's a suspected dislocated shoulder and the hope is that with rest, rehab and recovery it will heal by itself, but his absence could extend much longer if surgery is required. A disappointing setback in Pulkkinen's first full season debut with the Wings, but the injury may afford dynasty league owners the opportunity to poach the 23 year old at a discounted price. Don't be afriad to check-in and take a chance on the proven goal scorer. Travis Watson   May 2015 – The AHL's leading goal scorer from the regular season is at it again with nine goals through his first six playoff games. Only being held off the scoresheet in the pivotal game five tilt that saw Grand Rapid's comeback and win after going down 2-0 in the series. Pulkkinen has a lethal shot and is a very dynamic scorer and without him, Griffin's players would be checking handicaps rather then scoreboards and point totals. Surprisingly Pulkkinen's scoring outburst hasn't evened out with a single assist, but I don't think anyone is complaining as long as the team keeps winning. After his latest hat trick that upped his career total to 17 and with that goes his name in the Griffin's record books. Stay tuned as more is surely to come. This kid will find a way onto someone's roster next season if it isn't going to be in Detroit. Travis Watson   February 2015 – Pulkkinen was voted in as an AHL Western Conference All Star Starter to no ones surprise after pacing the league in scoring  up until the break. Teemu's West team prevailed 14-12 over the East with the Vantaa, Finland native notching a goal in the win. At the break he currently sits atop the leaderboard in both goals scored (27) and points (53) with a plus five cushion in both categories. Typically a performance of this magnitude would warrant serious consideration for a lengthy promotion, but the problem for Pulkkinen is Detroit is top heavy with a bevy of talented young guns all producing already at the NHL level. The hope in Detroit is that Pulkkinen will light the lamp at this pace up there, but the realist has to think he could be trade bait if the Wings are serious about upgrading their defense corps with a top pairing rearguard. Thankfully, Ken Holland has gone on record to state they won't make the same mistake twice after dealing away a draft pick and the young stud Calle Jarnkrok for a couple months of hockey from the vet, David Legwand last season. Travis Watson   January 2015 – Teemu Pulkkinen registered his first goal of what should be many in his NHL career on January 20th versus the Minnesota Wild. His blast opened up the scoring to take a 1-0 and it comes in just his sixth game of this season and ninth of his career. The past couple games he has been buzzing and it was only a matter of time before he broke the twine and hopefully this goal can open the floodgates for the young Finn. Travis Watson   January 2015 – Some players are just born to score, Teemu Pulkkinen, seems to be one of those players. Since his arrival to North America he has scored at an astonishing 0.46 goal-per-game clip. That's practically a goal every other game! His league leading 20 goals to date follow up his 31 he netted in 2014 as a rookie and have legitimized the billing of labelling him a sniper. His shot carries many rave reviews for not only his release but how deceptive and fast the puck comes off his blade. He's been highly acclaimed now for a couple years and he's proving to all you poolies that he's a player to know and own. I'll have you know that coming into the year I actually rated him as Detroit's top prospect because of how much he reminds me of another stud prospect Gustav Nyquist. However Anthony Mantha's size and scoring touch is just too much to pass up and a big 2014 for Tomas Jurco had him usurp this young Finn. It's only a matter of time until Pulkkinen steps onto the scene at the NHL level and makes an impact. If his first game in 2015 for Detroit is any indication it looks like they're going to let loose the youngster a little bit to see if he can find that scoring touch for the Wings in a time where it seems they are a little too hard to come by. Two keys going Pulkkinen's way are that he's a right handed shot which is surely needed for a left handed heavy Wings squad and he has a nose for the  net (He was riding an eight game goal scoring streak tying a Grand Rapids record prior to his call-up). A smallish stature being 5'10" and 185 pounds soaking wet could prove to be a weakness in a much faster, physical NHL but that will be determined in time.  Travis Watson   August 2014 – With the trade of Calle Jarnkrok at last seasons trade deadline and the promotion of Gustav Nyquist and Tomas Jurco to Detroit it helped cement what was already taking place before everyone's eyes in Grand Rapids. Teemu Pulkkinen was on the rise and staking his claim to being viewed as Detroit's top prospect. The talented Finnish winger was a main stay in Grand Rapids and helped carry the load while players were being shuffled in and out of the lineup to help the parent club. In his first full season in North America he hit the 30 goal plateau notching 31 of them and finished the regular season with 59 points in 70 games played. His 31 goals scored were tops among AHL rookies and his 59 points landed him as the second highest scoring rookie behind only Curtis McKenzie of the Texas Stars. He carried that offensive talent into the playoffs where he potted home five goals and six assists for 11 points in ten postseason contests. A very impressive debut season which you would think would set him up well for a chance at an opening day lineup but then you look and see Detroit already has 14 forwards signed for the upcoming season. With the recent addition of Dan Cleary and the possibility of Daniel Alfredsson re-signing it's looking like Pulkkinen will really have to blow management away to make the team for the 2015 season. Look for him to return to Grand Rapids where he will push for AHL MVP and Top Scorer honours. Keeper and dynasty league owners this is a player to know and own but for those of you in one-year leagues keep on the watch list but draft else where. Travis Watson   February 2014 – Rewind back to the tail end of last season and you will see that Pulkkinen was a late season addition to the Griffins attack and was along for the ride during their Calder Cup Championship run. Even though he was able to pitch in with five points in his 14 playoff games it was in a limited role but it did give us a taste of what's to come. Fast forward to now and you will see that Pulkkinen leads all Griffin skaters with 45 points in 55 games played and his tied for the team lead with 21 goals scored. He has shown durability while being one of only three players to skate in all 55 games for Grand Rapids this season and it has brought consistency to his game as he has only had two prolonged stretches over two games where he was held without a point. So it seems that Pulkkinen has acclimated quite well to the North American game and has definitely left a mark with the Red Wings brain trust. Now they will have to debate as to whether or not his play has warranted a promotion to the Wings roster for the 2015 season with many pending unrestricted free agents on the current roster. The Wings have a deep prospect pool and have to be happy with how they are set up for now and in the future whether they decide to move in another wave of prospects or package some of them for a bigger piece to the puzzle they definitely are not short on options. Travis Watson   May 2013 – After a tough start to the year Pulkkinen picked up the pace registering 7G-13A-20PTS over his last 27 games played. Far superior then the 14PTS produced throughout the first 32 games. Pulkkinen was able to carry that momentum with him into the playoffs for his first place Jokerit squad where he posted a point a game(2G-5A-7PTS in 7GP). Red Wings wanted to see Pulkkinen first hand and since Jokerit was ousted in the first round of the playoffs they were able to have him suit up for the last two games of their AHL affiliate Griffins season where he found the scoresheet with an assist. He has since also lit the lamp for his first North American goal scoring in their 4-2 win of the Houston Aero's to help give Grand Rapid's a 2-1 series lead. Red Wings Brass hope to see much more of his scoring prowess on display and keep it going right into training camp next season. Travis Watson   December 2012 – Pulkkinen was criticized a lot in September and October for playing lazy and not concentrating in his game. However, he has managed to score eight points in his last 12 games and has fought his way back onto the power play unit. Miika Arponen   October 2012 – Pulkkinen started the season alongside other highly touted Finnish prospect Teuvo Teräväinen but after four pointless games they were separated. After the move Pulkkinen has a goal and an assist in three games although he has been playing with significantly lower-talented linemates and received little to none power play time. Miika Arponen   August 2012 – Coming to training camp with the correct mind set and situational awareness is a huge attribute mentally for professional players. Pulkkinen's work ethic may be questioned, but he seems to understand where he fits. After signing his three year entry level pact, Pulkkinen discussed with the Detroit News, the likely hood of him returning to Finland after camp, and needing to show growth and strength in his game moving forward. Detroit has a long history of taking players slowly and properly and bringing in players prepared not only ready to preform, but also act professionally on and off the ice. Jason Banks   February 2011 – Before the 2010 draft Pulkkinen was projected to be at least an early second round pick in many mock drafts. For some reason he fell to the fourth round and he may be an absolute steal for the Red Wings there. He is now 20 years old and has already played 126 games in SM-liiga scoring 94 points. Pulkkinen is the complete package, but mostly in the attacking end. He has a really good shot and great playmaking skills. His biggest problem is his attitude. He seems to have no interest in defending and he has been a healthy scratch for Jokerit in all games in SM-liiga playoffs this season.