Team: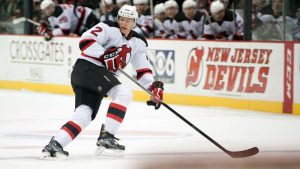 Photo Courtesy of thealbanydevils.com
Fantasy Summary
Physical, lower-pairing defenseman can rack up some penalty minutes, hits, and blocks when given NHL playing time.
Observations
Click to Expand

July 2017 – After spending parts of five years in the Devils' organization, including 50 NHL contests, Helgeson has inked a $650,000 one-year, two-way deal with the Islanders. Kevin Wickersham

June 2017 – An unrestricted free agent who will be 27 as next season's schedule begins, Helgeson concluded 2016-17 with the A-Devils registering two goals and seven assists in 48 games with a plus-11 and 50 penalty minutes. He also skated in all four Albany post-season contests, dishing an assist and collecting two PIMs. Including his nine NHL contests last year, he's logged 50 games with New Jersey over the past three campaigns. He'll likely land an AHL contract as training camp approaches. Kevin Wickersham

March 2017 – Needing to clear roster space with Pavel Zacha's return from a recent concussion, and carrying eight defensemen, New Jersey reassigned Helgeson to AHL Albany. His largely physical presence with the parent Devils generated little offense as he has totaled just one goal in nine games this campaign, including 15 PIM and a plus-2 rating. Kevin Wickersham

February 2017 – Currently with New Jersey, but knows the route from Albany to Newark well as a frequent flyer from the AHL to NHL and back over the past three seasons. Plays an effective, simple, physical game that translates best in the defensive zone. A big, strong frame that he is far from afraid to use. Has limited footwork, puck handling and passing skills that have improved over the past few years, but still limit his NHL potential. Doles out punishing hits and wins most battles along the boards. Works hard and his willingness to do whatever necessary plays well, particularly on the penalty kill. Has a long reach and good positioning instincts. Willingness to protect fellow Devils and do the dirty work help make him a valued, appreciated teammate.