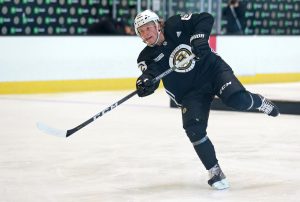 Photo courtesy of BostonHerald.com
Fantasy Summary
Undersized, feisty, energy winger with offensive potential.
Observations
Click to Expand

April 2023 – Steen has maintained a steady presence on the Bruins' depth chart, shuttling back and forth to Boston over the past couple of seasons. He only managed to get into three games with the parent club this season but had a solid year in Providence, registering 14 goals and 17 assists in 64 games. The biggest testament to his performance this season is that he was the first guy recalled to Boston during the playoffs when Patrice Bergeron and David Krejci were injured in the first round, showing that he is the next man up on the Bruins' depth chart. Next season, the Bruins will be under a cap crunch and have a couple of forwards leaving town. Steen is already on an 800k contract, so he should spend most of the season in Boston to claim a spot on their bottom two lines. His fantasy upside will be limited, but he could work his way up the lineup. Nate Duffett

May 2022 – This season was another one of positive growth for Steen. Though many hoped he'd be an NHL regular at this point, he instead had intermittent call ups from October to December and then a long stretch from January through early February. This saw him establish himself as a strong defensive forward in the NHL, but his offense was lacking with only six points in 20 NHL games. This, despite playing most often with Nick Foligno and Jake DeBrusk, who were not the worst offensive forwards Boston could have given him. Steen did excel in his AHL time scoring 35 points in 49 games with a slight edge in primary to secondary assist ratio. He should contribute roughly average hits and blocks, but doesn't shoot much. He is looking more and more like a defensive forward with minimal offensive upside, but his NHL certainty has increased. – Victor Nuño

April 2021 – Steen has shown improvement on his consistency from last season, managing four goals and 10 points through 19 AHL games. He has spent most of the year in the middle of the lineup for Providence, but a hot start earned him an NHL call-up mid-March, where he registered five shots in two games played. He is a candidate to provide a spark to Boston's lineup as the campaign comes to a close, but his next opportunity for NHL ice will likely come in next year's training camp. Chris Mazza

December 2020 – Currently on loan with IF Björklöven in the Allsvenskan, Steen has been dominating, potting 12 goals and 15 points through 16 games. He will be in midseason form whenever NHL training camps are able to begin, making it no surprise if he is one of the final cuts, or even earns a role to start the year. Chris Mazza

May 2020 – Steen finished his rookie season in the AHL with seven goals and 23 points in 60 games. He chipped in an additional 81 shots on goal, 48 PIM, and a rating of plus-6. Just four of his points came on the man-advantage, as he added much-needed scoring depth for an improved Providence team. The SHL breakout star from 2018-2019 had a solid impact during his first year in North America, and will likely spend most of his next campaign contributing to the minors once again. Look for Steen to add a better consistency to his game in 2020-2021, as he aims to take the next step in his development. Chris Mazza

October 2019 – Steen had a good training camp, but was sent to the AHL to begin his career in North America. Through his first eight games in Providence, the undersized winger has managed four points and 15 shots on goal. He will likely spend the entire season in the minors, as he continues to develop his overall game. He had a breakout season in the SHL last year and will look to continue that momentum for an improved Providence Bruins squad. Chris Mazza

May 2019 – The Bruins signed Steen to a three-year, entry-level contract on May 3rd. He finished his SHL regular season with 37 points in 46 games, with an additional seven points in 14 playoff games en route to a semifinal loss for him and Farjestad. His regular-season performance tied him for 10th in league scoring, no small feat for the undersized forward. The former sixth-round pick is already outplaying his draft position and should be squarely on the fantasy hockey draft radar as well. Regardless of whether he spends another season in Sweden or makes the transition to the AHL, it will likely be another year before we see Steen push for an NHL job. Chris Mazza

February 2019 – Since returning from his five-game suspension in December, Steen has taken the league by storm, managing 17 points and 35 shots on goal through 15 games while seeing his average ice time jump north of 16:00. He is shooting the puck more and thriving on a very good Farjestad team that should push for a league championship this year. Chris Mazza

December 2018 – Steen is seemingly taking a step forward offensively this season, notching 11 points through 22 games for Farjestad in the SHL. He has also chipped in a team-leading 41 PIM and is tied for third on the team with a plus-7 rating. Steen has been a bit of a bulldog for his team this year, and is contributing in a variety of situations. He begins December serving a five-game suspension for a hit from behind, but will look to continue his impressive offensive output once he returns. Chris Mazza

October 2018 – Slowly but surely, Steen is progressing in his development as a professional hockey player. After two highly disappointing seasons in the SHL, he is off to a better start this year with four points in his first 10 games. His ice time has increased in each of the past three years, and is up to 13:19 for the current campaign. His shot totals remain low, however scouts and members of the Bruins management have highlighted the Swede's relentless motor and compete level as two factors that might help him to take the next step. Still only 20 years old, it would be a huge boost to his value as a fantasy prospect if Steen can continue to showcase his offensive potential with an increase in point production this season. Chris Mazza

June 2018 – On the plus side, Steen increased his offensive output in Farjestad this season. On the downside, it was by only three points. He was less than impressive on the stat sheet for his home club. He made big leaps on the international stage however. This year he was selected to play for Sweden at the World Juniors and he didn't look out of place. He contributed four points in his seven games and a complimentary twelve minutes in the box. His energizer bunny motor was really on display on the North American ice, something the Bruins prospects surely noted as he is back again for a third prospect development camp. Throughout the year Steen also produced offensively on the Swedish U20 team. There is still offensive potential here, he just needs to find the consistency. He could also potentially pad your hit and penalty minute stats down the line. Sid Osmond

July 2017 – Described by Bruins Development Coach Jamie Langenbrunner as a "gritty guy with a high motor", Oskar Steen will be returning to Sweden to work on his offensive game. As an undersized forward, Langenbrunner is concerned that Steen's game is not yet dynamic enough for him to make an impact at the professional level here in North America. This isn't a dig at his potential and Steen is characterized as having strong drive and great motivation both on the ice and off. That being said, Steen only potted one goal and two assists in 47 SHL games last season and put up goose eggs across the board in seven playoff appearances. Steen isn't close but he's got lots of potential.
Highlights