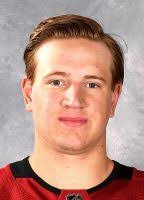 Photo courtesy of NHL.com
Fantasy Summary
Has PP specialist upside and his huge frame gives him an edge in terms of getting opportunities. Is rounding out his game, but skating still an issue.
Observations
Click to Expand

February 2020 – Wood was traded from Carolina to Detroit in December. He has two points in 22 games since then.  Jokke Nevalainen

July 2019 – Wood was re-signed by the Sharks to a one year contract extension. Wood played 68 games last season for the Barracuda posting 35 points. He has the coveted combination of size and skill on the blue line. It won't be easy for Wood to crack the Sharks lineup, however he may get a look or two on the third pair as early as next season. Chris Legg

December 2018 – Wood has fit well with the Barracuda since coming over in a trade with the Tucson Roadrunners. He's posted 16 points in 23 games so far, only three points shy of his total for all of last season, putting Wood into a tie wfor points by Barracuda defenseman. He has just a single goal on he season, and with his shooting ability he should improve on these totals just by getting more shots through to the net. Wood may not be far off from getting a look in the NHL. Chris Legg

June 2018-Wood has been dealt to the San Jose Sharks for forward Adam Helewka. While Wood's year offensively was still pretty decent (three goals and 19 points), last season would still be considered a disappointment. In the second half of the year he found himself a frequent healthy scratch and appeared in just two playoff games with Tucson.  With a new coaching squad in Tucson for 2017-18 preaching a more up-tempo, quick transition game, Wood's skating was still a major issue, leaving him out of the lineup. The plan was to have Wood continue working with Coyotes skating coach Dawn Braid this offseason but that seems out now. In the past two seasons Wood posted 62 points (17 goals, 45 assists) and 32 penalty minutes in 117 games. "Kyle possesses a rare combination of size and skill on the blueline and we're excited to add him to our organization," said Sharks GM Doug Wilson. "He was an AHL All-Star in his first professional season and we think his game will continue to evolve." Keith Duggan

January 2018- After a very successful rookie pro season, Wood hasn't put up the offensive numbers in his second campaign. While two goals and 12 points in 28 games isn't terrible, at this point in 2016-17 he was over a point per game. With Tucson's depth on defense better this year, Wood hasn't seen as much playing time especially on the power play where he usually got off his booming slap shot. When injuries hit the Coyotes blueline, Wood still didn't see a call-up and has even been a health scratch a few times with Tucson. Skating is still a major issue in Wood's game and while it has improved since joining the Coyotes organization it still looks to be the biggest hindrance on his career. Keith Duggan

September 2017- When the Coyotes acquired veteran right handed defenseman Jason Demers, it all but sealed that Wood would at least start the season in the AHL. So it wasn't a huge surprise he was assigned to Tucson on September 26th. Wood came into camp hoping to win a spot on the blueline and he spent a huge part of the summer working on his biggest deficiency, his skating. It looked noticeably better in camp and he put up two points in as many preseason games. If injuries hit the Coyotes blueline, look for Wood to be one of the first call-ups. Keith Duggan

July 2017-Wood's first season of pro was nothing short of a success as the young blueliner quickly jumped up the Coyotes depth chart with an impressive 2016-17 campaign. He slowed down from his hot offensive start to season but still finished with 14 goals and 43 points, good for third among rookie d-men. Wood was an absolute stud on the power play where his rocket from the point was deadly, shown by him winning hardest shot at the AHL All-Star game with a blast of 99.3 mph. Of his 14 goals, 11 came on the man advantage and his 27 power play points were tops among rookies in the AHL and was named to the AHL All-Rookie Team. Even with all these impressive stats, Wood still remains a project because of his skating. With the game all about speed and quick transition from defense to offense, he'll have to improve his skating to make the Coyotes. Wood plans on spending the offseason working on it though, continuing to work with Coyotes skating coach Dawn Braid. Keith Duggan

January 2017- Kyle Wood hasn't slowed down at all, proving to be one of the best rookies in the AHL. He has eight goals and 30 points for 29 games, good for 18th in the league in scoring and third among rookies. Wood is fourth among defenseman in scoring and obviously first among rookie backends. On January 30th he'll suit up for Team Pacific for the AHL All-Star game where it will be interesting to see his rocket of a shot in the Skills Competition. Keith Duggan

October 2016- It's been a strong start to Kyle Wood's first pro season as he's been named CCM/AHL Rookie of the Month for October. He's recorded at least one point in all of Tucson's five games, totaling two goals and six assists for eight points while helping the Roadrunners to first place in the Pacific Division. Keith Duggan

April 2016- It was a excellent final season of junior for Kyle Wood, who put up eight goals and 39 points in 49 games, good for 20th among defenseman in the OHL. He had a very strong playoff's for the North Bay Battalion, scoring 13 points in 11 games. Wood signed his entry-level deal with the Coyotes and had a late season audition with the Springfield Falcons in the AHL, playing two scoreless games. Right shooting defenseman is a weak spot with the Coyotes so that will help Wood move up the depth chart but look for him to spend 2016-17 in the AHL. Keith Duggan

February 2016 – Wood has been traded to the Arizona Coyotes along with fellow prospect Connor Bleackley in a four-player swap. He currently sits at 35 points (eight goals, 27 assists) in 40 games in the OHL, and is wearing an A for the Battalion. Hayden Soboleski

November 2015 – Wood's season with the Battalion has finally begun after recovering from a broken hand that stopped him from attending Avalanche training camp. He has no points in two games so far, but will hopefully ease back into his role as an all-around defencman with powerplay success. Hayden Soboleski

April 2015 – Wood lived up to expectations in his first full and healthy season with the OHL's North Bay Battalion. A dislocated kneecap early in the year limited his 2013-2014 season to 35 regular season games (in which he scored 12 points) and a long playoff run (10 points in 22 games), but his solid defensive play (plus-15 on the season) and ability to play on the second power-play unit raised his draft stock before being selected by the Avalanche in the third round. Wood seems to have fully recovered from the knee injury as he played 67 games this season, scoring a higher-than-expected 16 goals and 24 assists including 11 power-play goals – leading the team. He also maintained a positive plus-minus (plus-2) while being given greater responsibilities. The Battalion have made another strong run and remain in the OHL playoffs, in which Wood has been a solid contributor with eight points in nine games.

Wood's enormous size gives him a natural edge in development, as he is already big enough and strong enough to hold his ground once given a look in the big leagues. Combining his natural strength with his improved offensive ability demonstrated this season on the power play makes him a valuable prospect in the Avalanche pipeline. It should also be noted that despite his size and defensive responsibilities, Wood does not take many penalties, which vouches well for his ability to keep up with the play despite his size. At age 18 he should be ready for time with the Lake Erie Monsters in the AHL next season given his size, but may remain in the OHL to develop further. The Avalanche will hope he continues to manage his defensive game while being a helpful offensive contributor on the power play.
Highlights