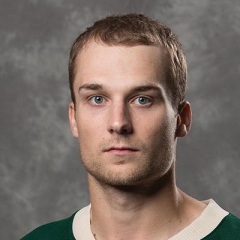 Photo courtesy of TheAHL.com
Fantasy Summary
Rau is small, and plays small. He is very skilled, but likely not dynamic enough to become an NHL regular
Observations
Click to Expand

October 2018 – Kyle continues the battle to keep his NHL dreams alive being one of the final roster cuts Minnesota has made. Those dreams look to be on life support at this point as his size and now his age will become one more obstacle he must overcome. Rau put up decent numbers in Iowa last season (23-27-50 in 69GP) and recorded one assist in his three games with the big club. He could be in the mix for a callup or two this season but don't expect much more from Kyle at this point. He looks destined to be a decent depth center and career AHLer not worth a roster spot on your fantasy squads. Tyler Matson

July 2017 – Minnesota native and former captain of the University of MN Golden Gophers Kyle Rau agreed to a one-year, two-way, deal with the Wild after not recieving a qualifying offer from the Panthers. The diminutive center skated in 33 Florida contests over the past two campaigns, totaling two goals and an assist. He spent the bulk of his time in the AHL during that time registering 27 goals and 28 assists in 111 total games between Portland and Springfield. Kevin Wickersham

February 2016 – Rau was recalled in late February and got his first taste of NHL action. Florida has been hit with injuries allowing for the opportunity, but regardless the diminutive Rau has been enjoying a successful season with the Pirates netting 17 goals through 47 games. He will very likely be demoted once the Panthers get healthy so he can continue playing key minutes in key situations to continue his steady development. The skilled forward has a proven track record of scoring after he averaged over a point per game during his time with the University of Minnesota. – Lee Rayson

December 2015 – Rau has gotten off to an excellent start to his first full campaign in the AHL. He has 11 goals through his first 23 games with the Portland Pirates, good for second on the team in goals and second in points with 15. He is also second in shots on goal with 48, averaging over two shots per game. The diminutive Rau is showing a quick adjustment to the pro game and if he can continue to provide the offence he could potentially push for a roster spot next year with the Panthers. – Lee Rayson

March 2015 – Rau has officially signed his first professional contract with the Florida Panthers.  He will make the move to the AHL after a successful collegiate career with the Golden Gophers where he posted 164 points in 160 games. The diminutive centre will look to make an impact with the Rampage as they push towards first in their division. – Lee Rayson

December 2014 – As a fourth year senior with the University of Minnesota, Rau is on pace for his most productive offensive season with the Golden Gophers.  He has 17 points through 14 games and has scored in three straight games as of December 6th.  His first three seasons combined he produced at a rate of 1.02 points per game, while this season Rau has increased his output up to 1.21 points per game as of December 6th.  He has shown consistency with his scoring ability as he has only been held off of the scoresheet in three of their first 17 games.  Lee Rayson

March 2014 – Rau leads the Gophers in points through 37 games with 34 points. He is first in assists with 22, first in powerplay markers with six, first in game-winning goals with five, and is second in shots on goal with 103. Minnesota is deep throughout the lineup, and was recently named the top overall seed for the upcoming Division I Championship tournament that preludes the Frozen Four. With the Gophers having such high expectations it is a good time for Rau to show what he can do when it matters. Nathan Kanter

December 2013 – Rau has continued to pile up solid point totals and now has 16 points in 15 games for a Gophers squad that has gone 11-2-2 in its first 15 games. Expect another point-per-game season from the small forward. Nathan Kanter

November 2013 – Rau, playing on a Minnesota team that has gone 8-1-1 in its first 10 games, surprisingly only has 10 points. A point-per-game is certainly not struggling, but he is fourth on his team in scoring (he's been second on Minnesota the past two seasons). Last year he led the WCHA in game-winning goals but this year he has just one goal so far. Expect the goals to come sooner rather than later (he's second on the team in shots on goal; just one goal on 29 shots). Nathan Kanter

October 2013 – Rau will return for his junior year at Minnesota where he looks to build on a very strong first two campaigns. It's quite possible he is in the running for the Hobey Baker award at season's end. Perhaps he gets in some AHL time in April as well. That will be the game changer for Rau, changing from the huge college ice to the smaller pro league size for someone so small. Nathan Kanter

March 2013 – Rau followed up his great rookie campaign, where he was named to the WCHA All-Rookie Team and posted 43 points, with a solid sophomore campaign in which he once again broke the 40-point barrier with 15 goals and 25 assists. His 40 points for the University of Minnesota were good enough for 9th in the WCHA, while his seven game-winning goals lead the entire conference. Rau has shown he knows how to use his speed to be a successful goal scorer despite his size, and will likely return to the Gophers for his junior season. The question will be whether his size becomes an issue once he turns pro, as it clearly isn't a drawback at the college level. Nathan Kanter

February, 2012 – Kyle Rau is a small, skilled forward with great quickness.  Currently in his freshman season at the University of Minnesota, Rau is averaging a point per game playing against bigger and older competition.  His play reminds me of Vancouver prospect Jordan Schroeder.
Highlights