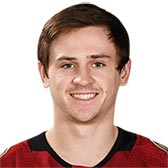 NHL.com
Fantasy Summary
With his speed and determination, he could make an NHL roster as a forechecking torpedo on a team's third or fourth line.
Observations
Click to Expand

June 2019 – Archibald did not get a qualifying offer from the Coyotes which means he becomes an unrestricted free agent.  Jokke Nevalainen

August 2018- Archibald showed pretty well as a bottom-six winger with the Coyotes, his speed fitting in perfect with coach Rick Tocchet's system. He posted five goals and 11 points in 39 games with the Yotes, not huge numbers but solid for a third or fourth line winger. Archibald also showed his feisty side posting 25 penalty minutes. He's expected to play a similar role with the Coyotes in 2018-19 but needs to have a strong training camp or he could find himself a frequent healthy scratch or in the AHL once again. Keith Duggan

December 2017- Archibald has been traded to the Coyotes along with goalie Sean Maguire and a 2019 sixth-round draft pick for goaltender Michael Leighton and a 2019 fourth-round draft pick. He played three scoreless games with the Pens this season and appeared in six contests with Wilkes-Barre/Scranton of the AHL where Archibald posted one goal and three points. Never really able to crack a roster spot in Pittsburgh, he could earn himself a bottom-six role in Arizona, especially having familiarity with Coyotes coach Rick Tocchet from his time as a assistant with the Penguins. Keith Duggan

October 2017 – Pittsburgh's fifth RW behind Kessel, Sheary, Hornqvist and Reaves, Archibald has been a healthy scratch through the first nine games. Hornqvist is a UFA after this season, but Daniel Sprong is pounding on the door, so Archibald will likely have to wait for an injury or a demotion to the AHL to get some meaningful playing time. The 25-year-old has just started a two-year, one-way deal with an AAV of $675,000. Mark Allan

August 2017 – The 24-year-old inked a two-year, one-way contract extension with an average annual value of $675,000. Training this summer at his U of Nebraska-Omaha alma mater, he hopes to carve out a bigger role with Pittsburgh by forechecking aggressively and killing penalties well. Appearing in Game Four of the Stanley Cup final got his name on Lord Stanley's trophy. The self-described "energy guy" spent most of the past campaign in the AHL, although he got into 10 NHL league games. He scored three goals (no helpers), but he's at best a bottom-six candidate for Pittsburgh and will likely return to the AHL, where he had 29 points and 54 PIMs in 61 games. Finishing plus-25 for Wilkes-Barre-Scranton enhances his chances of being a callup to replace a limping NHL Penguin. Mark Allan

July 2017 – Archibald signed a two-year, one-way deal with a cap hit of $675,000 per season after playing a career-high 10 NHL outings. The swift 24-year-old scored three goals, was plus-3 and got into four Stanley Cup playoff games. He had modest AHL totals of 16 goals and 29 points in 61 games, but added 54 PIMs and plus-25. A flare for penalty-killing and a willingness to stick his nose in could lead to a bottom-six role in Pittsburgh, especially with Oskar Sundqvist, Nick Bonino, Eric Fehr and Chris Kunitz departed, and Matt Cullen, 40, expected to retire. Mark Allan

June 2017 – Undersized yet hard-working, coachable and a good teammate, Archibald will never be more than a bottom-sixer in the NHL, certainly not while he remains with the Penguins. In 10 NHL games this season, he had three goals. In 61 AHL outings, he potted 16 goals, totaled 29 points and was plus-25, illustrating his modest, opportunistic scoring and responsible defense. Due to the organization's glut of smallish forwards and lack of cap space, there likely won't be much of a raise for RFA Archibald. Mark Allan

February 2017 – Archibald is discovering that getting into Pittsburgh's lineup and staying there amid intense competition for icetime can be two different things. After potting his first two NHL goals, one of them shorthanded, in a 4-3 OT loss in Arizona, Archibald didn't get into the lineup for the next two games. When he was called up, Archibald was tied for the AHL lead with three shorthanded goals. He already has established pro career highs with 11 goals, 11 assists and 22 points as well as being second in the AHL at plus-24. As well as he's doing, which likely resulted in the reward of an NHL callup, he got those two goals on the fourth line and is not projected to ever be a big NHL scorer. Mark Allan

January 2017 – With 16 points in 36 games and a plus-19 rating, the smallish, hard-working Archibald is an asset to his AHL team. He is, however, unlikely to appreciably add to his single NHL appearance, certainly not with the depth in Pittsburgh's system. Mark Allan

September 2016 – The high-effort, low-scoring winger is heading back to the AHL in a round of cuts that reduced Pittsburgh's training roster to 31 players. Considering the Penguins are awash with talented wingers at the moment, there's no telling how long Archibald might have to wait to get a legitimate shot at a bottom-six NHL role. Mark Allan

June 2016 – You wouldn't want a team full of Josh Archibalds because his skill level will never be confused with Phil Kessel's. Just as you wouldn't want a roster packed with Kessels either, teams will always welcome a relentless work ethic, versatility and coachability such as Archibald's. That said, he totaled only nine goals and nine assists in 69 games, easily the most he's played in yet in an AHL season. Registering 75 PIMs and adding another 10 in 10 playoff games, Archibald willingly gets his nose dirty for the good of the team. Coaches and teammates never tire of that. Mark Allan

January 2016 – Statistically, the best thing to recommend Archibald in his second substantial AHL season is a solid plus-12 rating. Seven points in 30 games for Wilkes-Barre/Scranton is not promising for any of your future fantasy teams even if he makes the NHL as a bottom-six forward. Pittsburgh has him under contract for one more season after this one. Mark Allan

August 2015 – After finishing with just five goals and 13 points in 45 AHL games, Archibald will have to do better with Wilkes-Barre/Scranton or he'll face demotion to the ECHL's Wheeling Nailers. Mark Allan

February 2015 – After notching just two goals and four assists with the Penguins' AHL farm team, the right winger is scoring at a point-a-game pace with the Wheeling Nailers. Archibald recorded three goals, three assists and a plus-1 rating in his first six East Coast Hockey League games. He was pegged as the ninth-best prospect in Pittsburgh's pipeline by the Hockey News 2014 Future Watch, which noted high-end speed but also limited offensive upside. Now 22, the former University of Nebraska-Omaha player will have to get promoted and progress through the AHL to have any shot of making his NHL debut. Mark Allan

April 2014 – Archibald has signed an ELC with the Pittsburgh Penguins, and also agreed to an ATO with their AHL affiliate. He will look to push himself into a top-six role with the Wilkes-Barre Scranton Penguins next season, and show off his blazing speed and tenacity in the pros. If his game translates well, expect him to get a few call-ups to the big club. Archibald was in the running for the Hobey Baker Award for top collegiate player, but lost to Johnny Gaudreau. Seth Brisendine

March, 2014 – Josh Archibald has stepped up his game greatly this season in an expanded role. He has taken on greater leadership responsibilities, and become the most important player on his team. Through 32 games, Josh has 41 points including 28 goals. The Penguins will likely want to offer him an ELC at the end of the UNO's season. Seth Brisendine

April 2013 – Josh Archibald is a fast, hard-working offensive forward. A former finalist of the prestigious Mr. Hockey award for top high school player in the state of Minnesota, he has played the last two seasons for the University of Nebraska-Omaha. Archibald uses his speed and physical drive to create offense. He tallied 36 points this year, more than double his total from the previous season.
| Attributes | |
| --- | --- |
| Fantasy Upside | 2.0 |
| NHL Certainty | 2.5 |
| Country | CAN |
| Position | RW |
| Roster Type | Free Agent |
| Shoot/Glove | Right |
| Date of Birth | October 6, 1992 |
| Height | 5'10" |
| Weight | 176 lbs |
| Drafted | 2011 Round 6; Overall: 174 |
| | |
Highlights