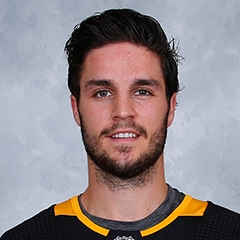 Photo courtesy of TheAHL.com
Fantasy Summary
Tenacious, two-way skater who provides puck support at both ends despite his lack of size. Pressures the opposition well and often engages along the boards.
Observations
Click to Expand

August 2020 – Jean-Sebastian Dea spent 2019-2020 with his third NHL organization in two seasons. After splitting 23 NHL games the previous season between the New Jersey Devils and Pittsburgh Penguins, Dea spent the current campaign in Rochester of the AHL. He scored 15 goals and 39 points in 57 games, but more importantly plays a well-rounded, two-way game at the AHL level. He is unafraid to play in high-traffic areas and supports his team's possession of the puck at both ends of the ice. He can be a competent bottom-six fill-in at the NHL level if injuries occur. He has just completed the first year of a two-year contract with the Buffalo Sabres organization and is 26 years old. Kevin Wong

February 2020 –  Jean-Sebastian Dea is having a strong season with the Rochester Americans. In 50 games played, he has tallied 15 goals and 21 assists. Five of his 15 goals have been power-play goals. In addition, Dea owns a 15.2 shooting percentage. He has played in three games this season with the Sabres as an injury replacement but does not offer much fantasy value at the NHL level. If an injury does pop up for the Sabres, Dea will more than likely get fourth-line minutes at the NHL level and will not have many opportunities to capitalize. Josh Tessler

November 2019 – Jean-Sébastian Dea has been recalled. With the number of injuries that the Sabres have, they needed another healthy forward at the NHL level. Dea has been the most productive forward for Rochester this season. In 18 appearances, Dea has tallied seven goals and six assists. He does not have much fantasy upside and will likely play on the fourth line for the Sabres until the team has some healthy bodies return.  Josh Tessler

July 2019 – Dea has signed a two-year, one-way contract with the Sabres.  Jokke Nevalainen

February 2019 – Dea has been traded from Pittsburgh to Florida.  Jokke Nevalainen

February 2019 – Dea is making the most of a return to the Penguins' organization. After posting just five NHL points in 20 games with New Jersey, the 25-year-old scored once with Pittsburgh in three games, but has 22 points in 24 AHL outings with Wilkes-Barre/Scranton. Sixteen assists reflect his playmaking ability and 38 penalty minutes his feistiness. Although Pittsburgh's braintrust is familiar with Dea, he needs to make a case for the Penguins to re-sign him in a crucial off-season for the franchise's many impending free-agent prospects. Mark Allan

December 2018 – Like a yo-yo, Dea returned to the Penguins from the Devils on a waiver claim only about two months after New Jersey acquired him when Pittsburgh placed him on waivers. Dea, who had two goals and three assists in 20 games with Jersey, has been assigned to the Wilkes-Barre/Scranton Penguins of the AHL. Mark Allan

September 2018 – After Pittsburgh reduced the overflow among its forwards by waiving Dea, he was claimed by New Jersey. While he stood little to no chance of making the NHL Penguins out of training camp, Dea's 50 points in 70 AHL games with Wilkes-Barre/Scranton were attractive to the Devils. He'll have a better chance of adding to his six NHL games played than he would have had he remained in Pittsburgh's organization. Mark Allan

June 2018 – The depth forward signed a one-year, two-way contract with a $650,000 AAV for the infrequent times he'll play in the NHL. It's the kind of contract you'd expect for a player who has just one goal in only six big-league games with a career-high of 11:18 TOI in one of them. The 24-year-old performs much better in the minors, where his AHL highs of 32 assists and 50 points in 70 games helped to place him second in Wilkes-Barre/Scranton scoring behind Daniel Sprong. The undrafted 5-11, 175-pound Dea looks like a career AHLer, especially if he remains in Pittsburgh's deep system for forwards. Mark Allan

May 2018 – Known as a creative playmaker, the QMJHL grad culminated four minor-pro schedules with 50 points, his best AHL total yet and runner-up on a strong Wilkes-Barre/Scranton squad. His PIM have steadily risen at the same time, topping out at 69. Skilled players at 5-11 and 175 can be out-muscled, but Dea is showing signs of determination and pushback. The RFA's strong performance was well-timed because there's a glut of centers on the big-league roster and hungry youngsters behind him. Mark Allan

January 2018 – Dea was promoted to the big club as a reward for compiling 23 points and plus-13 in 36 AHL games. He had to adjust in four NHL games to being on the fourth line, mostly with Tom Kühnhackl and Ryan Reaves. Before being returned to Wilkes-Barre/Scranton, Dea had one NHL goal, a minor penalty and was plus-1. In the most recent game, a 6-3 win over the visiting Wild, he got just nine shifts and 7:36 TOI, although he won four of seven faceoffs. It was a good learning experience for Dea, whose NHL future is likely in the bottom six. Mark Allan

September 2017 – Dea was one of 21 players assigned recently to the AHL, although he had to clear waivers. Expect him to play all or most of the season with Wilkes-Barre/Scranton. Mark Allan

August 2017 – Pittsburgh re-signed Dea to a one-year, two-way contract that has an average annual value of $650,000 at the NHL level. In three AHL seasons with the Wilkes-Barre/Scranton Penguins, the 5-11, 175-pounder has totaled 48 goals and 91 points in 192 games in which he's plus-27 overall. The 23-year-old has played in just one NHL game and is shaping up as a solid career minor-leaguer. Mark Allan

June 2017 – At 18 goals, 34 points and plus-13 in 73 games, his stats essentially remained static from his second to third AHL season. At 5-11 and 174 pounds, the skilled playmaker is beginning to fade into the background of many players in the system with similar physiques, playing styles and production. Worse, as an RFA this off-season, he's starting to slip down the depth chart and is at risk of being cut loose by the Penguins. Mark Allan

April 2017 – Dea got 21 shifts with limited ice time (11:18 with no special-teams play and no points) in his NHL debut on the final day of the regular season as the Penguins rested some of their regulars. Dea has established himself in three AHL campaigns as a solid professional with 47 goals and 90 points in 190 games. His 57 PIMs this season show a willingness to get involved and plus-15 indicates defensive responsibility, although some of that was due to playing for a strong team. Stuck behind other, more-talented young players in the organization's depth chart, Dea will try to help Wilkes-Barre-Scranton win the Calder Cup. Mark Allan

January 2017 – Dea increasingly seems to be getting lost among the many good forwards in Pittsburgh's system. Twelve points and a plus-2 rating in 35 AHL games are not likely to result in a callup. Mark Allan

October 2016 – Dea was one of 17 players demoted to the AHL as Pittsburgh shrank its training camp roster from 48 to 31. A 20-goal man with Wilkes-Barre/Scranton last season, the slender Dea will have a tough time getting NHL playing time with the Penguins, who have a multitude of options at their disposal. Mark Allan

June 2016 – The smallish forward played in 75 games in his first full AHL season, and wasn't out of place, but he lost ground to other Pittsburgh prospects, several of whom contributed to the Stanley Cup run of the parent club. Totaling 20 goals, 16 assists and plus-13, Dea was OK before going pointless in 10 playoff games. A skilled, creative playmaker with a decent shot, he must find a way to produce in spite of his slight frame. He has one more season to prove himself at an affordable $585,000 cap hit before becoming an RFA. Mark Allan

November – Doing what he does best, the skillful forward recorded a goal and three assists for his first four-point game as a pro as Wilkes-Barre/Scranton defeated St. John's in the AHL Penguins' first meeting of the season with the Ice Dogs. Dea is tied for fourth in team scoring with eight points in 10 games. Although his way to the NHL will have to be as a scorer, a plus-5 rating early in the season doesn't hurt his cause. Mark Allan

October 2015 – Dea is back in the AHL after failing to carve out a spot among Pittsburgh's many forwards. He's an offensive player, so if he sticks with the Pengins it's probably going to have to be in the top six, a tall order considering who's ahead of him on the depth chart. Mark Allan

September 2015 – The skilled forward is not yet high on the Penguins' depth chart, but he hopes to change that. A big scorer with the QMJHL's Rouyn-Noranda Huskies, Dea potted a spectacular power-play goal in a 4-1 win over Ottawa Senators' prospects during a four-team rookie tournament in London, Ont. There was more of him for the Penguins to like in his third rookie tournament because he added 15 pounds during the summer to bulk up his slight frame. He's expected to return to the AHL's Wilkes-Barre/Scranton Penguins. Mark Allan

August 2015 — Dea will try to build on a decent AHL rookie campaign in which he totalled 10 goals and 21 points in 41 games. He will have to prove himself in the AHL before getting any real shot at the big time because his eye-popping junior stats are old news and he's still on the small side. Mark Allan

December 2014 – In his second AHL season after three high-scoring (1.05 points-per-game) campaigns with Rouyn-Noranda of the QMJHL, Dea was second among Wilkes-Barre/Scranton scorers. In 24 games, the smallish center had eight goals and nine assists with a plus-5 rating. Mark Allan

December 2014 – In his second AHL season after three high-scoring (1.05 points per game) campaigns with Rouyn-Noranda of the QMJHL, Dea is second among Wilkes-Barre/Scranton scorers as of December 18th. In 24 games, the smallish center has eight goals and nine assists with a plus-5 rating. His goal Dec. 13 with 2:08 left in regulation forced overtime, although the AHL Penguins lost 2-1 in overtime to the Lehigh Valley Phantoms. Mark Allan September 2013 – The Pittsburgh Penguins signed high scoring QMJHL forward, Jean-Sebastien Dea, to an entry level contract on September 17th. Brendan Ross

March 2013 – Jean-Sebastian Dea was named the QMJHL Third Star of the Week (ending March 9th) after burrying five goals and seven points in three weekly games. Dea will enter the 2013 NHL Draft as a second time eligible forward and with his current 78 points, it is very likely that a team snatches him up. At this point in time, Dea is not fantasy relevant but the small fiery forward does have the potential to contribute offensively as well in other categories such as penalty minutes. Brendan Ross

January 2013 – Dea has slowed since his strong start to the season but he is scoring at just over a point-per-game pace and sits with 35 goals and 62 points in 48 games. Eric Daoust

December 2012 – Jean-Sebastien Dea is another example of an underdog player who is not particularly big yet is extremely shifty and talented with the puck. After not getting drafted in last June's NHL entry draft, Dea is having a breakout season for Rouyn-Noranda of the QMJHL with 23 goals and 43 points in 28 games, good for ninth in the league. He was also selected to represent the QMJHL in the Subway Super Series. His play this year will certainly generate interest for the 2013 draft but if he gets selected it will likely be in the later rounds.