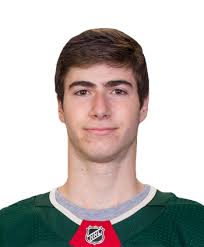 Photo courtesy of NHL.com
Fantasy Summary
It doesn't appear Golden will be an offensive producer at the next level, but he's been reported to have that side to him.
Observations
Click to Expand

June 2019 – Golden did not receive an entry level contract from the Wild which means he re-enters the draft.  Jokke Nevalainen

April 2019 – While Minnesota had hoped that Golden would take a step this year with London, he ended up being considered spare parts. Traded to the Erie Otters, he was able to play a larger role and his offensive numbers took a marginal bump setting a new career high of 17 points. His defense is still his calling card but it's nothing to ride home about. He skates well enough and doesn't have a ton of panic in his game. The problem is that he also doesn't have much flash either. The defense-first blueliner has become a very low-event player and could take a long development path through the ECHL and AHL even if he doesn't sign his ELC. Tony Ferrari 

May 2018 – When the Wild took Golden, it was indicative of their clear preference for defensive play, but a defenseman still needs to produce in 2018. Golden hasn't particularly grown into a bigger role in his D+1 season, as he finished with just 14 points in 63 games in a top four role on a mediocre London team. His defensive metrics didn't improv, and while his offense took a step forward as Minnesota may have hoped, it doesn't appear to be enough to warrant an ELC just yet. He'll need another year and will hopefully take on a top pair defensive role for London as they build. Will Scouch

July 2017 – I can respect the selection of a defensive defenseman, but this one was a bit of a headscratcher. Golden's frame is slight for that type of role, but a few names in the NHL have carved out a living at this size in a similar role. His lack of offensive production can be somewhat forgiven for his ability to drive down goals against. When on the ice, opposing teams managed just one goal per 60 minutes, so the potential is there. The only other name on my list at that number was Rangers 1st rounder Lias Andersson in the SHL. Golden was used in an extremely limited role in London and this is a purely wait-and-see pick. Likely not a point scorer down the line, Minnesota is clearly hoping for him to hone his defensive game, gain some strength, and be a solid defender to fill out their lineup with in the future. He's a good skater, however, being mentored heavily by fellow defender Victor Mete, and being able to get zone exits and entries reliably could help develop more of an offensive side to his game.
| Attributes | |
| --- | --- |
| Fantasy Upside | 2.5 |
| NHL Certainty | 2.0 |
| Country | CAN |
| Position | D |
| Roster Type | Free Agent |
| Shoot/Glove | Left |
| Date of Birth | May 20, 1999 |
| Height | 5'11" |
| Weight | 163 lbs |
| Drafted | 2017 Round 5; Overall: 147 |
| | |
Highlights