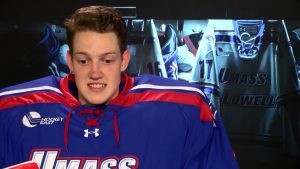 youtube.com
Fantasy Summary
Project goaltender has shown improvement but still needs time
Observations
Click to Expand

April 2020 – Metcalf was probably one of the few players happy the rest of the season was canceled. He finished with a 4-21-2 record and a GAA at 3.52. But looking on the bright side, he finished with a .908 save percentage, which was fifth best in the entire AHA. The team in front of him left him out to dry on most nights as he led the league in most saves per game, averaging almost 32 every start. So while the numbers look harsh, he still has the ability to play professionally one day. Lucas Main

September 2017 – In his first season at UMass-Lowell, Metcalf only played in four games but he looked sharp, going 1-0-1 with a .913 save percentage. He wasn't going to get much playing time for them again this season, so he decided to transfer to Mercyhurst University where he will start. He has the size to be an NHL goalie (6'4") and moves laterally quickly for a goalie of his size. A full starting season with the Lakers will go a long way for his professional career. Lucas Main

June 2016 – Metcalf started the 2015-16 campaign with the Madison Capitals of the USHL before being traded to the Waterloo Blackhawks. In the first part of the season, Metcalf was posting statistics consistent with his rookie USHL season, but the deal to Waterloo saw his save percentage drop from .907 with the Caps to .883 with the 'Hawks.

Nicknamed Giraffe, Metcalf has projectable size but is still a raw young goaltender. Metcalf has committed to the University of Massachusetts Lowell, and the goaltending situation for the Riverhawks is fuzzy at best. Metcalf will likely compete for the backup role with Umass-Lowell heading into his freshman season but will be the youngest goalie on the depth chart.
Highlights