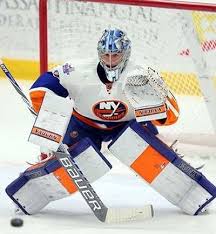 Fantasy Summary
McAdam is a big goalie who is hard to beat up high. His mobility is fine, but he is not precise in his movements and regularly finds himself out of position. There is plenty of work to be done here by the goaltending coaches, but they have to be excited by McAdam's tools.
Observations
Click to Expand

June 2019 – McAdam did not get a qualifying offer from the Maple Leafs which means he becomes an unrestricted free agent.  Jokke Nevalainen

June 2019 – After fine but unimpressive showings in the AHL and ECHL in 2018-19, the Maple Leafs have not qualified McAdam as an RFA. He will become a free agent. In today's development world, even ECHL goalies need to have upside to justify earning consistent time in the crease, and the Leafs have other prospects worthy of the starter's net at all levels. Hayden Soboleski

July 2018 – McAdam has been traded from the New York Islanders to the Toronto Maple Leafs in exchange for forward Matt Martin.  Jokke Nevalainen

October 2017 – After splitting his first pro season between Bridgeport (AHL) and Missouri (ECHL), McAdam starts his second season in the ECHL with Worcester. McAdam played well in Islanders rookie camp. He exhibits good size, a strong economy of movement and he's well-anchored. With two veteran goalies ahead of him in the AHL (Christopher Gibson and Kristers Gudlevskis), the sensible step for McAdam to find a net is to send him to the ECHL. Given the current makeup of the Worcester roster, the Penn State alum will face little in the way of challenges for the crease. Michael Farkas

May 23, 2016 – Eamon McAdam, a third round draft pick of the Islanders in 2013, signed an entry level contract on March 23, 2016. In doing so, McAdam has decided to forego his senior year with Penn State. He was never able to fully take command of the starting job for the Nittany Lions, sharing the net with Matt Skoff. However, McAdam was the better of the two goalies this past year, posting a .913 save percentage. While respectable, that is two full percent below the numbers put up by the top goaltending prospects in the NCAA. McAdam made his AHL debut on April 17, 2016, allowing six goals on 35 shots in a loss to Providence. McAdam may find himself in the ECHL next season, as the Islanders have Christopher Gibson, Stephon Williams and perhaps even Jean-Francois Berube available to tend the goal in Bridgeport.
| Attributes | |
| --- | --- |
| Fantasy Upside | 3.5 |
| NHL Certainty | 1.5 |
| Country | USA |
| Position | G |
| Roster Type | Free Agent |
| Shoot/Glove | Left |
| Date of Birth | September 24, 1994 |
| Height | 6'3" |
| Weight | 198 lbs |
| Drafted | 2013 Round 3; Overall: 70 |
| | |