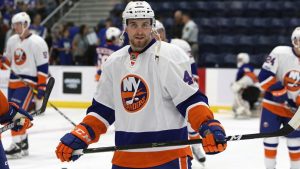 twitter.com
Fantasy Summary
Toews is a mobile, creative defenseman who has good offensive instincts. The late-bloomer should be a good fit with the Avalanche.
Observations
Click to Expand

October 2020 – Someone had to go from a crowded blueline to make way for outstanding youngster Noah Dobson. Toews, traded to the Avalanche for second-round picks in the 2021 and 2022 drafts, was that someone. GM Lou Lamoriello presumably was unable to find a trade partner for one of his aging, well-paid veteran defensemen and instead had to lose a late-blooming RFA due for a healthy raise under a stalled cap ceiling. The trade also replaces two of three high draft picks dealt to acquire J-P Pageau and Andy Greene. Mark Allan

October 2020 –Toews filed for salary arbitration. Mark Allan

October 2020 – Though he arguably deserved a more-substantial contract, the power-play fixture received a qualifying offer that prevents him in the short term from becoming a UFA. While the Islanders remain deep in NHL-calibre defensemen, Toews has earned a spot as a big-leaguer. Mark Allan

September 2020 – Ryan Pulock and Toews each had eight assists, the most by any Islander defenseman in a single post-dynasty playoff run. His six goals and 28 points in 68 regular-season outings were second to Pulock among Islander defensemen. Ten points in 22 playoff games tied Pulock. Having established himself as a mobile, creative PP weapon, the 26-year-old RFA deserves (and should get) another contract. However, the team is flush with experienced back-enders, and 2018 12th-overall pick Noah Dobson is knocking on the door. Mark Allan

September 2020 – Although Toews had a team-high 3:32 on the PP in a Game Five 2-1 double OT victory, it was otherwise a quiet game statistically. He had arguably his best performance of the playoffs in Game Six, playing much more aggressive offensively though the Islanders were eliminated 2-1 in OT. After opening scoring with a daring wraparound, he blocked three shots, threw one memorable hit, was slammed into the end boards by two Tampa forecheckers and took two penalties. Mark Allan

September 2020 – Someone must have said something to Toews about his pass-dominated style from the back end. Just when it seemed like he didn't have a shot worth trying, he ripped a 92.3 mp/h slapper that clanged off a goalpost in Game Four. It counted as one of two missed shots to go with three shots on goal. Had his rocket gone in, it would have tied the score 2-2. Instead, the Isles lost 4-1 to go down 3-1 in the series. Mark Allan

September 2020 – He went without a point in an 8-2 series-opening loss to Tampa Bay and a bitterly disappointing 2-1 defeat. All alone with less than two minutes left in the second game, Toews decided to pass unsuccessfully rather than shoot from one of the faceoff circles, which looked even worse when the Lightning won with nine seconds left. A mobile, creative playmaker, Toews lacks even a mediocre shot. He still averaged more than 4:30 of PP time in the two games, but he's lost some man-advantage opportunities to Nick Leddy. Mark Allan

September 2020 – With one exception, Toews made his usual contributions as the Isles lost 4-3, fell 5-4 in double OT, then decisively trounced Philly 4-0 to win the seven-game conference semi-final. He assisted on defense partner Scott Mayfield's opening score in Game Seven. However, after leading or being close to the team lead in PP minutes for the first six games, the mobile back-ender got only 1:54 with the man advantage in the clincher as prime minutes shifted to Nick Leddy. That bears watching to see if Toews has lost the PP confidence of Barry Trotz. Mark Allan

August 2020 – Toews made an outlet pass to Scott Mayfield, who sprung J-G Pageau, who gave the Isles a 2-1 lead in an eventual 3-2 win. Known for his mobility and playmaking, Toews also blocked a shot and led all Islander blueliners with four hits as he and his mates earned a 3-1 stranglehold against the Flyers. Philly took just two minor penalties for the third straight game, limiting Toews' PP opportunities. Mark Allan

August 2020 – The mobile blueliner was pointless in a Game Two 4-3 OT loss that evened the series. He uncharacteristically contributed three blocked shots and even one hit while his 22:19 on the ice was just three seconds short of Matt Barzal's team high. While his 2:42 on the PP tied for the team lead with J.G. Pageau, Toews' offensive chances were limited because the Flyers took only two minors. With only two more Philadelphia minors in a Game Three 3-1 NYI triumph, Toews was limited to 2:18 with the man advantage and was again pointless, although he added three more blocks and is finding ways to contribute that don't involve scoring. Mark Allan

August 2020 – A vastly better playmaker than shooter, Toews scored the Islanders' final goal in a 4-0 victory over Philadelphia with an improbable 195-foot bank shot. Otherwise, it was a quiet night for the smallish, mobile blueliner as his 18:36 on the ice trailed all other NYI defensemen. That's because each team took only two minors each. Toews had just 1:40 with the man advantage, underscoring how important PP time is to his point production. Mark Allan

August 2020 – Not the most-physical player, the smallish blueliner took an excuse-me hooking minor on menacing Tom Wilson, who would have a breakaway otherwise in a 3-2 Washington win. Toews has established himself as an important cog with the man advantage, leading NYI D-men in PP time in Game Four and a convincing, series-clinching 4-0 victory in Game Five. However, few jobs are safe on either PP unit, which have struggled. Mark Allan

August 2020 – After an assist in each of the team's four qualifying-round games, Toews went pointless as the Isles seized a commanding 3-0 series lead against Washington. He unexpectedly had four blocks in a 5-2 Game Two win and two more in a 2-1 OT victory. The numbers you really notice for the mobile, creative blueliner are on the PP. A total of 3:18 in the 4-2 opener were highest among his fellow defensemen, followed by 3:12 (second most on blueline) and a whopping 6:05 to lead the team in Game Three. Partnered with Scott Mayfield at even strength, Toews has established his role. Mark Allan

August 2020 – Soon-to-be-RFA Toews has picked a great time to impress (again) in the post-season. After a goal and four assists in eight 2019 post-season outings as a rookie, he registered an assist in each of four games in a first-round victory against Florida, including three on the PP. Paired at even strength with the dependable, physical Scott Mayfield, the smallish, slick-skating defenseman got scads of man-advantage time, sometimes with Ryan Pulock and other times as the only defenseman in a five-man power-play unit. The substantial PP ice time augers well for the 26-year-old's future point production as well as his odds of landing a good contract. Mark Allan

July 2020 – After averaging 20:31 of ice time in 68 games and registering a respectable 28 points in his second NHL campaign, Toews was unsurprisingly named to the post-season roster. He could, however, lose playing time to emerging young star Noah Dobson. Mark Allan

July 2020 – Toews is in Group Two at training camp with fellow defensemen Johnny Boychuk, Nick Leddy and Thomas Hickey. Group One blanked Group Two 2-0 in the first scrimmage of training camp. Mark Allan

June 2020 – Toews is among a group of six Islanders participating in small-group workouts at the team's practice headquarters at Northwell Health Ice Center on Long Island. In response to the pandemic, the NHL decreed that players work out in groups of no more than six. Phase 2 workouts allowing non-contact skating at team facilities started June 8. NHL training camps in Phase 3 are scheduled to begin July 10, assuming medical conditions allow it and the league reaches an agreement with the players' union about resuming play. Mark Allan

May 2020 – He was paired with Scott Mayfield and on the ice for 22:14, including 2:46 with the man advantage, in the Islanders' most recent game, a 5-4 loss in Vancouver. However, playing time could be scarcer when play resumes because Johnny Boychuk is ready to return from a scary skate-blade facial cut that required 90 stitches. Another veteran, Andy Greene, is now in the mix after being acquired in February. Uncertainty doesn't benefit the 26-year-old Toews, soon to be an RFA. Mark Allan

February 2020 – A combination of Adam Pelech's season-ending injury and the unreliability of young phenom Noah Dobson translates into regular duty for the 26-year-old Toews. Paired at times with Scott Mayfield, Ryan Pulock and Johnny Boychuk, the 6-1, 192-pound left-handed shooter was with Mayfield most recently in a 4-1 win over the Sharks. The mobile Toews had a goal and an assist as well as going plus-2. After two injury-marred campaigns, Toews has six goals and 24 points in 61 outings, solid production for an underrated yet versatile and dependable player. Mark Allan

March 2018 – Devon Toews will miss the rest of the season due to a shoulder injury and subsequent surgery. This is a big blow to the 24-year-old Toews, who despite playing just 30 games this year, still currently leads the Sound Tigers in defense scoring (22 points) as they approach game 60 of their schedule. This complicates things a bit for the Isles, as NHL regulars Calvin de Haan and Thomas Hickey are both unrestricted free agents and it was thought that they could count on Toews stepping right in for one of them in 2018-19. Michael Farkas

January 2017 –  Devon Toews is in his first season of Professional Hockey in the AHL for Bridgeport. A proven point producer in NCAA Division 1 for Quinnipiac University, he and the Islanders obviously felt the jump to Pro was right for his developmental curve. Devon has shown the ability to adjust to the Pro game seamlessly, as he continues to produce points (mainly assists) and be a key contributor on the power play. Devon is blessed with great hockey sense, and tremendous passing skills and vision which make him a commodity in the way the game is played today. There is a legitimate shot for Toews to play for the Islanders in the future because of his ability to move the puck and be a key possession player. Kevin Pedersen

May 23, 2016 – Devon Toews (no relation to Jonathan) was taken by the Islanders in the fourth round in 2014 in his third year of entry draft eligibility.  He spent three years at Quinnipiac University, where he amassed 12 goals and 55 assists in 108 NCAA games.  Toews improved his point totals in each season, capping off his collegiate career with seven goals and 30 points in 2015-16. Many of those points came on the power play, where Toews showed he could be an effective quarterback. Toews will fight for a full-time AHL roster spot next fall.  Brent Craswell.
Highlights