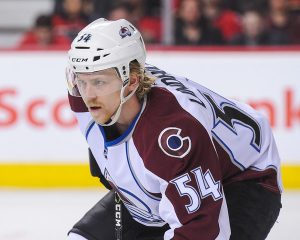 image courtesy of Zimbio
Fantasy Summary
Defensive defenseman with good hit/block stats but no offensive instincts
Observations
Click to Expand

October 2020 – Forsberg signed with the Chicago Blackhawks in hopes to make an NHL roster full time, as the Hawks defense is not great so a bottom pairing spot wide open for Forsberg. Pat Quinn

September 2020 – Lindholm is no longer anywhere close to a roster spot on the Avalanche. Even as injuries plagued the club throughout the regular season and playoffs, he found himself behind veteran Connauton and rookie Timmins, and with Byram entering the mix in 2020-21 that competition won't get any easier. He is under contract for one more campaign, but it is hard to imagine a role any higher than AHL blueliner going forward in this organization. He was brought into the post-season bubble so he can still serve as extreme depth, but do not target in any fantasy formats. Hayden Soboleski

March 2019 – Lindholm has a miserable 7 points in 53 AHL contests this season, but more disappointingly lost his status as preferred call-up to fellow d-man Ryan Graves. His play is not outstanding for any reason in the AHL. At this point, he is only an NHL option on teams with terrible depth, and should not be relied on in fantasy circles. Hayden Soboleski

November 2018 – Lindholm began the 2018-19 season in IR with an undisclosed injury, but has since returned and is playing in the AHL. He's not around for his scoring, but only having 1 point in 9 contests so far is not good, and he does not stand out often when he's on the ice (for better or for worse). Should not be a fantasy option unless you're in dire need of depth hit/block options. Hayden Soboleski

May 2018 – On a bottom-pair that rotated players in and out of the press box very often, Lindholm ended up with 48 games played. The only fantasy-relevant numbers he produced were hits (99) and blocks (51) and his TOI (13 minutes average) was too low to believe he is trusted by coaches. As the Avs pipeline churns out more and more talent, he is on the fringe of being usurped and receiving even fewer games going forward. Hayden Soboleski

November 2017 – Lindholm has suffered a broken jaw and is out indefinitely. He was rotating in and out of the lineup, and not looking particularly good (not that that anyone on the blueline is right now). He has not gained fantasy relevance. Hayden Soboleski October 2017 – Not on the opening night roster, Lindholm has been recalled and drawn in for the Avs' second game of the season. The waiver addition of Nemeth adds an obstacle for Lindholm but he had a strong enough pre-season to warrant a rotation in-and-out of the NHL lineup and press box. He stil lacks offensive upside so is not worth a fantasy pickup unless he plays himself into top-four minutes. Hayden Soboleski March 2017 – Lindholm has been recalled to the Avs nearing the end of a very developmental first AHL season. The defender has been quietly studying the North American game and has become a reliable presence on the blueline in San Antonio, even finding slightly more offensive success than he did in Sweden. Dont expect much fantasy value outside peripherals from Lindholm, who is a better real-life asset than fantasy. Hayden Soboleski October 2016 – The Avs have assigned Lindholm to the AHL for the upcoming campaign. The steady defender is not high on the organizational depth chart, but has promise as a minute-muncher down the road. A few steady AHL seasons will be required before he earns a shot on the Avs, so he isn't worth taking a waiver on even in the deepest, hit-loving leagues. Hayden Soboleski May 2016 – The Avalanche have signed defenseman Anton Lindholm to an entry-level contract. They took their time doing so, as the window was closing to get the 2014 5th-round-pick signed. He will presumably join the AHL Rampage next season, as he will be near the end of a long list of players pushing for an NHL look out of training camp. Expect at least a season or two in the AHL before being considered for (at most) a third-pairing role, and dont bother putting him on your fantasy radar. Hayden Soboleski Lindholm won't be a fantasy contributor in any category other than hits (in which he led the Skelleftea squad in 2015-16); he has been signed due to his defensive capabilities, most recently showcased on Team Sweden at the World Cup. He has never been a point producer, but has become a relied-upon stalwart in his own end. He uses his head and above-average skating ability to keep with plays and eliminate the opponent's chances. His ice time increases when playoff time comes – a good indicator that coaches trust him to get the job done when the other team's best players are on the ice. An undisclosed injury kept him out of nearly half the 2015-16 season for Skelleftea (he played 30 of 52 games), but there seems to be no reason he won't be ready to report to North America in 2016-17.
| Attributes | |
| --- | --- |
| Fantasy Upside | 2.0 |
| NHL Certainty | 3.0 |
| Country | SWE |
| Position | D |
| Roster Type | Free Agent, Minors |
| Shoot/Glove | Left |
| Date of Birth | November 29, 1994 |
| Height | 5'11" |
| Weight | 192 lbs |
| Drafted | 2014 Round 5; Overall: 144 |
| | |
Highlights