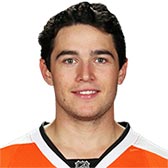 NHL.com
Fantasy Summary
Blessed with a calm demeanor and fluid mobility, Lyon carries the potential to one day become a starting goaltender in the NHL.
Observations
Click to Expand

March 2018 – Alex Lyon has been summoned from Lehigh Valley to backup the newly-acquired Petr Mrazek. Even with Elliot and Neuvirth sidelined, Lyon's workload is expected to be rather modest given that the Flyers are still very much in the hunt for a playoff berth. You would still remember to check his availability when there is a back-to-back or a soft start that could warrant giving Mrazek a night off. – Edric Joseph

December 2017 – Despite being with the big club for more than a week, Flyers goalie Alex Lyon remains idle while Michal Neuvirth tends to a leg injury. He is unlikely to see much (if any) playing time as he has struggled to perform up to the standard of the AHL level. He would not start as much for Lehigh Valley it weren't for Anthony Stolarz being sidelined indefinitely. Edric Joseph

September 2017 – The clock is ticking on Alex Lyon, especially when the Philadelphia crease is starting to fill up with prospects of interest. Also, by prospect standards he is also getting on in years making it more important to get some giddy up to his development. Playing behind Elliot and Neuvirth going into a contract year probably doesn't help in the way of keeping the pressure off of him to deliver in short order. He can make a compelling audition for other clubs out of this season if nothing else, should the Flyers elect to go another way in the coming summer. Edric Joseph

June 2016 – Lyon had spent three seasons patrolling the crease for the Yale Bulldogs. Leading the team to second place finish in the ECAC conference in 2015-16. The 6-1 netminder posted a 19-8-4 record with a tidy .936 save percentage and 1.64 GAA. One of the most heavily recruited free agents coming out of college hockey, the Hobey Baker Finalist signed with the Philadelphia Flyers back in April. At 23 years of age, Lyon will be called upon to produce strong numbers immediately and will battle Anthony Stolarz for the top spot in Lehigh Valley this fall.
Highlights