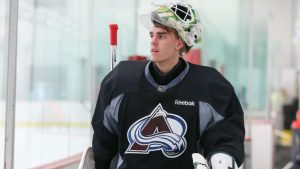 image courtesy of NHL.com
Fantasy Summary
Talented netminder who can handle starts after long breaks
Observations
Click to Expand

May 2022 – Adam Werner is expected to leave the Stockton Heat and sign in Sweden (joining Malmö) this offseason. His days of playing in the NHL and being a decent prospect are all but over. Chris Fekete

July 2021 – Werner has signed a one-year deal with the Calgary Flames. His second AHL campaign was another hot and cold affair, but when the good still outweighs the bad as he finished the year with a 0.908sv%. Impressively, he was able to put up great starts after returning from long stretches without playing (as he served as the Avs' 3rd goalie on road trips). Werner still has NHL backup upside, but perhaps a change of scenery was needed after a few years of goalie carousels in Colorado making things uncertain. Hayden Soboleski

November 2019 – In his first North American season, Werner has been splitting the AHL crease in Colorado with moderate success – a 0.908 sv% through 9 starts. He set a franchise record last night however, as injuries forced him into the Avalanche's contest against the Jets just seconds into the game. With every excuse to be unprepared, he pitched a  cool and calm 40-save shutout in his NHL debut. He will stick with the big club until Grubauer returns from injury, until then he might be able to earn a few more starts than planned off regular backup Francouz. Remain patient with Werner – this is a promising sign but he wont be handed a free pass. He requires AHL time just like most transitioning netminders. Hayden Soboleski

May 2019 – Werner has signed his ELC with the Avalanche. He has not yet announced his plans for 2019-20, but wherever he goes he needs an opportunity to increase his workload yet again and continue developing into a reliable starter. Hayden Soboleski

February 2019 – We all know that goalies are voodoo to predict, but Werner's strides over the last two years have increased his fantasy stock. In his first SHL season since graduating from junior leagues, the 21-year-old has appeared in 20 contests (nearly splitting the team's starts) and is posting a 0.920 SV% to date (good for 8th in the league). Pair these excellent stats with his natural size, and Werner is looking like a notable goalie prospect who stands out within the organization when it comes to future starter potential. Hayden Soboleski

April 2018 – Werner calmed our nerves after a rough start to his Allsvenskan debut, finishing with an increased 47 starts and an improved 0.915 SV%. He made the trip to North America for an AHL taste but was unimpressive and will surely be returning to Sweden for more development. Slow and steady on this raw prospect with promise. Hayden Soboleski

October 2017 – Werner returned to IF Bjorkloven of the Swedish Allsvenskan league, and has a 0.889 save % though 12 game so far. This is slightly worse than his numbers last year – the wrong direction for a young goaltender to go. He is still very young so has time to refine his game, but he needs to be able to handle the increased workload that he has been acclimating to for two seasons now. Hayden Soboleski March 2017 – Based on his twitter announcement, Werner has signed a contract to stay in Sweden for 2 more seasons (2017-18 and 2018-19). The netminder is not having a strong season statistically, but is getting lots of starts as a 19-year-old which is a strong step towards long term improvement. Hayden Soboleski December 2016 – Werner did not make the Swedish Team for the WJC. His stats and outlook were poorer than the other two goalies included on the preliminary roster, but it was a good sign that he was thought of at all. Hayden Soboleski December 2016 – Werner has been named as one of three goalies on the Team Sweder World Juniors preliminary roster. This comes as a result of his play as a starting goalltender in Allsvenskan – Sweden's hockey league a tier below the SHL. Hayden Soboleski Werner has entered his first year playing in Allsvenskan, immediately serving as a starting netminder. He currently holds a .901 SV%. He previouly played in the highest-tier junior league J20 SuperElit for three seasons, where he posted a 0.916 SV% in 30 games played in his final season. He has the height that is coveted in most goaltender prospects, but is still very much in the learning proess for how to use his frame to his advantage. He is very raw at this point, but also very young, so his ability to handle the starter's role is more notable than the long list of technique work that is still to be done.
| Attributes | |
| --- | --- |
| Fantasy Upside | 5.0 |
| NHL Certainty | 3.0 |
| Country | SWE |
| Position | G |
| Roster Type | Free Agent |
| Shoot/Glove | Left |
| Date of Birth | May 2, 1997 |
| Height | 6'5" |
| Weight | 198 lbs |
| Drafted | 2016 Round 5; Overall: 131 |
| | |
Highlights