August 32-in-32: New York Rangers
Brendan Ferry
2023-08-20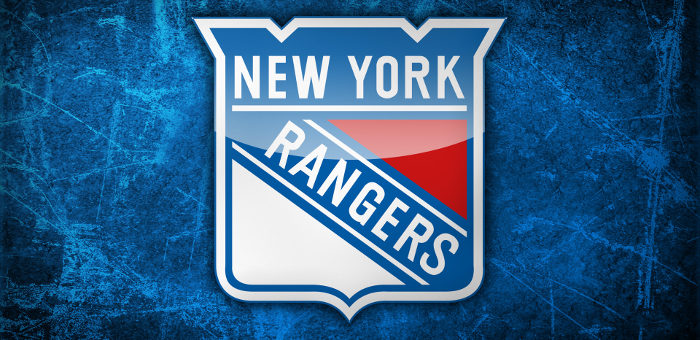 ***
Welcome to the August 2023 edition of the DobberProspects 32-in-32 Series. This month, we are diving into the depth of each organization, looking at their recent graduates, risers, fallers, and top-20 prospects.
***
The New York Rangers organization has had a number of changes heading into the 2023-2024 NHL season. The team has good depth, both at the NHL level, and in their prospect pool. With a former Vezina Trophy winning goalie in Igor Shesterkin and a more experienced roster around him than in recent years, the blueshirts are a deep team, ready for another run to the playoffs.  The team also hopes to compete for a Metropolitan division title, against tough rivals in Carolina and New Jersey.
Salary cap constraints and a disappointing playoff run led to major roster and personnel movement, including waiving goodbye to former Head Coach Gerard Gallant, as well as most of the coaching and professional staff, including longtime head trainer Jim Ramsay. As for the roster, it was time to say goodbye to forwards Patrick Kane, Vladimir Tarasenko, Tyler Motte, and defenseman Niko Mikkola. In their place, new Head Coach Peter Laviolette and staff arrived, and several veterans were brought in to fill out the roster and add some additional leadership.
Last season's trade acquisitions have moved on, and were replaced by inexpensive veterans. The biggest piece brought in on offense was Blake Wheeler, who figures to be somewhere in New York's top six during the upcoming season.  Other forwards signed to bargain-bin NHL contracts were Nick Bonino, Tyler Pitlick and Alex Belzile. As of this moment, it looks as though the team's fourth line will likely consist of Bonino centering Jimmy Vesey and the aforementioned Pitlick. Candidates to fill out the 12th and 13th forward spots include Belzile, Jake Leschyshyn, Will Cuylle or Bobby Trivigno. Cuylle got a brief look at the NHL level a season ago, and even if he doesn't make the team out of camp, will be a player to look at for a possible early callup. 2021 first round pick Brennan Othmann might be able to impress during camp and grab one of the last couple roster spots, but getting him acclimated to pro hockey at the AHL level seems a much likelier scenario.
Defensemen Zac Jones and Matt Robertson are seeking to put up a fight in training camp with the hopes of trying to earn the sixth defenseman slot vacated by the departed Mikkola, now a Florida Panther. The two prospects were joined on the Rangers' depth chart by free agent signings Erik Gustafsson, Connor Mackey, Mac Hollowell and Nikolas Brouillard, rendering their challenge to make the team out of camp this Fall much harder. However, with Jones no longer waivers exempt, he will be on the NHL squad in some capacity.  It is easy to see a scenario in which Jones spends the early part of the season taking turns in and out of the lineup with one of the veterans, most likely Gustafsson or Hollowell.
*
NHL level
Locks for the top-six: Panarin, Zibanejad, Kreider, Trochek
Somewhere in the top-nine: Lafreniere, Kakko, Chytil, Wheeler
Third and Fourth liners: Goodrow, Vesey, Bonino, Pitlick
Possibilities for 12th/13th forward: Belzile, Leschyshyn, Cuylle, Trivigno
*
Roster Projection
Forwards
Kreider- Zibanejad- Lafreniere
Panarin- Trochek- Wheeler
Goodrow- Chytil- Kakko
Vesey- Bonino- Pitlick
Defense
Lindgren- Fox
Miller- Trouba
Jones- Schneider
Goaltending
Shesterkin
Quick
********
Graduations
Juniors to AHL: Brennan Othmann, Ryder Korczak, Matt Rempe
European leagues to AHL: Adam Sykora, Adam Edstrom
First-year NCAA (former USNTDP): Gabriel Perrault, Drew Fortescue
*****
Risers
Brennan Othmann
Othmann, the 16th pick of the 2021 draft, has done nothing but impress in his two post-draft seasons, putting up huge numbers in the OHL, for both the Flint Firebirds (while serving as team captain), and after a mid-season trade last year, the Peterborough Petes.  The Canadian winger plays an abrasive game, combined with plenty of puck skills and a wicked shot. He is a high-character, hard-working player, with an outside chance to get a taste of the NHL as early as this season.  Finally eligible to play for the Rangers' affiliate, the Hartford Wolf Pack, after being ineligible last season, Othmann will be able to get his first taste of pro hockey this Fall, with his sights set on earning a call-up to the big club at some point along the way. With his unique combination of ability and snarl, it is a definite possibility.
*
Bryce McConnell-Barker
– or, if you don't want to use a video of a guy plugging his channel:
McConnell Barker had an increased role a season ago during his second campaign with the Soo Greyhounds of the OHL, and also served as team captain last season.  Taking advantage of his increased ice time and opportunity, his point total jumped by 28 points compared to the 2021-22 season, in the same number of games played.  He is heading into his third season with the Greyhounds, and will look to continue to build upon his point totals from a season ago.  A hard-nosed center, who loves to mix it up with opponents, McConnell Barker has a gifted offensive game and an accurate shot, to go along with his sound play overall.
*
Jaroslav Chmelar
Chmelar competed in his Freshman season for the Providence Friars of the NCAA, and fit in seamlessly with his new club in his first year playing hockey in North America. He seemed to be very comfortable on campus, and even had fellow Ranger prospect and familiar face Brett Berard on campus, helping to ease his transition. He possesses very good size and is a versatile forward who excels around the net.  Additionally, although not characterized by being a heavily physical player, one can see from the video above that he is able to use his large frame to impose his will on opponents. Chmelar will look to build on his solid Freshman campaign as he heads into his second season with the Friars. He has earned his way onto the last few Czech teams in the World Juniors, as well, despite being a fifth round draft choice.
*****
Fallers
Lauri Pajuniemi
Pajuniemi has signed with the Malmo Redhawks of the SHL for the 2023-24 season, after spending two seasons with the Rangers' AHL affiliate, the Hartford Wolf Pack. This is a bit of a difficult one to explain; Pajuniemi's point total increased from his first to his second season in Hartford, and he was a pretty integral member of their club. In 68 games played last year, the winger put up 19 goals and 19 assists for 38 points. On the surface, it seemed as though he was getting more comfortable playing within the Rangers organization, but despite his reputation as a very strong shooter, he was never able to earn a call-up to New York. Perhaps a bit of frustration and/or feeling homesick led number 48 to return to his native Europe for the upcoming season. The Rangers did extend a qualifying offer to Pajuniemi this summer, so perhaps they may be able to convince him to return to North America in a season or two, if he wants to take another shot at cracking the NHL club.
*
Karl Henriksson
The diminutive Swede completed his first full season with the AHL Wolf Pack, his first since departing the Swedish leagues. The speedy center, recognized for his playmaking ability, struggled quite a bit this past season, registering 17 points in 70 games played, and zero points in eight playoff games. This fact could be taken with a grain of salt; however, his point totals during the few seasons prior were pretty paltry, as well. Henriksson produced well in Sweden at the J18 and J20 levels with the Frolunda organization, but struggled to put up points with Frolunda's SHL club. Still only 22 years of age, Henriksson has time to right the ship, but as additional players have been added to the organization's center depth chart from the last few drafts, it is becoming a bit of an uphill battle at this point for him to earn his way into the team's future plans.
*
Oliver Tarnstrom
Tarnstrom, soon to be 21 years of age, had a poor showing last season in SHL play, playing mostly for Rogle BK, along with a dozen games in Hockey Allsvenskan, Sweden's second tier. In his 12 games in the lower tier, Tarnstrom compiled six points with Tingsryds AIF. However, in 43 games played with Rogle, Tarnstrom was only able to muster three points, along with zero points in nine playoff games. He will be suiting up for a new team in Hockey Allsvenskan during the 2023-24 season, Brynas IF. Perhaps playing in the lower tier, and being a bit older and more seasoned, will allow the lanky Swede to find his game again. One improvement that he could surely make would be to pack some pounds onto his slight frame, enabling him to better compete with the size and strength of the veteran players of the Swedish leagues, and as he presumably tries to make the jump over to North America in a season or two.
*******
Organizational Depth Chart
(Combination of NHL readiness and upside)
| | | |
| --- | --- | --- |
| LW | C | RW |
| Brennan Othmann | Bryce McConnell-Barker | Gabriel Perrault |
| Will Cuylle | Ryder Korczak | Jaroslav Chmelar |
| Brett Berard | Karl Henriksson | Brody Lamb |
| Adam Sykora | Noah Laba | |
| Bobby Trivigno | Oliver Tarnstrom | |
| Kalle Vaisanen | Adam Edstrom | |
| Maxim Barbashev | Matt Rempe | |
| Ty Henricks | Dylan Roobroeck | |
| | Zakary Karpa | |
| | |
| --- | --- |
| LHD | RHD |
| Zac Jones | Mac Hollowell |
| Matthew Robertson | Ty Emberson |
| Drew Fortescue | Victor Mancini |
| Rasmus Larsson | |
| Brandon Scanlin | |
| Simon Kjellberg | |
| Hank Kempf | |
Goaltending
Dylan Garand
Olof Lindbom
Talyn Boyko
Hugo Ollas
***********
Top 20 Prospects
The Rangers have some nice looking prospects in their pipeline, although it is a bit thinner than in the past few seasons.  The organization is a bit thin at Center and right defense, the same two positions identified in last year's recap.  On a positive note, Center prospect Bryce McConnell Barker is trending in a good direction, and if he continues progressing well, he could be able to crack New York's lineup in a couple of seasons.
Last seasons top prospect on this recap, Vitali Kravtsov, was dealt to Vancouver at last year's trade deadline, ending a five year saga.  The relationship deteriorated to such an extent, and Kravtsov tanked his own value so much, that the Rangers gave him away for next to nothing. Will Lockwood, the minor league player acquired in the trade with the Canucks, is not even with the NYR organization any longer. All told, it was a nightmare scenario for the organization to essentially throw a former ninth overall pick in the garbage. On a positive note, here are the top 20 prospects in the Rangers' system:
Brennan Othmann
Gabriel Perreault
Zac Jones
Will Cuylle
Adam Sykora
Bryce McConnell Barker
Matthew Robertson
Dylan Garand
Jaroslav Chmelar
Drew Fortescue
Brett Berard
Ryder Korczak
Karl Henriksson
Brody Lamb
Bobby Trivigno
Kalle Vaisanen
Rasmus Larsson
Adam Edstom
Olof Lindbom
Oliver Tarnstrom
*********************
Thank you for reading. Stay tuned throughout the season for more prospect updates!
Brendan Ferry
LATEST RADIO & DRAFTCASTS