Prospect Ramblings: Valimaki & Ingram in the Desert; Samuelsson signs; Frost
Ben Gehrels
2022-10-12
The Coyotes grabbed Juuso Valimaki (D) and Connor Ingram (G) off waivers recently from Calgary and Nashville respectively. Both immediately made the opening night roster and will kick off the year with Arizona. Both have solid pedigrees from their draft positions and production at lower levels but they also share an uncertain future. It is not yet clear whether or not this change of scenery will be helpful.
Valimaki looked like a dominant, top-pairing offensive power play specialist as recently as 2020-21 when he famously (in prospect circles) scored 19 points in 19 Liiga games to start the year before crossing over and joining the Flames. Then, as I outlined in a Journey article in July, he ran into Daryl Sutter and seemed to lose both deployment and confidence. Since then, he has struggled at both the NHL and AHL levels and has not been able to recapture the habits and vision that were helping him excel previously.
It is not just his Liiga performance that had poolies excited, however. His PNHLe score—a metric that translates scoring from other leagues into NHL terms using historical comparables—actually peaked in 2017 when he was drafted. At that point, he had turned in a point-per-game season in the WHL—a comparable pace to 2022 picks like Denton Mateychuck, Kevin Korchinski, and Pavel Mintyukov.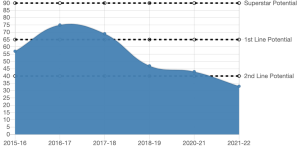 Then, as you can see, he headed into a slow decline. Instead of building on his draft year success, he basically posted the same scoring rate in his Draft+1 WHL year. Then he jumped between the AHL and NHL in his D+2 (2018-19) and did okay. Finally he had that dominant though short run in Finland and has struggled ever since.
The question on everyone's mind is: what happened? The obvious answer seems to be: injuries.
That is a lot of time to miss at crucial ages. That said, although his 18 points in 35 AHL games last year look disappointing to those of us who were hoping that he would be putting up better NHL numbers than that by now, his underlying stats suggest there is still something here.
The other thing that has kept a dogged group of managers holding onto some semblance of hope is that defenders with Valimaki's trajectory almost always end up in the NHL.
If he can see regular minutes and get some confidence back now that he is out from under Darryl Sutter's regime, the 24 year old might still be able to offer some mid-range fantasy value in a year or two. Even if that comes true, however, it is doubtful that his ceiling will ever be as high as it once seemed.
Also, it is not like Sutter is just a bad guy who hates prospects; he demands team-first, tight defensive hockey from his players. Plays like this from the preseason show that Valimaki has some work to do still on that side of things. Two-on-one situations are difficult but he mishandles this one, focusing first on blocking the pass without fully committing and then getting caught watching the puck instead of shutting down the first player who ends up with an easy tap-in goal.
Valimaki's new teammate, Ingram, finally has an opportunity to stick at the NHL level. It just was never in the cards for him with the Predators, especially after they signed Kevin Lankinen in the offseason: with Saros firmly in control of the starter's role and mega-prospect Yaroslav Askarov on the way (now in the AHL), Ingram had a brief shot at a brief backup role but that was it.
Now he finds himself in a wide open situation in Arizona where his only real competition is Karel Vejmelka. Vejmelka, a product of the Czech system, is a huge guy (6-4, 224lbs) in his prime (26 years old) who seemingly came out of nowhere to claim the starter's role last year. As his numbers indicate, however, starting is a tough gig in the desert: Vejmelka managed only 13 wins in 52 games along with a -12.97 G.S.A.A. If you are not familiar with Goals Saved Against Average, here is a useful primer. Basically, it is similar to a value over replacement metric and allows goalies to be compared more effectively to a league average-level goalie. 
In other words, Vejmelka did much more poorly than a league average goalie would have done in his shoes (in theory). That means Ingram has a decent opportunity in Arizona to come in and show what he can do. Even if Vejmelka rebounds in Year Two, he is definitely not a Saros or Askarov-level tender.
Ingram has already flashed the ability to steal games on hockey's biggest stage, so who's to say that he cannot do that again? In case you have forgotten his short but incredible performance in last year's playoff series against the eventual cup-winning Avalanche, here is a refresher:
—
Buffalo just signed defender Mattias Samuelsson to a seven-year, $30 million contract extension.
You can be forgiven for not knowing much about him. He is a big (6-4, 227lbs), defence-first player who actually played a key role on the Sabres last year, performing pretty well against the best players other teams had to offer. Check out his big yellow bubble on the far left of the deployment chart below: he was an absolute rock for Buffalo, and they clearly see room for him to grow.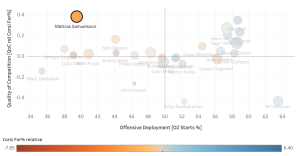 Although four million and change per year might seem like a lot now for a player like this, they are betting that he will continue to grow into his defensive role and provide more value as he develops. Not much here for fantasy purposes, however, outside of decent peripherals. He can bring you 20+ points and a poor plus-minus on top of 1 shot, 2.5 hits, and 1.5 blocks per game.
—
Morgan Frost will be an interesting player to watch this year. He has been an incredibly slow burn since being drafted in the first round of 2017, and even the most patient Flyers fan is probably a little sick of waiting for him to pop.
It is likely going to be a tough year to be a Flyer, with Sean Couturier out and John Tortarella at the helm, but Frost has an opportunity to open the year in the top six and make good on the potential he flashed as recently as last year in the AHL (19 points in 24 games; 65 point pace).
Here he is in a preseason practice giving a glimpse of what he can bring to the table. It is a little hard to make out, but he is the player in light grey on the far side of the ice. He beats a couple checks, finds some room in the corner, then fires a hard cross-crease pass to the open man who buries it.
Thanks for reading! Follow me on Twitter @beegare for more prospect content and fantasy hockey analysis.
LATEST RADIO & DRAFTCASTS