Nemec or Jiricek: Who Is More Valuable in Fantasy?
Caleb Kerney
2022-10-16
One of the biggest debates coming from the past 2022 Draft Class was determining the top defender. Most pundits landed on either Simon Nemec or David Jiricek as the top potential draftee of that position, with the odd person citing Denton Mateychuk or Lane Hutson as the best rearguard from this class. 
While it will take years to truly discover the answer to this query I'd like to settle a different one: who is more valuable in dynasty fantasy leagues today?
Prospecting Models
First, we'll look at their statistical performance from their draft year. Dobber Hockey's Frozen Tools, InStat and Elite Prospects were referenced throughout this entire article.
Simon Nemec
Nemec recorded 26 points in 39 games, and only one of those points was a goal. He played for HK Nitra in the Tipos Extraliga based in Slovakia. For starters, what he did in this league has never been done by someone of his age and position before. He followed it up with a fantastic playoff performance to the tune of 17 points in 19 games including five goals.
Here Byron Bader (the creator of the Hockey Prospecting Model) proclaims that his model has never seen this great of an outlier performance from a draft eligible player in the history of his model. His model only goes back to 1990, but that's a large enough sample to understand how remarkable Nemec was. 
HP (Hockey Prospecting) gives Nemec a 62% chance of being a star and 97% chance of being an NHLer. HP defines a star defender as a player who averages over 0.45+PPG and an NHLer as having played over 200 games.
David Jiricek
Jiricek had a slightly less impressive season with 11 points in 29 games. Considering he suffered a knee injury at the Covid-Shortened World Junior tournament and missed three months, the production is great. 
HP is less high on him with a 14% chance of being a star and 54% chance of being an NHLer. But it's good to remember that there are many prospecting models that weigh various factors differently, so there is some variance from model to model.
Fantasy Value
Simon Nemec
Digging into the numbers more we see that Nemec is a great playmaker highlighted by the fact that 25 of his 26 regular season points were assists. He also averaged 2.3 shots on goal per game, 1.35 blocked shots per game, and 0.21 hits per game.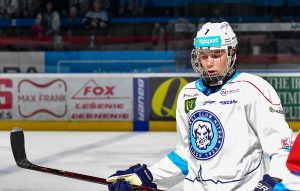 Clearly there is good upside for points in fantasy leagues with some decent, but not fantastic peripheral coverage. He can have good value in points leagues where every category has a statistical value- similar in profile to Tyson Barrie. In a category league he'd be great for assists, average for shots and blocks, but subpar for goals and hits.
If that brings value to you and your league then he's your guy. The lack of goals and hits definitely lessens his fantasy value, but he's definitely worth a sniff in most leagues.
David Jiricek
Jiricek's picture is painted a little differently. His 11 points in 29 games give him a tidy 0.38 Points Per Game percentage. If you prorate that over the 52 game schedule that he should have played if he didn't get injured would have left him with 19.74 points. Round down to 9 goals and 10 assists would give us the same split that he actually achieved in regular season play.
His actual totals were five goals and six assists, a near even split. He averaged 1.74 Shots, 0.89 Blocks, and 0.81 Hits per game. Jiricek is a more consistent performer in every category across the board. Average hits, blocks and goals along with below average assists and shots.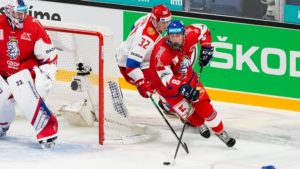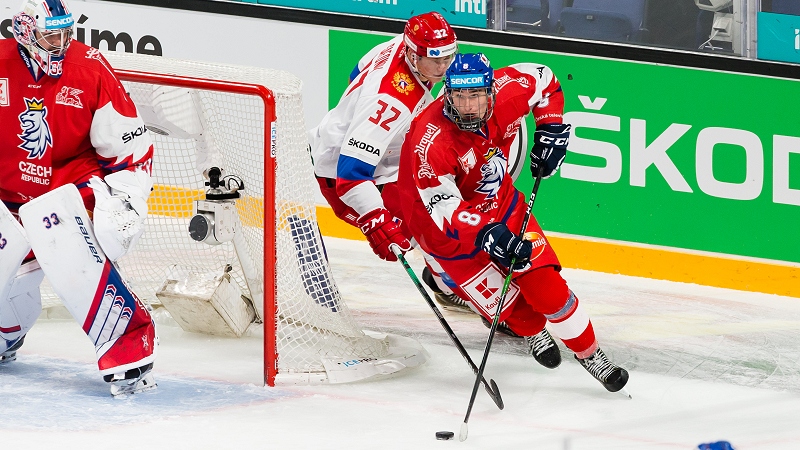 Jiricek's better diversity of good stats make him more desirable for fantasy in addition to the fact that he will more than likely get a kick at real NHL minutes before Nemec does.
Just looking at raw numbers Nemec looks better at assists, shots and blocks, but Jiricek is more consistent across hits, shots and blocks. There is always a chance of regression with their first year in the NHL, so unless Nemec pulls a Seider, he will take at least a year to become comfortable with North American hockey.
Draft Year Play
Simon Nemec
One of Nemec's strength's is his puck carrying abilities. He can gain zone entries with ease and maintain possession in the offensive zone. His smooth skating and good speed allow him to gain an edge on the rush against opponents.
The other side of this, is that sometimes he gives the puck away for no reason. It's one thing to have a giveaway if you are trying new and creative things, but it often happens with Nemec in these situations. You could assume that his teammate was coming along to support him if he needed a passing option, or to jump on any rebound. He probably wasn't expecting a pass at all.
Nemec is great at joining rushes and seems to know where he's supposed to be. He can be very dangerous, most often when he's not carrying the puck and making those creative decisions.
David Jiricek
Jiricek is a whole new ballgame. He is a physical specimen with an incredible slapshot that he is not afraid to use. Expect to see clips like this one come out of the AHL this year:
You see this and it makes sense how he is closer to a 50/50 split with his goals and assists. If he keeps working on that slapshot so he can beat NHL competition, the sky is the limit for this kid.
Jiricek is a creative player and will try different things, even if they don't always work. They usually lead to some kind of scoring chance.
Pre-Season Play
Simon Nemec
Despite making it onto the opening day roster for the Devils, Nemec was sent down to the AHL shortly after. He didn't have an amazing camp which feels like the main reason why he was sent down. He lacked urgency in puck retrieval situations, flustered while under pressure with the puck, and general unease.
He had some good puck touches on the powerplay and you could still see that was a strength of his game, but it's almost like he didn't have confidence in himself for most of the pre-season. The AHL will be a great place for him to get top minutes, favourable deployment and work on his complete game. 
David Jiricek
In yet another tale of opposites with these two, Jiricek had a great camp. He stuck around until the last round of cuts and the best part of all, his last pre-season game was his best. He was creative, aggressive, and you can see that he isn't far off from playing in the NHL. 
Jiricek is physically ready to play in the NHL. You can see here a Blues player try to put him on his backside and isn't expecting what happens next.
He's not panicking under pressure and looks like he's already played NHL games. His confidence with the puck is evident with some creative passing here:
Jiricek is starting the year in the AHL, but don't expect him to stay there for the whole year, especially if the injury bug hits the backend.
Conclusion
Who is more valuable in fantasy hockey today, Nemec or Jiricek? Nemec appears to have a safe points floor, while Jiricek's aggressive style of play gives reason to believe that in the next couple years he can increase his peripheral numbers. Nemec appears to be tentative on the ice and needs at least this year to get his mojo back. Jiricek should be on the Blue Jackets' blueline today and will get called up at the first sniff of injury. 
Jiricek is clearly the best choice of the two. His shot gives you the feeling that he could really pop for points in the coming years. Even if he doesn't have the same appeal as Nemec, his peripherals could be the tiebreaker as he develops his aggressive style in the NHL and increases his shots and hits. 
David Jiri-checks all the boxes, Simon Nemec does not.
LATEST RADIO & DRAFTCASTS