September 32-in-32: Chicago Blackhawks
Puneet Sharma
2022-09-06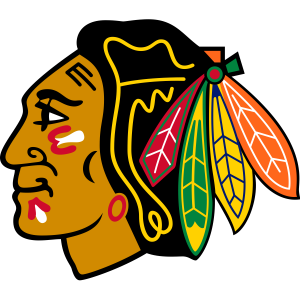 Welcome to the September 2022 Edition of the DobberProspects 32-in32 Series! This month, we will be doing a  deep dive into each organization, looking at their recent graduates, risers, fallers, and top 20 prospects.  
Up until last year, Blackhawks management seem to have the mindset that they were still a contending team (even though they clearly looked to be on the decline), trying to go through a pseudo rebuild while still being  competitive. The Blackhawks made it to the playoffs for nine consecutive seasons while winning three Stanley Cups during that run. A team that was in the hunt for the Stanley Cup for so long would understandably have a  thin prospect pool during the height of their winning days. In hopes of continuing to be a contender and keeping the likes of Jonathan Toews and Patrick Kane happy, previous management continued to push for the playoffs. They managed to make the last playoffs only once during the last five seasons. Not building any prospects over  the course of five years and trying to find band-aid solutions to making this team competitive has been a clear failure. Building championship teams start in the draft.  
NHL teams need to build a solid foundation, and that means adding young high-end talent that can either add to the team by playing or by being a trade asset. New management is here to do exactly that and is stripping everything down to the studs. Trying to build a strong core and focusing on key pieces can only help the success of  this organization. Drafting new faces such as Kevin Krochinski, Frank Nazar, Sam Rinzel, Paul Ludwinski, and Ryan  Green helps slowly fills back that once empty cupboard. Recent additions in Andres Athanasiou, Colin Blackwell, and Max Domi on short-term contracts help add in some grit, competitiveness, and leadership. Should their values  increase over the course of the year management can flip them for more assets. While departures of major players on this team have created key holes that the aforementioned players will be hoping to fill. 
Development Camp 
The prospect pool is starting to slowly fill out as planned. A few players that I watched out for during the  development camp were Frank Nazar, Dominic James, Samuel Savoie, Wyatt Kaiser, Sam Rinzel, and Drew Comesso. The two players that stood out the most were Vlasic and Kaiser. Vlasic continues to make an impact  and although his strong suit is his defensive awareness his ability to jump into the rush and create plays was  impressive. Kaiser who is still may be a year away is showing that he is capable of being a top-tier defenseman on  the Chicago Blackhawks. Most of the first-rounders this year had a solid outing but still need two to three years of  experience in the minors. 
A team that was once Stanley Cup Champions now has to re-focus on what got them there. Now, on the road to a  rebuild, the veteran players on this team are crucial to the development of this young squad. You cannot get any  better that Patrick Kane, Jonathan Toews, and Seth Jones. Davison has confirmed that neither Kane nor Toews have asked for trade however in all likelihood both may be dealt at some point during this upcoming season. So  how all in are they really going to be with this young core? Toews has made it fairly clear that he is not excited  about going through a rebuild. We have not heard much from Kane but it is safe to assume that he may also be on  his way out at some point considering both are in the last year of their contracts. Jones is the only mainstay on  this team.  
We can somewhat gauge how the lineup may look for the upcoming season however this depends on what type of  deal Davidson gets in return for Kane and Toews. Since neither has been dealt with yet, we will work with what we  have. Kane will most likely take top-line duty, Lukas Reichel will ride shotgun and Domi may get a chance to play center in an effort to increase his value. Toews will naturally take that second-line center spot with Raddysh and  Kurashev flanking each end.  
Reichel– Domi – Kane 
Kursashev – Towes – Raddysh 
Athanasiou – Johnson – Blackwell 
Katchouk – Lafferty – Entwistle 
Luke Richardson will likely be changing up the lineups on a frequent basis to see what works best, although the  outcome may result in a losing effort either way. One advantage is that a good portion of players have the experience in playing more than one position up and down the lineup. Players such as Domi, Athanasiou, Raddysh, and Johnson have been able to play nearly all forward positions over the course of their careers. You can expect a  line blender type of situation, especially with the third and fourth lines.  
On the defensive side, things are looking really thin. The new additions to the team in all probability will be Ian  Mitchell and may be Alex Vlasic however the Blackhawks have also signed Jack Johnson to a one-year deal which  makes it difficult for players trying to crack the lineup. Upcoming training camp will be very important for the  younger core to show what they can do. You can also expect to see Caleb Jones in the mix with his recent one-year signing of $1.35 million. It looks as if Mitchell has a higher upside. Top power play duties will still be occupied by  Seth Jones while his younger brother Caleb may take the second power play unless Mitchell can show he is ready for that level of responsibility.  
Jake McCabe – Seth Jones 
Jack Johnson – Connor Murphy 
Caleb Jones – Ian Mitchell 
If you thought it looked bad on defense, goaltending is not any better. The most up-to-date goalie situation in  Chicago is shaky at best. Newly acquired goalie Petr Mrazek will take the reigns as the Blackhawks' top goaltender  for the beginning of the season with Alex Stalock (also recently acquired) as the backup. The glimmer of hope is  that Arvid Soderbolm is not that far behind either of them. He played a small stint last year to fill in when Lankinen sustained an injury that kept him out of the lineup for a few games.  
Petr Mrazek 
Alex Stalock 
*Arvid Soderbolm 
*A close second to Alex Stalock and even Petr Mrazek should they underperform 
Graduates 
Reichel has a good opportunity to make the roster this season and succeed provided that he has Kane or Toews  with him. Should that change his overall output may drastically decrease. His AHL productivity has been strong  posting a point-per-game rate with his first year on the Icehogs. The only point of contention with Reichel was that  his overall frame still needed development. Near the tail end of the AHL season and coming into the offseason he  focused on gaining more size. Coming into development camp this year Reichel did a lot of off-ice work and got  bigger and stronger which should help in his puck protection and overall game. Going from a 170-pound frame to  185 pounds will help him when he makes it to the NHL full-time.  
This upcoming season is Mitchell's opportunity to plant his flag and solidify his chances as a regular on the  Blackhawks lineup. He played a full season with the Icehogs and took a major step forward in his offensive and  defensive capabilities. Over the course of 57 games with the Icehogs, he put up a solid 11 goals and 24 assists and  was a mainstay on the powerplay. We do not expect that to happen with the Blackhawks but it is good to know  that he has the confidence to step up when needed.
Mitchell typically plays the right side so seeing him bump Seth  Jones off his top-line duties is unlikely. His chance to make the team is his to lose; he has proven what he can do in  the minors and now has to show up with a strong training camp. Should he make the team, I would suspect he  would be a bottom-pairing defenseman for much of the season but do not be surprised if you see him move up  and take Connor Murphy's position. The only issue here is that Richardson gives the impression that he expects the  style of play is very similar to his own when he was in the NHL. If that holds true then chances are Connor Murphy  will stay right where he is.
At the same time, this gives Mitchell some well-needed sheltered minutes, where he  can take pointers and develop at a pace that is reasonable.  
On the Cusp 
From a fantasy perspective, you may not get much of output from Vlasic. Vlasic is a very promising defenseman  in the Chicago Blackhawks system; he has been spending the last three years in the NCAA building a reputation as  a strong defender. Over the course of his three years with Boston University he posted five goals, 16 assists, and 97  blocks over 82 games. He will be expected to play the shutdown defensive role, which is something he has been  very familiar with. At 6-foot-6 and 230 pounds, Vlasic was signed to a three-year entry-level contract in March 2022  and has only seen a few games in the NHL. He had a very impressive development camp and should get a good chance to make his presence felt during training camp this coming season. 
As mentioned above, Solderbolm may have a good chance to show his skill and get in some reps with the  Blackhawks this coming year. If everything goes according to plan we should not see a lot of Solderbolm this  season however we do expect the Blackhawks goaltenders to see a lot of rubber. With Mrazek's injury history and a shaky defense up front, do not be surprised if Solderbolm is called up during the season to help out on the  back end. Solderbolm was the starting goalie for the Icehogs and racked up the starts with the Icehogs during the  2021-2022 season. He played 38 regular games with the Icehogs and posted a save percentage of 0.919. Another  year in the AHL would certainly help with his development and confidence.
Risers 
Korchinski is a highly touted prospect in the eye of the Blackhawks organization. For a player recently drafted his  stock has been rising. He also signed a two-year entry-level deal which shows how much the Blackhawks believe in him. He posted four goals and 61 assists over the course of 67 games with the Seattle Thunderbirds this past  season. All expectations point towards the organization aiming for Krochinski to become the eventual number one  defenseman for the team. A World Junior under his belt next year along with a full season with the Thunderbirds  will only make him better. His entry into the NHL is still a few years away however Krochinski will go back to the  WHL where he will continue to grow and quite possibly dominate in his respective position.  
Wyatt Kaiser along with four other Blackhawks prospects – Landon Slaggert, Dominic James, Victor Stjernborg, and  Ethan Del Mastro played at the World Juniors this past summer. Kaiser specifically was named to Team USA. Over  the course of the tournament (five-game span), Kaiser had two goals and one assist. Although team USA was  ousted by Czechia, Kaiser's skills were on full display as he was one of the standout Blackhawks' defensive prospects. Drafted 81st overall in 2020 the 6 foot 185-pound defenseman has earned a solid reputation at the  University of Minnesota-Duluth. He has been playing with Duluth for the past two years and since his freshman  year, he put on more than 20 pounds of muscle to his overall stature and posted 29 points over 62 games the past  two years. He is expected to play another year with Duluth but Blackhawks scouts are very excited about Kaiser  and his overall improvement in his game. Making it to the pros may be a possibility for Kaiser to come next year as  most prospects within the organization will still need time in the minors over the next few years for development.  
Fallers 
When the trades happened at and near the draft it looked as if Barrett may have had a chance to crack the lineup,  however the result of those trades were a lot of high-end draft picks and many of those aside from Krochinski were  forwards. Throw in the additions of Domi, Athanasiou, and Blackwell, and things just got tougher for Barrett.  Although the depth chart is looking very thin for the Blackhawks, Barrett is not NHL-ready and over the past few years, he has disappointed in the AHL. He has played two seasons with the Rockford Icehogs posting an  underwhelming 14 goals and 14 assists in 63 games. Barrett was drafted in the 2017 NHL Entry Draft. He has since  turned 23 in February and the prospect competition is starting to pile up behind him. With prospects such as  Nazar, Ludwinski, Greene, and Katchouk in the system and ahead of Barrett, his window of opportunity is starting to  close. 
It looks as if Nicolas Beaudin may be the odd man looking out. Beaudin has seen sporadic ice time over the course  of three years with the Chicago Blackhawks playing a total of 22 games putting up five goals and 16 assists which  was fairly impressive. In the AHL however, he played 66 games over the course of the 2021-2022 Icehogs season  he had a grand total of 16 points. Beaudin was drafted 27th overall in the 2018 NHL entry draft and struggled this  past AHL season in comparison to his counterparts however he has displayed patience and maturity during the  process. He is still fairly young and all things considered, he may get the opportunity for more ice time with the  Icehogs this coming season. His chances are starting to diminish with the influx of incoming talent recently drafted by Kyle Davidson, it only pushes him further down the pecking order. 
Prospect Depth Chart 
The list is a combination of NHL readiness and upside 
| | | |
| --- | --- | --- |
| Left Wing  | Center  | Right Wing |
| Lukas Reichel  | Philip Kurashev  | Taylor Raddysh |
| Samuel Savioe  | Boris Katchouk  | Gavin Hayes |
| Cam Morrison  | Frank Nazar  | Artur Kayumov |
| Landon Slaggert  | Paul Ludwinski  | Michal Teply |
| Josiah Slavin  | Evan Barrett  | MacKenzie Entwistle |
| | Ryan Greene  | Annti Saarela  |
Left Defense 

Right Defense

Alex Vlasic 

Ian Mitchell

Kevin Korchinski 

Sam Rinzel

Riley Stillman 

Alec Regula

Nicolas Beaudin 

Michael Krutil

Nolan Allan

Slava Demin

Wyatt Kaiser

Jakub Galves 

Ryan Shea 

Isak Phillips 

Anton Lindholm

Goalies

Arvid Soderbolm

Drew Comesso
Top 20 Fantasy Prospects 
This section is intended to paint a picture of the Chicago Blackhawks prospects whose current trajectory projects  them making the most positive fantasy impact at the time that they reach the NHL. The arrival date and NHL certainty  have been taken into consideration. However, a player's potential upside is the most important factor in  determining this list.  
Kevin Korchinski

Lukas Reichel

Frank Nazar

Ian Mitchell

Alex Vlasic

Arvid Soberbolm

Drew Commesso

Alec Regula

Aidan Thompson

Paul Ludwinski

Coltan Dach

Ethan De Mastro

Sam Rinzel

Landon Slaggert

Wyatt Kaiser

Samuel Savoie

Isaak Phillips

Jalen Luypen

Jakub Galvas

Gavin Hayes
This concludes our look at the Chicago Blackhawks organization in 2022. Our previous August-32-in-32  article examines the team's 2022 draftees, off-season acquisitions, and numerous other topics. 
LATEST RADIO & DRAFTCASTS