August 32-in-32: Florida Panthers
Ben Gehrels
2022-08-12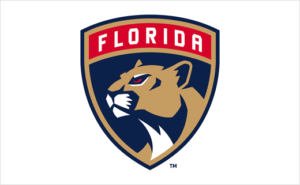 The 32-in-32 Series is an annual event here at DobberProspects! Every day in August we will bring you a complete breakdown of a team's Draft, and insights into their off-season movements thus far. Following this up in September, we will dive into every team's prospect depth charts with fantasy insights and implications for the upcoming seasons. Check back often, because we plan on filling your hockey withdrawal needs all off-season long!
The Panthers loaded up for the Cup in 2021-22, trading away their first-round picks in the next two drafts to bring in veterans Claude Giroux and Ben Chiarot. They finished the regular season as the top team in the league, edging out the Avalanche by three points for the President's Trophy on the strength of their dynamic offense—twenty-five more goals scored than the next highest team. 
But, after a surprisingly shaky first-round victory over Washington, that offense dried up completely against their in-state rivals, Tampa Bay: the Cats managed to slip only three pucks past the dominant Andrei Vasilevskiy on their way to getting swept.
GM Bill Zito clearly did not like what he saw. He switched coaches from Andrew Brunette to Paul Maurice and traded the team's scoring leader, Jonathan Huberdeau, and top shutdown defenceman, Mackenzie Weegar, to the Flames, along with prospect Cole Schwindt and another first-round pick (2025), for Matthew Tkachuk and a fourth-round pick. 
This was the blockbuster of the summer and will continue to be debated indefinitely but a key consideration for Zito here, besides adding grit, was the Panthers' cap crunch: they were able to sign Tkachuk for under ten million for the next eight years, whereas Huberdeau signed for 10.5-million with the Flames and might have walked away for nothing along with Weegar when they both hit free agency at the end of 2022-23.
While it feels like the Panthers were completely upended this off-season, they remain an incredibly deep, potent team—especially at the forward position and in net, where the improved Sergei Bobrovsky will continue to mentor goalie of the future Spencer Knight. The main hole is on defense because no one on the team or in the system can fully replace Weegar. Gustav Forsling should be first in line to try, however, and if he consistently partners with Ekblad, he could become a sneaky under-the-radar option to take a quiet run at 50 points after pacing for 43 this past campaign.
We will consider the impact of these off-season moves in greater detail below. First, let's have a look at how Florida made out in this year's entry draft.
The Draft
Florida is a team in win-now mode, and the top of their lineup is basically set for most of the next decade with cornerstone pieces Sasha Barkov, Tkachuk, Aaron Ekblad, and Sergei Bobrovsky all signed long-term. To repeat as President's Trophy winners next year and beyond, their depth will be crucial—just look at how successful teams like Tampa Bay and Pittsburgh have repeatedly retooled around their star players to maintain competitiveness.
Some of that all-important depth will arrive via free agency but some must arrive internally for Florida to have sustained success given the logistics of navigating around a salary cap. Although high-end Panthers prospects like Owen Tippett (PHI), Aleksi Heponiemi, and Gregori Denisenko have had difficulty sticking with the pro lineup over the past few years, lesser-known prospects like Ryan Lomberg, Eetu Luostarainen, and Lucas Carlsson have already made the jump and found meaningful ways to contribute. 
For the 2022 draft, the Panthers' first pick came at the end of the third round, so their haul this year consists mostly of optimistic depth pieces. However, they were able to restock the pipeline somewhat in all three positions with players on longer timelines who, like the secondary players mentioned above, bring at least one notable, above-average skill to the table—whether that is speed, hustle, shooting, or physicality.
Round Three, 93rd Overall – Marek Alscher, LHD
Alscher is a sound defensive defenceman who plays physical, maintains a strong gap, and protects the front of his net. He likely does not project to become much beyond a bottom-pairing defender because of his below-average skating and puck handling but he may be able to carve out a role down the line as a rugged, stay-at-home type who can complement a more offensively inclined partner.
Alscher uses his size (6-foot-3, 196-pounds) to clog up shooting lanes and finish hits. He was a key part of his WHL team taking Kevin Korchinski and the eventual champion Seattle Thunderbirds to a full seven games in the playoffs. He was seen as a bit of a reach in the third round by Zito & Co. given that he was rated 177th overall by Central Scouting but this is the type of unsexy pick that can create solid depth for a team down the line.
Round Four, 125th Overall – Ludvig Jansson, RHD
Jansson's main strengths are his above-average skating and compete level. Although initially seen as a potential second-round pick, questions arose as the year went on—particularly around his hockey sense and defensive awareness.
Jansson plays with a lot of aggression and pace but has struggled to consistently connect with teammates when carrying the puck in transition, often throwing pucks away and making blind passes into traffic. He split time for the last two years between Sweden's J20 and Allsvenskan leagues, so while his production does not jump off the page, he may still have untapped offensive upside. 
If he can further develop the patience and poise that scouts saw in him at times and make a higher percentage of his passes, Jansson could eventually reach his ceiling as a bottom-four defender in the NHL.
Round Five, 157th Overall – Sandis Vilmanis, LW 
Vilmanis is a sniper who can elevate the puck quickly in tight and capitalize on high-danger chances from the slot. He skates well and has a decent all-around skill set but has faced criticism for his sub-standard pace: unlike high-end players who slow things down purposefully to allow plays to develop and teammates to get open or arrive late, Vilmanis has difficulty processing his options at full speed and slows down more out of necessity.
That said, he performed well at the J20 level in Sweden, scoring 32 points in only 40 games, including 18 goals. A promising sign: most of his points were of the primary variety, meaning he was directly impacting play instead of benefitting by proxy via secondary assists.
Vilmanis is the kind of player who thrives with the extra space to work with on a powerplay. His next step will be a full year with the Sarnia Sting in the OHL, which will give Panthers brass a clearer idea of what they have in him.
Round Six, 186th Overall – Josh Davies, LW
Davies is a bulldog type (5-foot-10, 196-pounds) who speeds around the ice laying the body and punishing opponents. His fierce and constant physicality is his bread and butter but he also possesses a powerful shot and NHL-level speed.
Given his intriguing skill set and 70th overall ranking by Central Scouting, it is fair to wonder why Davies was still available for the Panthers in the sixth round. His production was likely a big reason for his fall: he scored only 36 points in 64 WHL games in his draft year. 
Digging deeper, Davies often limited his opportunities to contribute because he was so focused on laying a big hit behind the play. Those hits certainly create momentum but they also take him out of position and too often leave his team shorthanded—he had almost two penalty minutes per game in 2021-22.
If he can continue reining in his overly aggressive tendencies and developing the playmaking that he flashed briefly at the end of last year, Davies could start to capitalize on his physical tools to contribute more consistently on the scoresheet.
Round Six, 189th – Tyler Muszelik, G
Muszelik is a patient goalie who stays with shooters until they commit before dropping into the butterfly and locking down the bottom of the net. He moves quickly and smoothly back and forth in the crease and has the athleticism to scramble when necessary.
Although this was an especially weak year for goaltenders in general, Muszelik is a solid late-round gamble for Florida: he has come up through the US National Team Development Program and is committed next year to the University of New Hampshire. His numbers were not great in either of his UNDTP years but that is an excellent program in terms of development support and he has seen a lot of rubber over the past couple of years—one of those most important things for young goalies.
With the Panthers set long-term in net with Sergei Bobrovsky and Spencer Knight on the big club and the steady Mack Guzda on the farm, Muszelik can continue to progress at his own pace. He is likely looking at up to four years of college hockey followed by a few more at the ECHL and/or AHL levels. If everything breaks right, he could back up Knight down the road.
Round Seven, 214th Overall – Liam Arnsby, C
It is unusual to see a draft-eligible player captaining his junior team but Arnsby wore the "C" for the North Bay Battalion this past year—an honor that suggests the coaching staff sees valuable leadership intangibles in him. 
Arnsby brings energy and sandpaper to every shift and will look to eventually make his mark as a defensively responsible bottom-six forward who lays the body and backchecks with a passion. To make that outcome a reality, he will need to improve his speed and agility. 
Round Seven, 221st Overall – Jack Devine, RW
Devine was the youngest member of the NCAA championship-winning Denver squad in 2021-22, so his minutes and opportunities were limited. A high percentage of his production came by way of secondary assists, which are not sustainable, but with top players like Bobby Brink moving on, Devine should be in line for more ice time this campaign. 
He has decent passing ability but the main notable quality about his game is his non-stop motor: his feet are always moving regardless of which zone he is in and his energy helps make plays for his teammates. He looks like a decent late-round grab by Florida as a longer-term project who could eventually play in their bottom six.
The Off-Season
Zito's major move to essentially replace Huberdeau with Tkachuk was a clear signal that he wants the Panthers to be harder to play against. The best teams have their style of choice but can adjust to match whatever their opponents throw at them. 
Now led by players like Barkov, Tkachuk, Bennett, Lundell, and Ekblad, this is a skilled, physical, defensively responsible team. Maybe they won't lead the league in goals by such a wide margin in 2022-23 but Zito and Panthers fans won't care if it means a deeper push in next year's playoffs.
Incoming 
Matthew Tkachuk, Colin White, Michael Del Zotto, Chris Tierney, Alex Lyon, Gerald Mayhew, Marc Staal, Rudolfs Balcers, Nick Cousins.
Tkachuk, 24, brings a unique mix of skill, physicality, and competitive fire to this team. He drives play, maintains possession, and can go toe to toe with the best players in the league. Like noted pests Brad Marchand and Tom Wilson, Tkachuk is adept at goading others into taking sloppy penalties. Some of his metrics suggest he may not break 100 points again this year but he will likely be close.
An underrated signing by the Panthers is Colin White, 25. Fantasy managers are likely fed up with him after his five somewhat mediocre seasons in Ottawa but he only just passed his 200-game Breakout Threshold and may still have some untapped upside. White had a bit of a Shane Pinto profile coming out of college: a skilled, defensively responsible pivot. Although he managed 41 points in 71 games in his second year, he has scored well below that rate the rest of the time.
Essentially, though, White was asked to take on the top-line center role for a very poor team—an impossible situation for a young player. The Senators in their post-Karlsson era were bottom of the barrel throughout White's tenure, and it is understandable that he never became valuable in fantasy. He drove play very well for the Senators last year, however, and is much more suited to the third-line C role that he is set to play with the Panthers. He slots in behind Barkov and Lundell to give the Cats three really solid lines that can both score and defend, taking some pressure off Lundell in the process.
Del Zotto and Staal provide a couple of extra veteran bodies on defense. Neither is worth anything in fantasy and both are likely near the end of their careers at this point. But Del Zotto is useful for his power play proficiency; Florida has him in reserve now if Ekblad goes down with another injury this year and they need someone to run the point with the man advantage. Staal brings the opposite profile as a solid shutdown defender who can free up his partner (perhaps Brandon Montour) to take some risks to drive play the opposite direction.
Cousins and Tierney play a similar role for the Panthers' forward corps. Cousins does not do much besides hold his own possession-wise in a sheltered role. Tierney is only 28 but his scoring has declined dramatically from his 40-50 point days as a second-line center. He can help Florida at the face-off dot, though; besides Barkov, who is elite at draws, the rest of the Panthers' centers finished below a 47% win rate. Tierney has posted several 50+ years in the past and finished just below that mark again last year.
Outgoing
Jonathan Huberdeau, Mackenzie Weegar, Claude Giroux, Ben Chiarot, Mason Marchment, Cole Schwindt, Noel Acciari, Chase Priskie, Maxim Mamin, Joe Thornton, Markus Nutivaara, Par Lindholm, Robert Hagg
Obviously, Huberdeau and his 115 points will be tough to replace. Tkachuk might bring a similar level of production but is not an elite playmaker like Huberdeau. It remains to be seen how this loss will ripple through the lineup and affect the production of other players.
The departure of Schwindt (CGY) and Mamin (KHL), not to mention the trade of Owen Tippett to Philadelphia last year, make it more likely that we will see a consistent stretch of games from the enigmatic Grigori Denisenko. Along with Aleksi Heponiemi, Schwind and Denisenko received brief call-ups to the big club at the end of last year when Florida was resting its stars for the playoffs, suggesting that they would be first in line for more of the same in 2022-23. Mamin also saw time with the Panthers at Denisenko's expense. While Denisenko still has not done much in the AHL yet (18 points in 31 games), he could still be a difference-maker at some point—just not as the high-end offensive player he was drafted to become. He just needs to make the most of his next opportunity.
As mentioned above, no one on this team can replace Weegar's contributions to this team; he and Ekblad faced tough competition and came away smiling. Forsling seems like the main beneficiary of Weegar's departure and will likely post similar scoring numbers but with less of a positive impact possession-wise. 
Another significant loss for Florida is Mason Marchment. Marchment became a fantasy star seemingly out of nowhere, posting nearly a point per game and two hits per game in 2021-22 while driving play very effectively with limited ice time and opportunity. He will now try to keep the magic going with a top-six role for the Dallas Stars.
With Anthony Duclair set to miss several months and the departure of at least five regular forwards, including Claude Giroux and Joe Thornton, there should be more ice time available in theory for young players like Denisenko, Heponiemi, and perhaps Logan Hutsko. Nick Cousins is a placeholder at best on the fourth line, and Patrick Hornqvist is a certified Band-Aid Boy. This is still a very deep lineup but fantasy managers should get a glimpse of some of their young Florida assets as the year drags on.
It is the same situation on the blue line: Zito likely brought in Staal and Del Zotto to give young defenders like Max Gildon, John Ludvig, Matt Kiersted, Michael Benning, and Evan Nause more time to develop. It is a promising bunch, even if it lacks a true blue-chipper, and hopefully, some of them work their way into an audition or two in 2022-23 before assuming full-time duties the year after that.
Re-Signed
Luostarainen signed a two-year, one-way contract; Carlsson and Heponiemi signed one-year, two-way contracts; Kiersted signed a two-year, two-way contract; and Nause signed a three-year entry-level contract.
Thanks for reading! Follow me on Twitter @beegare for more prospect news and analysis.
LATEST RADIO & DRAFTCASTS