August 32-in-32: Anaheim Ducks
Lucas Main
2022-08-01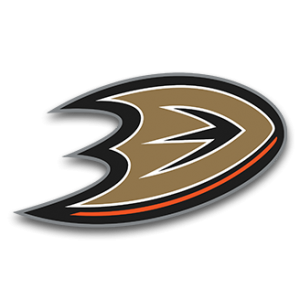 The 32-in-32 Series is an annual event here at DobberProspects! Every day in August we will be bringing you a complete breakdown of a team's Draft, and insights into their off-season movements thus far. Following this up in September, we will dive into every team's prospect depth charts with fantasy insights and implications for the
upcoming seasons. Check back often, because we plan on filling your hockey withdrawal needs all off-season long!
The 2021-22 season saw a year of progression for Anaheim's rebuild. Young gun Trevor Zegras gave the world a number of highlight reel moments while a handful of other youngsters made their pro debuts and took solid strides in development. The team's all-time leader in points and longtime captain, Ryan Getzlaf, has retired ushering in a new era of Ducks hockey. This new look is young and contains plenty of speed and skill, starting with the likes of Zegras, Troy Terry, and Mason McTavish.
Troy Terry's confidence exploded on the ice as he scored 37(!) goals and added 30 assists, more than tripling his previous high in goals and doubling his career high in assists. It helped to have an additional 25% more ice time per game, but the American winger found his confidence and built on that throughout the season. Rookie Trevor Zegras led the team in assists with 38 and finished second in Calder voting.
Along with on-ice changes, the front office went through an overhaul during the season as the team hired Pat Verbeek to be the sixth General Manager in team history. Serving as an Assistant General Manager to Steve Yzerman in Tampa Bay and Detroit, Verbeek has plenty of experience rebuilding a team into a consistent contender. This Ducks squad seems well on their way to contending in a couple of seasons as GMPV made a number of moves to acquire future assets.
The Draft
Newly appointed GM, Verbeek, sold off his expiring assets for the future, putting his stamp on the former Mickey Mouse franchise. He made multiple trades in the week leading up to the trade deadline, moving veterans Josh Manson, Nic Deslauriers, Hampus Lindholm, and Rickard Rakell.
In return, the Ducks received prospects Drew Helleson, Urho Vaakainen, and Calle Clang, along with three NHL veterans: John Moore, Zach Aston-Reese, and Dominik Simon. And, of course, the most important part of these trades: draft picks. Anaheim received a string of picks over the next few seasons, which include:
2022 first and second-round picks.
2023 second (x2) and third-round picks.
2024 second-round pick.
Round One, 10th Overall – Pavel Mintyukov, LD
The first draft pick in General Manager Verbeek's tenure was a Russian (Bob Murray stayed away from drafting and signing Russian players). Mintyukov was the top-ranked defenseman in North America and you can find him all over the rink. Playing on a smaller ice surface in the OHL and getting the green light from his coaching staff, he showed off his skating ability and how creative offensively he can be. His 62 points were third among all OHL defensemen and he lit the lamp 17 times while adding 45 assists.
As of this writing, Mintyukov has signed his ELC and could see a nine-game stint in the NHL to show off his skills. If history is any indication, the Ducks let their defensemen play if they feel the player can handle the show (Fowler, Lindholm, Drysdale), but management should let him mature and refine his skills in junior for at least another season.
Round One, 22nd Overall – Nathan Gaucher, C
Gaucher could not have landed at a better destination. The strong, dominant two-way center was selected by the Ducks and even though the organization has two young studs (Zegras and McTavish) Gaucher's play will fit perfectly behind that one-two punch. He's not flashy with skill and speed, but has soft hands around the net and is reliable defensively. The pressure won't be on him to be a first-line center, but he'll play that third-line Selke shutdown role with the ability to move up to line two and create offense if injuries occur.
The Ducks have signed both of their first-rounders to their ELCs as Gaucher put pen to paper as of this writing. The Ducks gave Mason McTavish a look last season, but it is most likely the Quebec native will be returned to junior after a preseason game or two.
Round Two, 42nd Overall – Noah Warren, RD
The first of two defensemen taken from the Gatineau Olympiques, Warren is a monster on the ice, standing 6-foot-5 and weighing in at 214-pounds. He is very mobile for his size, punishes opposing players, makes smart reads defensively, and is solid in the transition game. While his size and play read shutdown defenseman, he does provide a bomb of a slapshot from the point. It will be interesting to see if he can add some offensive tools to his bag this season or if he is truly a defensive defenseman.
Round Two, 53rd Overall – Tristan Luneau, RD
Luneau is a former first overall pick in the Q and going into the draft, his rankings were all over the board. Anaheim potentially got a steal here in the second round, as the team seems to always churn out defensemen. He is very mobile and can easily jump into play. During his first full season, the Quebec native scored 12 goals and added 31 assists. He has size and isn't afraid to play a rough and tumble type of game, but with the IQ he possesses, he can also become a factor on the rush and quarterback a powerplay. There is plenty of potential here, so the Ducks will develop him slowly.
Round Four, 107th Overall – Ben King, C
After being overlooked in the past two drafts, King finally realized his dream of being drafted by an NHL team. After a slow start to his WHL career, a change in scenery ignited the BC native. He averaged over a point-per-game the last two seasons and finished this year with over 50 goals and 100 points. The 2022-23 season will be the third year he wears an 'A' on his sweater as he shows resilience and keeps putting in the time to develop his skills and strength. While he doesn't have that first-round allure, he could develop into a serviceable bottom-six forward.
Round Five, 139th Overall – Connor Hvidston, LW
Just days away from being eligible for the 2023 draft, Hvidston was one of the youngest players available this year. While he had a respectable rookie campaign (13 goals and 32 points in 58 games played), what got him drafted was his play away from the puck. The Canadian winger has great defensive awareness and seems to always be where the play is headed. The Ducks will let him simmer in the WHL as he doesn't turn 18 until September and let his play and body develop.
Round Five, 154th Overall – Michael Callow, RW
Drafted out of high school in Massachusetts, Callow is a goal scorer. The winger scored 26 goals in 25 games and plays a smart game, on and off the ice. The American has committed to Harvard for the Fall so if he can transition his scoring ability to the collegiate level, the Ducks may have found a diamond in the rough.
Round Six, 178th Overall – Vyacheslav Buteyets, G
The second Russian taken in this year's class, Buteyets is a big goalie with good lateral movement. He is already 20 years old so the Ducks won't have to wait as long to see what they have with this kid. With everything happening in the world, management won't rush him over to the states. They'll let him develop at home, where he is most comfortable, and let him see some time in the KHL before they make a decision to sign the 6-foot-4 goaltender.
The Off-Season
While the new management group let a number of young kids walk by not giving them qualifying offers, GM Verbeek brought in a number of character players to help this team now and in the future. Ryan Strome should fill Ryan Getzlaf's spot in the lineup and will help develop the younger players and teach them how to be a professional.
Frank Vatrano brings an incredible release and tenacity to Anaheim's wing, and if he gets paired with Trevor Zegras' playmaking ability, that combo could be lethal.
Pavol Regenda was one of the most sought-after European free agents. At 22 years young, he has plenty of skill and speed to make this young Ducks squad that has a lot of free spots when training camp opens.
Glenn Gawdin is another intriguing free-agent signing. He has been one of the best players in the AHL the last couple of seasons, but couldn't crack the Flames lineup. With space available in Anaheim, he could finally be a staple in an NHL lineup as a bottom-six forward.
Olli Juolevi signed a one-year contract with the Ducks as a last-ditch effort to resurrect his NHL career. The former fifth overall pick will have plenty of competition to try and make the top six as Anaheim only has two defensemen over the age of 25! It is sink or swim time for the Finnish defender as this is his fourth NHL club in the last three seasons.
Last, but certainly not least, the Ducks snagged one of the more coveted UFA's heading into the off-season. John Klingberg, one of the league's top offensive defencemen of the past decade, agreed to a one-year, 7-million deal. With the entire league in a tense cap crunch, the Swedish defender had limited options, and finally settled for a quick "show me" deal in California. This is a fantastic signing on a few levels. Not only does the club bring in an elite offensive talent for the year, but now carry a tremendous piece of trade bait to potentially add even further assets come trade deadline day. With a right side of Klingberg, Shattenkirk, and the young Jamie Drysdale, the right side is in great shape – something that many teams wish they could say.
Incoming
Main Roster: John Klingberg, Ryan Strome, Frank Vatrano
System: Glenn Gawdin, Pavol Regenda, Colton White, Olli Juolevi, Austin Strand, Chase de Leo (gone last summer, back this time)
Outgoing
Ryan Getzlaf (retired), Sonny Milano, Dominik Simon, Zach Aston-Reese, Jacob Larsson, Sam Steel
In next month's 32-in-32 Series, we will be diving into updated organizational depth charts to identify the prospect risers, fallers, and projected roles for the 2022-23 campaign. 
Thanks for reading. Follow me @LAM1926 for more Ducks news.
LATEST RADIO & DRAFTCASTS