September 32-in-32: Florida Panthers
Ben Gehrels
2021-09-13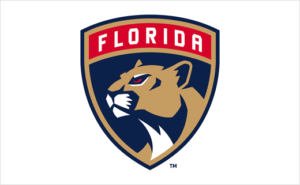 The 32-in-32 Series is an annual event here at DobberProspects! Every day in August we will be bringing you a complete breakdown of a team's Draft, and insights into their off-season movements thus far. Following this up in September, we will dive into every team's prospect depth charts with fantasy insights and implications for the
upcoming seasons. Check back often, because we plan on filling your hockey withdrawal needs all off-season long!
**********
After getting bounced early in last year's playoffs by their in-state rivals, the Panthers added Sam Reinhart and Joe Thornton this summer and should again be one of the strongest contenders in the East this year. While that's exciting for their fans, who have been waiting since 1996 for a deep playoff run, the picture is cloudier for fantasy managers hoping to see high-profile forward prospects like Owen Tippett, Grigori Denisenko, and Anton Lundell see meaningful minutes with the big club this year.
With the addition of Reinhart to the Barkov-Verhaeghe line and the clear chemistry that Huberdeau, Bennett, and Duclair showed at the end of last season, the top two forward lines seem set. That leaves Thornton and Noel Acciari down the middle plus four spots that will be filled by some combination of Owen Tippett, Frank Vatrano, Grigori Denisenko, Patric Hornqvist, Anton Lundell (if he shifts to the wing), Eetu Luostarinen (ditto), Aleksi Heponiemi, Ryan Lomberg, Nikita Gusev (if he ever re-signs), Mason Marchment, Maxim Mamin, and and and…
Something's gotta give. Barring trade, injury, or someone blowing the coaches away during training camp, the most likely scenario seems to come down to who is on a two-way contract and can be sent down without having to clear waivers. For the Panthers, that's Tippett, Denisenko, Lundell, Luostarinen, and Heponiemi up front. Mamin has a one-way contract, but it's less than $1 million and shouldn't force management's hand. So adjust your rankings and expectations for these players in redraft leagues accordingly even if most are still solid owns in keeper and dynasty formats.
On the back end, the situation is much less crowded – largely because there are fewer solid, NHL-ready defender prospects in Florida's pipeline. Max Gildon (22-years-old) and John Ludvig (21-years-old) are the top offensive blueline prospects in the system and stand the best chance of benefiting fantasy teams over the next couple years. Both performed well in the AHL last year on the Syracuse Crunch while competing for playing time with not only their fellow Panthers prospects but also those of the Lightning. Expect either or both Gildon and Ludvig to see limited action this year as injury fill-ins for Florida's new affiliate, the Charlotte Checkers.
In net, the Panthers will again try to coax some life out of former two-time Vezina winner Sergei Bobrovsky and his $10 million contract, with Sam Montembeault likely backing him up and future franchise tender Spencer Knight seeing starts for now with the Checkers in the AHL. Montembeault appears to be an average-to-below average NHL backup (mostly sub-0.900 save percentage over his last three NHL/AHL seasons) at this point, so if Bobrovsky can't recapture his previous form, expect Knight to get called up to the Panthers to see some starts and begin his eventual ascension to the primary starter role.
Potential Graduates
Owen Tippett, RW
Despite the fact that he doesn't need to clear waivers to be sent down to the AHL, Tippett should again be a full-time regular in the Panthers middle-six this year. He has not yet flashed the goal-scoring prowess that he showed during his junior career in the OHL (0.6 goals/game over 213 games), but halfway through last season Tippett finally started shooting the puck: after taking only 26 shots in his first 18 games, he took 60 shots over his next 27 games. Still not many goals – look for his 8% shooting to push north of 10 as he acclimatizes to the NHL – but the increased shot rate to the end the year and during the playoffs is an excellent sign. Further, after Sam Bennett was acquired by the Panthers in mid-April last year, Tippett performed very well playing primarily with Bennett and Huberdeau over a 13-game stretch. He'll have to battle Anthony Duclair and others to hold onto that spot on the second line, but if he can work his way into the top 6, he should be able to continue his steady development as a sniper in the making.
Denisenko is an enigma. Statistically, he only has a one percent chance at this point of becoming a star in the NHL (defined by Hockey Prospecting as a player who scores at a 0.7 points/game rate or 57 point pace over his career). That means his production has lagged behind other players his height and weight who have played in similar leagues on their way to reaching the NHL. In fact, as you can see below, his likelihood of becoming a star has declined in each of the four seasons since getting drafted 15th overall in 2018.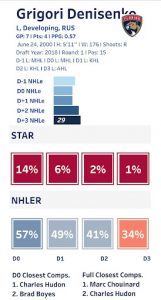 At the same time, he has largely played against older players so far in his young career, which gives some context for his less than impressive production in the MHL, VHL, and KHL. Regardless, the clock is ticking for Denisenko's on-ice performance to align with the potential that has been apparent all along – especially when he's played against his peers at events like the World Junior Championship, where he was the captain for Team Russia.
Last year was Denisenko's first season in North America, and he acquitted himself admirably, scoring at a decent rate in both the AHL and NHL in limited action. Whether he ends up starring for the Checkers in the AHL or playing a depth role for the Panthers in 2021-22, this season will provide a critical update on his future trajectory. Best case scenario: Denisenko and Tippett thrive alongside Barkov, Huberdeau, Reinhart, and Bennet over the next couple seasons, giving Florida both a dangerous top-six and incredible depth scoring down the lineup for the foreseeable future.
Mason Marchment, LW
Although the 26-year-old Marchment was looking like a career AHL player not long ago, he earned a spot with the Panthers last season and added some much-needed grit to their bottom-six during the playoffs in particular. While he'll never be rosterable for his scoring, fantasy managers will appreciate his 2.2 hits/game 1.5 shots/game from last season when he had an average ice time of only 14 minutes. His Player Usage Chart at Frozen Tools shows that his usage was primarily defensive and somewhat sheltered, in terms of the Quality of Competition faced, but that he fared quite well with the time given to him (blue = good), showing that he can be an effective third-line player for the Panthers moving forward.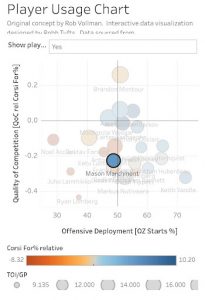 Despite the logjam at forward, expect Marchment to earn a spot out of camp for his hustle, physicality, and responsible play. The coaches may feel more comfortable than last year leaning on him as part of an effective shutdown line, possibly centered by Noel Acciari, which may lead to an increase in his minutes and peripherals.
Overseas Graduates
It's easy to forget that Lundell is only 19-years-old and that he fell to 12th overall in last year's draft due to concerns about his offensive ceiling being lower than many of his peers. In 2021, the secret is out about Lundell's impressive talents and star trajectory. He extinguished concerns about his ability to score by putting up 25 points in 26 games this past year in the top-tier Finnish men's league, then dominating at both the World Juniors and the World Championships.
The question now is whether he will make the Panthers right away or put in some time in the AHL with the Checkers first. This picture will become clearer as news emerges from the ongoing Panthers training camp (Sep.10-14), but the general perception seems to be that Lundell will find his way onto the third line to start the year. He was considered one of the top NHL-ready prospects at last year's draft because of his maturity and responsible two-way play, but there isn't a lot of room for him in Florida's forward corps to see meaningful top-six minutes. Plus, he can be sent down without having to clear waivers.
If he does make the Panthers, Lundell is a dark horse to push for the Calder trophy as the league's best rookie. Unlike Denisenko and even Tippett, Lundell is on a strong star trajectory (49% likely, according to Hockey Prospecting).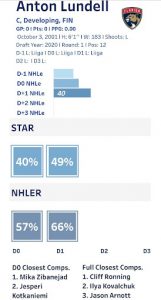 The key for the Panthers will be figuring out how to best support his development. Jesper Kotkaniemi, a close comparable for Lundell in terms of early career progression and production, stands as a warning that rushing skilled, high pedigree 19-year olds to the NHL can be dangerous. Although fantasy owners are chomping at the bit to see Lundell in a Panthers uniform next month, it's more likely that he will play a handful of NHL games, then head down to the AHL to further acclimate to the North American style of play before making the big club full time in 2022-23.
Risers
Aleksi Heponiemi, RW
Heponiemi's fantasy hype peaked back in 2017-18 when he scored just over two points per game with Swift Current of the WHL – a feat replicated by only eight other players since 2000. He followed that up by going almost a point-per-game in the Finnish Liiga as a 19-year old, becoming only the 14th player under 20 years old to reach at least 46 points in a season. Historic highs.
But then he hit a wall in the Liiga playoffs (three points in 17 games) and again the next season as a rookie in the AHL (14 points in 49 games), leading to the 2020 Dobber Prospects Guide calling him the "notable prospect seeing the biggest drop in fantasy value over the past year." Questions about his size (5-10, 143lbs) dating back to his draft year were raised again. As a point of reference, Brayden Point, who is a popular example of a smaller player succeeding in the modern NHL, weighs 183lbs – almost thirty pounds more than Heponiemi's current weight (155lbs) as listed on his official Panthers profile. His past performance showed he was clearly skilled but many fantasy owners were spooked, and Heponiemi stocks plummeted.
But the Finn is a quick, shifty skater with a hard, accurate shot who plays the game with a dynamic quality that can't be taught. He has also been lauded more recently for his responsible, two-way play – a trait that increases the likelihood of him seeing prime minutes at the next level down the line. Although he bounced between leagues and dealt with injury, Heponiemi rebounded significantly in 2020-21 and should be back on your radar as an intriguing post-hype sleeper. After posting nearly a point per game in the Allsvenskan, he returned to North America and was placed on the Panthers' taxi squad, getting into nine games and scoring a goal and an assist. Then he was sent down to the AHL and scored six points in as many games for the Syracuse Crunch before running into injury trouble.
If you still don't believe Heponiemi is back on the rise, believe Coach Q:
Coach Q said Heponiemi will get to play more in the AHL.

"There's always a surprise or two in camp, and he's clearly the guy that surprised us all with a great improvement in his overall game… We got him in a game, and he did so well he got a couple extra games out of it." pic.twitter.com/spaf3FqYP7

— Jameson Olive (@JamesonCoop) February 5, 2021
If Heponiemi bulks up a bit and has a strong year in the AHL this year, he may force Panthers brass into finding a role for him in their top-nine next season. Currently floating just outside the top-50 in Dobber Prospect's top 200 forward rankings at #52, the time seems ripe to grab him off the waiver wire or acquire him cheaply in keeper and dynasty formats as an excellent boom-bust dice roll.
John Ludvig, D
The Panthers drafted Ludvig in the third round (2019) for his pro-ready size (6-0, 200lbs) and shutdown abilities (plus-38 in his draft year). Over three seasons in the WHL, Ludvig's point totals increased from seven to 18 to a whopping 62 in 2019-20 – demonstrating that he had untapped offensive potential. Last season, Ludvig graduated to the AHL and proved that his instincts translate well to the pro level, putting up eight points in 13 games and becoming a valuable top four, all-situations defender for the Crunch. Look for him to get a few stints with the Panthers over the next couple years before joining the big club full time.
Ty Smilanic, C
Considered a first-round talent and ranked as high as 21st ahead of last year's draft, Smilanic ended up falling to the Panthers at 74th overall after a spate of injuries struck him in his draft year. He stayed healthy this past year for Quinnipiac of the NCAA and his 14 goals tied for 11th in rookie goal scoring in the nation. He plays a relentless, disruptive style and loves to use his laser of a shot (2.7 shots/game). Another strong year in college would assert Smilanic's case as one of the more intriguing, high upside prospects in the Panthers organization and a savvy third-round pick by GM Bill Zito.
Fallers
Aleksi Saarela, RW
When are the Panthers going to give Aleksi Saarela a chance? The solid Finnish right wing starred in the AHL for close to 200 games (0.71 points per game), but was only called up for nine games of NHL action over three years (five points). Saarela signed overseas last year with Lukko of the Liiga, where he put up an almost identical scoring rate (0.72) to his AHL numbers. This season, to the disappointment of his few remaining patient fantasy owners, he opted to sign with Langnau of the Swiss National League – a decision that makes sense given the lack of room up front with the Panthers again this year. If he had returned, he likely would have ended up back in the AHL again.
Saarela is still only 24 and in theory is ready to step in and contribute immediately – think Jonathan Dahlen of the Sharks. He led the Liiga in goals per game among players with more than 20 games played. But after another year playing in Europe, this time against lesser competition in the Swiss League, Saarela's odds of ever securing a spot with the Panthers seem to be growing longer. A trade would go a long way to revitalizing his prospects, but until that happens he's a risky own in fantasy, albeit a high upside stash if you have the space on your bench.
Organizational Depth Chart
| | | |
| --- | --- | --- |
| Left Wing | Center | Right Wing |
| Grigori Denisenko | Anton Lundell | Owen Tippett |
| Mason Marchment | Eetu Luostarinen | Mathew Samoskevich |
| Maxim Mamin | Cole Schwindt | Aleksi Heponiemi |
| Justin Schutz | Ty Smilanic | Logan Hutsko |
| Henrik Rybinski | Owen Lindmark | Justin Sourdif |
| Alexander Delnov | Juho Lammikko | Aleksi Saarela |
| | | Serron Noel |
| | | Jonathan Ang |
| | | Patrick Bajkov |
| | |
| --- | --- |
| Left Defence | Right Defence |
| Max Gildon | Chase Priskie |
| John Ludvig | Michael Benning |
| Gustav Forsling | Thomas Schemitsch |
| Matt Kierstad | |
| Evan Nause | |
| Lucas Carlsson | |
| Carter Berger | |
| Zachary Uens | |
Goalies
Spencer Knight
Sam Montembeault
Ryan Bednard
Phillipe Desrosiers
Top 20 Fantasy Ranking
Anton Lundell
Owen Tippett
Grigori Denisenko
Alexis Heponiem