August 32-in-32: Chicago Blackhawks
Tony Carr
2021-08-06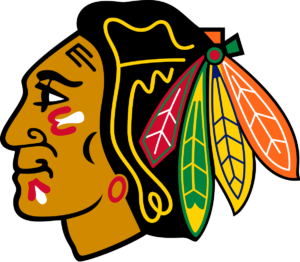 The 32-in-32 Series is an annual event here at DobberProspects! Every day in August we will be bringing you a complete breakdown of a team's draft and insights into their off-season movements thus far. Following this up, the September 32-in-32 Series will dive into every team's prospect depth charts with fantasy insights and implications for the upcoming seasons. Check back often, because we plan on filling your hockey withdrawal needs until the season begins!
******************
Draft Recap
This year's draft for the Blackhawks was a nod to the long term. Don't expect any of the 2021 draft class to make any type of impact at the NHL level for three years at least, if not five. That said, there are plenty of reasons to be optimistic about this class and most of those reasons are size and skating ability… and more size. Did I mention skating ability?
Let's take a look at each of the prospects drafted this year:
Round One, 32nd overall – Nolan Allan, D
A big, physical, smooth-skating defenceman, Allan will remind people of fellow Western Hockey Leaguer Brent Seabrook – minus the offense. Allan has a defense-first mentality which typically means a bit slower on the ice but that does not apply in this situation. Pay close attention to his development over the next few years. He is the defensive rock of the future.
Round Two, 62nd overall – Colton Dach, C
The Hulls. The Hayes'. The Sikuras. The Saarelas. The Dachs. Ok, you get the point. Having brothers in the organization at the same time is not a new trend for the Blackhawks. The fact is Colton is his own player and brings a different skill set than his older brother. He has been consistently putting up bigger numbers for Saskatoon and hopefully, the trend continues.
Round Three, 91st overall – Taige Harding, D
Harding is a big bodied defender who can take over a game in the defensive end with his size. He'll never bring a ton of offence at any level but he is competent enough with the puck not to hurt you.
The 19-year-old already has some bite in his game and isn't shy around the rough stuff at all. Hard work will be his path to the NHL and since he has NHL size already, it will be up to him to work on the finer points of his game.
Round Four, 105th overall – Ethan Del Mastro, D
Stop me if you've heard this before; big defensive blueliner that can skate. Man, do the Blackhawks have a type or what? Del Mastro brings all the same attributes as Allan and Harding. Some of those attributes need more work. Some of those attributes are better than the other guys'. Time will tell.
Round Four, 108th overall – Victor Stjernborg, C
A bigger version of Tim Söderlund but still on-trend of taking care of the defensive end first, this time from the forward position. Stjernborg won't wow anyone with offensive numbers but watch this guy on the penalty kill because it's non-stop action.
Round Six, 172nd overall – Ilya Safonov, C
Ok, I'm starting to sound like a broken record here but c'mon. 6-4 and 205 pounds. These guys are monsters. The other thing this draft class seems to have in common is elite-level skating. Safonov has all the tools but will he choose to use them in North America?
Round Seven, 204th overall – Connor Kelley, D
Kelley is another stay at home defenceman but also has a creative side to his game. He will work on his game at the University of Minnesota-Duluth in the coming seasons.
Round Seven, 216th overall – Jalen Luypen, C
Luypen will look to build on a great (although condensed) season in 2020 which saw him average over a point per game. Follow him this season as he suits up for the Edmonton Oil Kings in the WHL.
Offseason Moves
The polar opposite of last year. I was very critical of last year's offseason moves. I could not be any happier as a Blackhawks fan this year. Stan Bowman and company addressed the goaltending situation by getting reigning Vezina winner Marc-André Fleury. They addressed the woeful defensive situation by adding the Jones brothers and the severely underrated Jake McCabe. Up front, they added toughness with Jujhar Khaira, skill in Henrik Borgström, and a winning pedigree in the form of Tyler Johnson. As usual, they plucked another free agent out of the European ranks in Jakub Pour but temper expectations on this signing. This may be a last chance scenario for this management team but if that is indeed what this is, they are certainly giving it one last swing.
Incoming:
Tyler Johnson, Henrik Borgström, Jujhar Khaira, Jakub Pour, Seth Jones, Caleb Jones, Jake McCabe, Marc-André Fleury
Outgoing:
Duncan Keith, Nikita Zadorov, Adam Boqvist, Pius Suter, David Kämpf, Tim Söderlund
Blackhawks fans should be excited going into this season. The trades and signings have them pointed in the right direction. Add in a healthy Jonathan Toews and fully healed Kirby Dach and this team is capable of making a run at the Stanley Cup again.
I normally look ahead to try and focus on the new bodies in the organization, to give them the attention they deserve. In this case, I would like to say thank you to Duncan Keith for everything he has meant to this team over the past 16 years. Here's hoping he can finish off his career in style.
Thanks for taking the time to read this, and feel free to leave a comment or question whether you agree or disagree. You can find me on Twitter @fiveminutemajor. DM's are open. Stay safe and here's to a long and uninterrupted season.
LATEST RADIO & DRAFTCASTS