Liiga Report: Brad Lambert Deep Dive
Josh Glazer
2021-06-28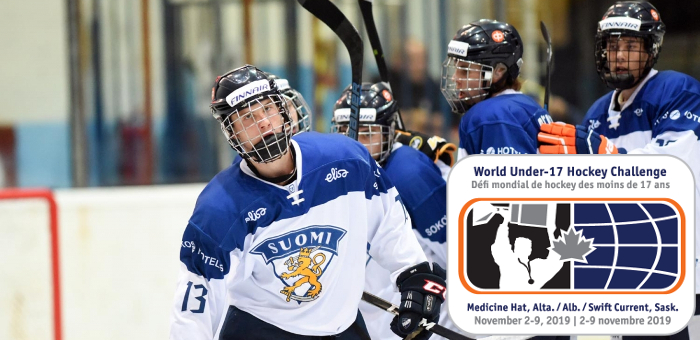 Last month, some under the radar 2021 eligible players were profiled for the monthly Liiga report. In June, we have a 2022 draft eligible with a much larger profile name: Brad Lambert. The flashy forward has represented his native country of Finland at the U17, U18, and U20 levels in the last two years, and still has over a year before he hears his name called near the top of the 2022 NHL Draft. Many in the past have mistaken him for a Canadian who went to Finland to play hockey, but the reality is he was born and raised in Lahti, FIN, and only spent one year in Canada for hockey.
Statistical Comparison
Before jumping into tape and discussing his abilities, I want to highlight some of the company Brad Lambert has placed himself in with his D-2 and D-1 seasons. In 2019-20 as a player two years out from the draft, Lambert managed 18 goals and 38 points in 42 games for HIFK U20. This 0.9 P/GP pace is the third best all time for a D-2 player behind only Patrik Laine and Anton Lundell (who only played 22 games), a high bar to set as a 16/17-year-old.
How did he follow up this season? Playing in the Liiga for the entire season, Lambert finished with seven goals and 15 points in 46 games, a respectable number. While it does not surpass the level of players like Lundell and Barkov, Lambert played on a team that managed 17 wins in 59 games. Let's compare this to some of the best Finnish NHLers today: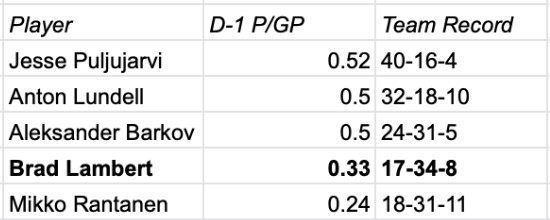 As we can see, it is possible that the strength of the team hindered his statistical output. Once again, this shows that while it can be useful to look at statistics at times, it is of greater importance to dig deeper to truly understand a player's ability.
The On-Ice Product
Having played at three different levels this season (Liiga, U18, U20), Lambert was able to showcase his skill in different ways against different lev