Prospect Ramblings – Prospect Trade deadline Grades
Pat Quinn
2021-04-15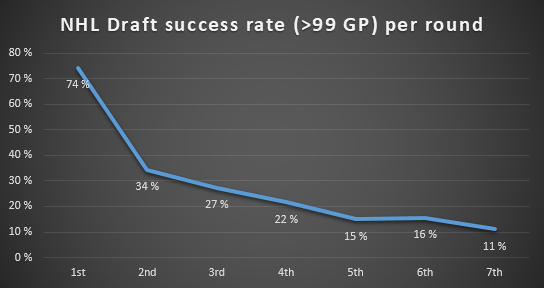 Welcome to the Thursday Prospect Ramblings, with the trade deadline "snoozily" passing by I thought I would grade the trades based on the prospect / pick returns. It will be a different way to look at these trades. It will be different than the Tuesday's "New Homes and Terrific Debuts" ramblings by Mark Hall (@hall1289). I will grade the trades based on the prospect or "prospect available" (aka pick) returned.
Also, for real, why do people think Calgary got a better return for Sam Bennett (a 2nd and a player chosen in the second-round last year) than Buffalo got for Hall (a 2nd and Anders Bjork, you know, an actual NHL player). I'll actually go over them in here
This is an overpayment for me
Especially with how poor Mantha played this season (since that is the bar for judging Hall) https://t.co/opYGKiDkEr

— Pat Quinn (not that one) (@FHPQuinn) April 12, 2021
*************
Lets start with………….
April 7
NYI gets: Kyle Palmieri and Travis Zajac
NJD gets: AJ Green, Mason Jost, a 2021 1st round pick, and a 2022 4th round pick that can become a 3rd
A late first in 2021 has the same value as a late 2nd in 2021 to me. Selections between about 12 and 64 are all over the place. Good players will slide and average players will climb, especially in 2021. I do not hold that much value on a late 1st this year, but at least the Devils got one. Additionally, for me, Travis Zajac is gone and the Devils can finally play players in that ice time they always give him that he just uses to kill all the offense he can. I will miss Palmieri though.
No, I did not list anything about the "prospects" sent to New Jersey as they are just contracts being moved. There is nothing there with either player
Grade: B+
April 8
CHI gets: Brett "I score 20 goals with 10 mins of average ice time only" Connolly, Riley Stillman, Henrik Borgstrom, and a 2021 7th round pick
FLA gets: Lucas Carlsson and Lucas Wallmark
Florida wanted a monopoly on Lucas' I assume, and in return Chicago got another Tallon mistake contract and two promising young players. Borgstrom now goes to a team that has a top nine with a lot of nice young skilled players, but they are all such a jumble it is unknown where he will fir in. There is still skill there but let us see if Borgstrom can get back to becoming a top six player rather than a bottom six guy. Stillman is a good multicat defenseman too, and this should give him a shot at a regular top six role too.
Grade: B+
April 9
TOR gets: Riley Nash
CBJ gets: 2022 7th round pick
Nice cap play from Toronto and salary dump by CBJ, but the 2022 7th round pick will likely not amount to anything for CBJ
Grade: D-
COL gets: Patrik Nemeth
DET gets: 2022 4th round pick
Colorado probably should have just signed Nemeth instead of trading for him after they let him go. A player in round 4 of 2022 will likely be better than a player available in 2021, but with how often fourth round picks turn out I would not wager money on that statement.
Grade: C
April 10
FLA gets: Brandon Montour
BUF gets: 2021 3rd round pick
Better return than a 4th and good to get out of the salary
Grade: C+
SJ gets: 2021 5th round pick and Greg Pateryn
Col gets: Devan Dubnyk
Depth for Colorado and a pick for SJ
Grade: D+
TB gets: David Savard
CBJ gets: 2021 1st round pick, 2022 3rd round pick and Brian Lashoff
DET gets: 2021 4th round pick
Great return for Savard for Columbus! A 4th is all a team gets to accommodate the deal cap-wise? NHL GMs need to be tougher on each other. Nice picks for Columbus, even though the 3rd and 4th will likely not work out for either Detroit of Columbus. CBJ can also resign Savard in 2021, but I doubt they will
Grade: B+
April 11
NJ gets: Jonas Siegenthaler
WSH gets: 2021 conditional 3rd round pick
Devils get a great young defenseman, with no fantasy upside. I guess the Capitals prefer older vets than the young players they draft on the back end. Who knows the future for Martin Fehervary (who should already be in the NHL) and Alexander Alexeyev. Siegenthaler was selected in the 2nd round and it is unlikely the Capitals will get the same value in 2021
Grade: B-
MTL gets: Jon Merrill
DET gets: 2021 5th rounder and Hayden Verbeek
Well, apparently Pat Verbeek is the assistant GM, so why not get his kid. The 5th will probably not result in anything. Also, do the Habs really need more defensemen who are not transitional defensemen and choose to chip it out over skate or pass it out frequently?
Grade: C
TOR get: Nick Foligno and Stefan Noesen
CBJ gets: 2021 1st round pick, 2022 4th round pick
SJ gets: 2021 4th round pick
Speaking of overpayment. Leafs fans who like Dubas: He can make a bad deal and you can criticize it, and this is one of those deals. Leafs fans who hate Dubas: This is exactly the deal you would praise for any other GM. Alright, now that I have upset both sides of the Toronto fandom, CBJ got another late first, which brings them up to three, last time Columbus had three first round picks they selected Alex Wenneberg, Marko Dano and Kerby Rychel… yikes. Let's hope for a better return as the 2022 fourth and 2021 fourth for SJ will not amount to much
Grade: B
BOS gets: Mike Reilly
OTT gets: 2022 3rd round pick
Boston gets some depth while Ottawa gets a third in 2022. Not bad
Grade: C+
TOR gets: David Rittich
CGY gets: 2022 3rd round pick
Boston Toronto gets some depth while Calgary Ottawa gets a third in 2022. Not bad
Grade: C+
NYI gets: Braydon Coburn
OTT gets: 2022 7th round pick
Ottawa saves money and the Islanders obviously thought nine NHL defensemen were not enough
Grade: D-
BOS gets: Taylor Hall and Curtis "Calgary traded a 2nd and protected me in the expansion draft" Lazar
BUF gets: 2021 2nd round pick and Anders Bjork
Bjork is still a promising middle six scorer but injuries derailed his development, and the 2021 second has the same value as a late first to me and many others. Boston kind of got the best player, too bad he is not David Savard or Nick Foligno good.
Grade: B+
April 12 – ACTUAL Trade deadline day
PIT gets: Jeff Carter
LA gets: Conditional 2022 3rd and 2023 4th round picks
Pittsburgh gets depth while LA gets some late picks and salary relief
Grade: B-
CHI gets: Adam Gaudette
VAN gets: Matthew Highmore
Gaudette has the higher upside and Highmore just seems like another bottom six energy winger, does Vancouver not already have enough of those?
Grade: C
EDM gets: Dmitry Kulikov
NJ gets: conditional 2022 3rd or 4th round pick
Boston Toronto Edmonton gets some depth while New Jersey Calgary Ottawa gets a third (or a fourth) in 2022. Not bad
Grade: C
VGK gets: Mattias Janmark, Nick DeSimone and 2022 5th round pick
CHI gets: 2021 2nd round pick and 2022 3rd round pick
SJ gets: 2022 5th round pick
Vegas gets a player they do not really need as they cannot even get Cody Glass in the lineup. Nice picks for Chicago and a late pick for San Jose
Grade: B
TB gets: Fredrik Clasesson
SJ gets: Magnus Chrona
Ok
Grade: F
COL gets: Carl Soderberg
CHI gets: Ryder Rolston and Josh Dickinson
I doubt either player ever makes the Chicago roster but stranger things have happened
Grade: F+
FLA gets: Sam Bennett and a 2022 6th round pick
CGJ gets: Emil Heineman (2nd round pick in 2020) and a 2022 2nd round pick
Wow this is way better than the return for Taylor Hall in two possible NHL players
Grade: B
MTL gets: Erik Gustafsson
PHI gets: 2022 7th round pick
Montreal should use Gustafsson as the 1PP quarterback, and Philadelphia gets the lowest pick possible for a player they were not keeping anyway
Grade: D-
TOR gets: Ben Hutton
ANA gets: 2022 5th round pick
Watch Anaheim draft some top prospect in round five because they got the pick from Toronto in 2022 (Rakell, Gibson, Manson, Pettersson, Kase, Steel and Comtois). Wow, so I orginally was making this a joke just remembering the 2013 trade, but I dug in to these Toronto and Anaheim deals where Anaheim receives picks and:
Rakell and Gibson were the picks traded in the Tyler Biggs trade we all know and love
Toronto swapped picks with Anaheim to take Ryan Rupert and the Ducks selected Josh Manson (Credit to Editor in Leaf for this nugget)
When Toronto traded for Peter Holland the Ducks selected Marcus Pettersson and Ondrej Kase with the picks
The Andersen trade saw Anaheim select Steel and Comtois
Grade (based on the above information): A+
NSH gets: Erik Gudbranson
OTT gets: Brandon Fortunato and a 2023 7th round pick
Poile continues to get back players at the deadline, and Ottawa get away from more salary with a player that likely will not make the NHL
Grade: D-
SJ gets: Alex Barbanov
TOR gets: Antti Suomela
Barbanov goes to a team much better suited for him to get a chance to make the lineup. Suomela goes to a team where his chances of making the lineup are worse, but at least here the coach may give him a chance, he just needs six injuries to NHL players to be given a chance
Grade: C-
ANA gets: Haydn Fleury
CAR gets: Jani Hakanpaa and a 2022 6th round pick
Fleury gets an expanded role which is nice for him and Carolina adds a late pick and a player they are not worried about leaving unprotected for the expansion draft
Grade: D+
WHS gets: Michael Raffl
PHI gets: 2021 5th round pick
The pick is worse than a third but better than a seventh
Grade: C-
WPG gets: Jordi Benn
VAN gets: 2021 6th round pick
The pick is better than a seventh
Grade: D
VAN gets: Madison Bowey and a 2021 5th round pick
CHI gets: 2021 4th round pick
This screams fantasy trade I always do as I am a GM notorious for always throwing a small ick upgrade in to every deal. I also am sad Bowey is just an AHL defenseman, I really thought he could become a #4-#6 NHL defenseman. Weird trade for Vancouver though, unless they need AHL depth
Grade: C
WSH gets: Anthony Mantha
DET gets: Jakub Vrana, Richard Panik and his contract, 2021 1st round pick and a 2022 2nd round pick
As the Capitals writer I am very sad to see a player I have watched forever traded to Detroit, but hopefully they give him ice time. Everyone is saying GM Yzerman fleeced GM McLellan and that is not the case. It is however, also an overpayment by Washington. Vrana and Mantha are close for value to NHL teams. Mantha has the #Size but Vrana has the speed and is more elusive. Now where did ridding the Capitals of the Panik contract come in, was it a first to take that on or was it the second? It is more likely that it was the second based off the trades for all of 2020-2021, so if it was a Vrana PLUS a first for Mantha then that is really poor asset management by the Caps. Mantha has a chance to be the best player in the deal but equally Vrana does as well. Vrana should also get more ice time out of the two. Really interesting deal, not a fleecing but an overpayment for sure
Grade: A-
*****************************
Thanks for reading, follow my twitter as I am very #Smart and #Hilarious: @FHPQuinn
LATEST RADIO & DRAFTCASTS