Prospect Ramblings – Prospect Trade deadline Grades
Pat Quinn
2021-04-15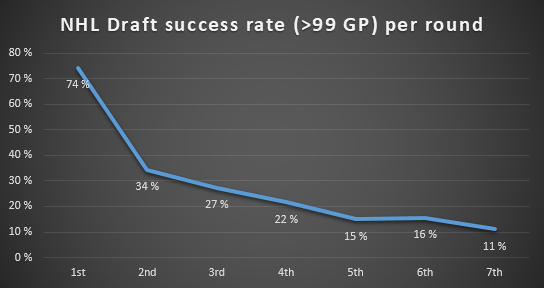 Welcome to the Thursday Prospect Ramblings, with the trade deadline "snoozily" passing by I thought I would grade the trades based on the prospect / pick returns. It will be a different way to look at these trades. It will be different than the Tuesday's "New Homes and Terrific Debuts" ramblings by Mark Hall (@hall1289). I will grade the trades based on the prospect or "prospect available" (aka pick) returned.
Also, for real, why do people think Calgary got a better return for Sam Bennett (a 2nd and a player chosen in the second-round last year) than Buffalo got for Hall (a 2nd and Anders Bjork, you know, an actual NHL player). I'll actually go over them in here
This is an overpayment for me
Especially with how poor Mantha played this season (since that is the bar for judging Hall) https://t.co/opYGKiDkEr

— Pat Quinn (not that one) (@FHPQuinn) April 12, 2021
*************
Lets start with………….
April 7
NYI gets: Kyle Palmieri and Travis Zajac
NJD gets: AJ Green, Mason Jost, a 2021 1st round pick, and a 2022 4th round pick that can become a 3rd
A late first in 2021 has the same value as a late 2nd in 2021 to me. Selections between about 12 and 64 are all over the place. Good players will slide and average players will climb, especially in 2021. I do not hold that much value on a late 1st this year, but at least the Devils got one. Additionally, for me, Travis Zajac is gone and the Devils can finally play players in that ice time they always give him that he just uses to kill all the offense he can. I will miss Palmieri though.
No, I did not list anything about the "prospects" sent to New Jersey as they are just contracts being moved. There is nothing there with either player
Grade: B+
April 8
CHI gets: Brett "I score 20 goals with 10 mins of average ice time only" Connolly, Riley Stillman, Henrik Borgstrom, and a 2021 7th round pick
FLA gets: Lucas Carlsson and Lucas Wallmark
Florida wanted a monopoly on Lucas' I assume, and in return Chicago got another Tallon mistake contract and two promising young players. Borgstrom now goes to a team that has a top nine with a lot of nice young skilled players, but they are all such a jumble it is unknown where he will fir in. There is still skill there but let us see if Borgstrom can get back to becoming a top