WHL Report – April 2021
Jameson Ewasiuk
2021-04-07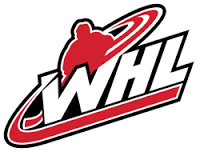 The Dub is back! It took a little longer than expected but all the teams are now fully underway, facing only teams within their division for this season. Speaking of new divisions, here is how they shake out:
The Central Division (which began on February 26th): Calgary, Edmonton, Lethbridge, Medicine Hat, Red Deer
The East Division, Hub Centre in Regina (March 12th): Moose Jaw, Prince Albert, Regina, Saskatoon, Swift Current, Brandon, Winnipeg
The US Division (March 18th): Everett, Portland, Spokane, Seattle, Tri-City
The BC Division, with hubs in Kamloops and Kelowna (March 26th): Kamloops, Kelowna, Prince George, Vancouver, Victoria
So, other than new divisions, division-only matchups, hub cities, different arenas, and even players living at their arena (hello Red Deer), what else is crazy and exciting about this season? Well, if that is not enough, there is a major story that everyone is talking about…
A Phenom and the Invasion of the Underagers
Due to everything going on from Covid-19, the WHL is seeing 15-year-olds playing more games in the league because of minor hockey being canceled in Canada. With that being said, one 15-year-old stands above the rest and that player is Connor Bedard.
As the only player to ever be granted exceptional status in the WHL, expectations were high for Bedard as he began his first Western League campaign. To say that he has met expectations would be a major understatement. Not only has he been impressive, but he is tied for second in the league in points with 22 in just 13 games. Again, let me say it once more, he's 15-years-old, which means that he is not NHL draft-eligible until 2023… He is an absolutely ridiculous talent who is following in the footsteps of other great exceptional status CHL players like John Tavares and Connor McDavid.
After Bedard, Brayden Yager (third overall in 2020) and Zach Benson (14th overall in 2020), both with 10 points in 13 games, are making the biggest impact for 2005's, so far. Other 05's making an impact for their respective clubs include, but are not limited to, Riley Heidt (second overall), Tanner Molendyk (fifth overall), Kalan Lind (sixth overall), and Mazden Leslie (10th overall). The 05′ age group has been hyped up for a couple of years now, so it is great to see these young players succeeding.
NHL Draft Watch
Yes, Bedard and the 05′ group are impressive, and yes, the 2004 class is looking strong, too (we will discuss them later). However, let's focus for a minute on the 2021 draft-eligible class that is set to be selected by NHL teams in a couple of months (July).
Leading the way is Edmonton Oil King's winger, Dylan Guenther. Guenther, the first overall pick by Edmonton in the 2018 WHL bantam draft, is leading the league in both goals (12) and points (23) in just 12 games. The young forward has been one of, if not the best, players in the league so far this season and is a dual-threat as both a shooter and a playmaker. Guenther is a candidate for the top 10 of the NHL draft and potentially even higher.
Speaking of Oil Kings, let's also talk about their starting netminder, Sebastian Cossa, who has been equally impressive to Guenther. Cossa is a 6-foot-6 goaltender who has posted ridiculous numbers with 10 wins in 11 games, a 1.46 goals-against-average and a 0.942 save percentage. His numbers this year have been outstanding and he has cemented the preseason thought that he is a top-three goalie for this NHL draft. It is not overly common for goalies, but he could be a first-round pick in July. Some other names to remember for the 2021 draft include:
Logan Stankoven (F, Kamloops): A 5-foot-8 goal scorer with a deadly shot. He competes on every shift and is willing to contribute defensively. To date, he has recorded five goals and eight points in four games.
Carson Lambos (D, Winnipeg): A mobile defender that when at his best, is able to effectively contribute at both ends of the ice. He spent the majority of the season playing in Finland and only played two games for Winnipeg before suffering a season-ending leg injury.
Ryder Korczak (F, Moose Jaw): A cerebral and crafty playmaker with eight assists and nine points in just six games. He is improving his skating and has a deceptive top speed. He uses his vision well to dissect the offensive zone and make plays. His shot and presence in the high-scoring areas around the net are underrated facets of his game.
Some other first-year draft-eligible names to keep an eye out for this season include:
Forwards:
Conner Roulette (Seattle), Eric Alarie (Moose Jaw), Caedan Bankier (Kamloops), Jake Chiasson (Brandon), Colton Dach (Saskatoon), Sean Tschigerl (Calgary), Zack Ostapchuk (Vancouver), and Zack Stringer (Lethbridge).
Note: Cole Sillinger has been left off the list as he is playing for the Sioux Falls Stampede of the USHL, due to the WHL's uncertainty earlier in the year. Expect him to be a first-round selection in July and hopefully back in the WHL next season.
Defensemen:
Nolan Allan (Prince Albert), Vincent Iorio (Brandon), Dru Krebs (Medicine Hat), Kyle Masters (Red Deer), Cole Jordan (Moose Jaw), Ollen Zellweger (Everett), and Graham Sward (Spokane).
Goalies:
Talyn Boyko (Tri-City), Tomas Milic (Seattle),  Brett Mirwald (Moose Jaw).
Passed Over But Not Forgotten
Players progress at different rates and it is always exciting to see which players take that next step in their draft plus one season, after being passed over by NHL teams. Brett Leason was passed over TWICE before being selected in the second round of the 2019 NHL draft by the Washington Capitals. It just goes to show that if you keep putting the work in, that you will be noticed. So, with all that being said, here are some previously passed over players that are catching my eye right now:
Ryker Evans (D, Regina) – I thought he deserved to get selected last year as a late rounder, but, here we are. Evans has taken the next step in his development as a poised defender who is mobile and can create offense. He has 13 points in 13 games so far this season. Surely he will be selected this time around.
Nolan Ritchie (F, Brandon) – After missing the majority of the season last year with a broken femur, Ritchie is off to a hot start this season with six goals and 18 points in 13 games. He is second on the Wheat Kings in goals and is leading the team in points.
Josh Pillar (F, Kamloops) – A quick skating forward, who is playing right wing on Logan Stankoven's line. He has been noticeable in most, if not all of Kamloops' games and has four points in five games. There are quite a few mouths to feed on this Kamloops squad.
Simon Knak (F, Portland) – Some people thought he could be a second or third-rounder last season. That was a little rich for me, but I thought he would get looks as a late-round pick. His skating has shown some improvement but he still needs to work on his consistency. He has had a nice start to the season, to the tune of seven goals and nine points in eight games. Again, he might get some looks as a late-round option in 2021.
Aidan De La Gorgendiere (D, Saskatoon) – When you come into the WHL as highly regarded as DLG was, you just knew that he was going to start making a big impact eventually. The mobile defender is consistently looking to activate on the rush this season and although he can be a little soft defensively at times, the upside is definitely coming through. Another guy I thought might get some looks as a late-round pick, he has 11 points in 12 games and is the leader on the Blades backend.
Logan Dowhaniuk (D, Edmonton) – He is tied for second in the WHL for defencemen scoring with 13 points in 14 games. He was one of my personal favorites for defencemen for the 2017 bantam draft and is finally showing what made him a top 30 pick by the Oil Kings.
Jalen Luypen (F, Edmonton) – He has taken a huge step forward offensively so far this season, to the tune of 10 goals and 17 points in 13 games. He is second on the Oil Kings in goals, behind Dylan Guenther and third in points, behind just Guenther and St. Louis Blues 2020 first-round pick, Jake Neighbours
Kyle Crnkovic (F, Saskatoon) – Yah yah, he's small and one-dimensional, but the skill can't be ignored. He leads his team in points and is 15th in the league with 15 points in 12 games. He was absolutely worth a late-round pick last year, despite his flaws. Whether he is drafted or not in 2021, I expect his production to explode for the Blades next year.
Gage Alexander (G, Winnipeg) – Last, but certainly not least. Alexander is a 6-foot-7 netminder that only played seven games last season and to be honest, he did not look good in those games (0.838 SV%, 4.36 GAA). But those games are in the past and this season, he has been excellent. Among goalies in the league who have played at least five games, his 2.01 goals-against-average and his 0.926 save percentage both rank third. Not bad! Now let's see if he can keep it up.
Obviously, it is unlikely for all nine of these draft plus one players to be selected in July, but they have all, in one way or another, stood out to me this season with the progression in their games. Take that for what it is worth.
Yes, I'm Old, So What?
Every year there are a handful of overage players in the CHL that take that next step offensively and garner attention from NHL teams as undrafted free agents. This year, there is one clear 2000 born player above the others in the WHL and that player is Medicine Hat Tiger's defenceman, Cole Clayton.
There is no doubt in my mind that an NHL team will sign him. He has been a reliable player for the Tigers throughout the past couple of seasons, but the 6-foot-2, 210 lbs defender has really exploded onto the scene offensively this year, to the tune of six goals and 22 points in just 13 games. His 22 points place him tied for second in the league in points for all skaters, not just defencemen.
At this point, there is not another 00′ born free agent in the WHL making the impact that Clayton is. However, a couple of his teammates, Ryan Chyzowski and Brett Kemp have been productive players in their WHL careers and might earn some looks even on AHL contracts when the season is complete. Kemp is fifth in league scoring with 21 points in 13 games, while Chyzowski is 10th with 17 points in 13 games.
2004 Born Future Watch
The current NHL draft-eligible crop always gets attention and now everyone is talking about Bedard and Yager. Yet, the 2004 born class cannot be overlooked.
Although he will not be suiting up for the Winnipeg Ice this season, due to playing for the Dubuque Fighting Saints of the USHL, Matthew Savoie remains an elite prospect that should be back in the WHL next season. No, he did not adjust to the WHL last season as quickly as Bedard currently is. However, Savoie has had incredibly similar production to Bedard at every level and should be seen as a consensus top-five pick for the 2022 NHL Entry Draft at this point. Let's take a quick look at some of the other high profile 04′ born players:
Mathew Ward (F, Swift Current) – Undersized forward that is tied for the Broncos lead in points with 15 in 12 games. He has been a dynamic producer at every level and is continuing that streak in the WHL.
Conor Geekie (F, Winnipeg) – Already 6-foot-4 and listed at over 200 lbs, the second overall pick in 2019 has been putting people on notice with his combination of size and skill. He has four goals and 11 points in 13 games so far this season.
Brandon Lisowsky (F, Saskatoon) – See Ward above. He is another undersized forward that has produced at every level. Saskatoon has solid forward depth and Lisowsky is not asked to do more than he is capable of right now. To date, he has four goals and eight points in 12 games.
Some other 04′ born players making impacts on their teams include Nate Danielson (2023 eligible, F, Brandon), Denton Mateychuk (D, Moose Jaw), Keaton Dowhaniuk (D, Edmonton), Koehn Ziemmer (F, Prince George) Jordan Gustafson (Seattle), Jagger Firkus (F, Moose Jaw), Oasiz Wiesblatt (F, Medicine Hat), Jace Weir (D, Red Deer) and Connor Levis (F, Kamloops)
These are just a handful of names that have impressed me this season. The 2004 born WHL class is looking great right now and could challenge the 2001 born class for the best age group to come out of the west in a while!
***
Well, that is enough rambling for now! We haven't had WHL hockey in roughly a year so it is great that it is back and I can let out all these thoughts!
If you like what you read then you should definitely follow me on Twitter @JamesonEwasiuk DM's are open!
Cheers!
James
LATEST RADIO & DRAFTCASTS