SHL Update: March 2021
Tomáš Zahorák
2021-03-19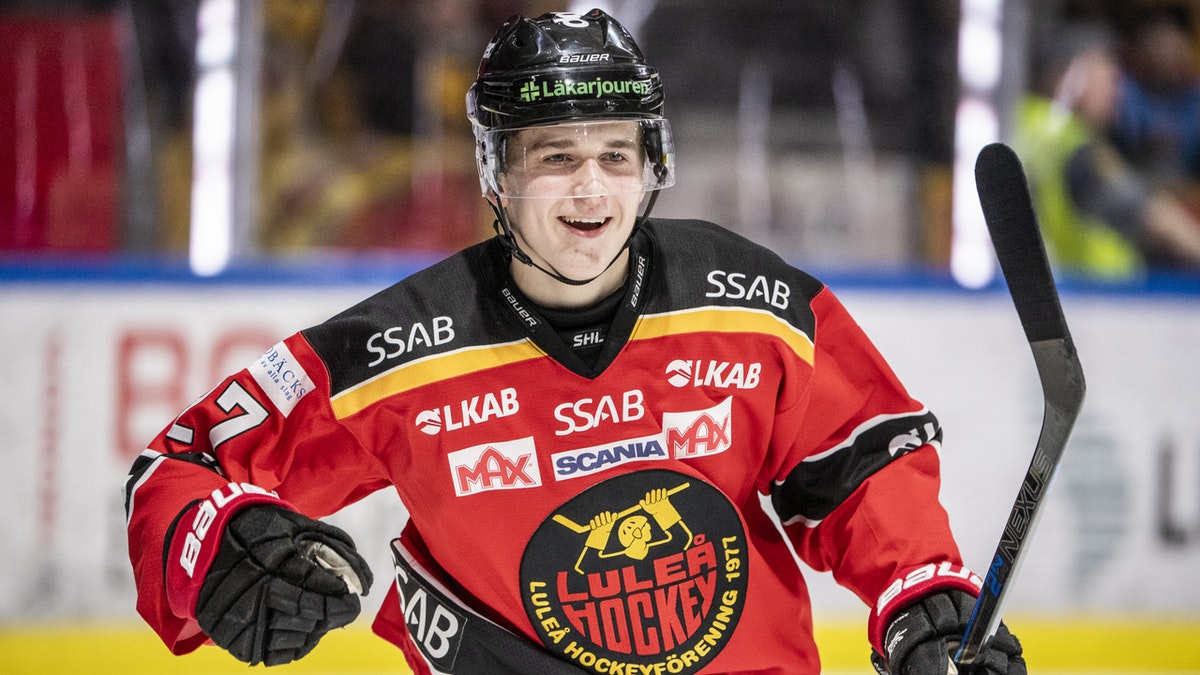 The playoffs are approaching, and the regular season is slowly coming to an end, but before the cards are all dealt on March 31st, there are still some games left. Teams are fighting for the best position in the standings. There is no rest for anyone. Many NHL prospects are still in the game to help their teams, so let us take a closer look at how some of them have performed since late February up to this date.
In Case You Missed It
Player Reports
Nils Lundkvist, RHD, Luleå HF (New York Rangers)
Lundkvist is currently second in scoring among defensemen on the team and ninth overall. What more can I say? The results speak for themselves. He has been nothing but a consistent and reliable offensive weapon for Luleå throughout the whole season. He has the highest ice time on the power play per game (3:17) and generated the most shots on goal (142), all that with the second-highest ice time (21:20) on the team.
Offensive consistency has been one of his biggest strengths. It should not be surprising that Luleå has generated four shot attempts per 60 minutes more with him on the ice than without him, which puts him in third place on the team. However, we also cannot forget to mention his contribution on the back end. Luleå has allowed just 42 shot attempts per 60 minutes with Lundkvist on the ice. It puts him in sixth place on the team and second among defensemen. With the number of minutes and the caliber of competition he faces, it is pretty impressive.
But how is he doing now, you may ask. Well, not bad at all. He scored three goals and four points in the past five outings while seeing 24 and a half minutes of action per night. I told you, consistency is one of his greatest assets. He has been great the whole season, including the last couple of contests.
Victor Berglund, RHD, Luleå HF (Boston Bruins)
Luleå has the luck of having two of the best and most reliable defensemen in the league in Erik Gustafsson and Nils Lundkvist. They are so good it is easy to overlook another solid back on the roster, Victor Berglund. The 21-year-old, who signed his first NHL contract with the Bruins on June 15th last year, has tallied three goals and 20 points in 47 contests, which puts in third place on the team and 16th place among defensemen overall.
However, 2021 has not been the best year for him in terms of production. Since January 1st, Berglund has appeared in 22 outings and marked just one goal and six points. As a result, his average ice time rapidly dropped from 14:45 throughout the first 25 games to only 9:26 since the beginning of the year.
But even though he has not been prolific, his possession numbers remained very high. Luleå has generated over 67 shot attempts per 60 minutes with Berglund on the ice since January 1st. It puts him in first place on the team by a landslide. To put it in perspective, the player in second place is forward Petter Emanuelsson, who has been on the ice for slightly over 57 shot attempts per 60. It is also important to mention that he has the best Relative Corsi on the team (8.54) since the year began. It means that Luleå produces over eight shot attempts more with him on the ice than without him.
Berglund still has something to offer to the team. Although these numbers probably are affected by the sheltered role he plays, I hope that he can prove his qualities again and earn himself more action on the ice down the road.
Theodor Niederbach, RW, Frölunda HC (Detroit Red Wings)
Niederbach has recently returned from his loan in MODO Hockey in HockeyAllsvenskan as a replacement for injured Lucas Raymond (DET). The new environment in MODO helped him gain some confidence and get more ice time important for his development. The 19-year-old forward appeared in 15 contests and recorded three goals and nine points there. Then he came back to Frölunda and brought the poise with him.
Since his return at the end of February, the Red Wings prospect has tallied one goal and three points in seven outings. He has been playing with a lot of energy and enthusiasm. He constantly livens up the game and makes it more fun to watch. Because of that, the coaches are slowly getting him more and more opportunities. His ice time has improved from 8:01 right after his comeback to 12:45 in the last appearance. He has also appeared on the power play and earned himself a role on the ice while Frölunda was trailing 3:4 against Skellefteå on March 11th. These are the small things that could help him get used to the men's competition and develop his undoubted skillset.
Jack Drury, C, Växjö Lakers HC (Carolina Hurricanes)
The new year has not been very kind to Drury. He suffered an upper-body injury on January 7th during the game against Skellefteå and missed the next 11 outings. However, what is more important, is the way he came back. He returned to the lineup on February 16th, and since that day, he tallied one goal and four points in five contests. He also currently holds a four-game point streak as we speak.
Drury is a versatile forward who can play very well on both ends of the ice. Coaches liked to use him in all situations, which has reflected in his average ice time of 18:11 before the injury. Since his return, it has dropped a bit to 16:26, but mainly because they have not been using him so frequently on the penalty kill and during equal strength. His average power play ice time, however, has not changed much. It helped him get back on track offensively, as he recorded two of the four points right during man-advantage.
Drury's other great strength, besides his two-way contributions, is his ability to drive plays. He has had a very positive influence on the team's possession and offensive numbers. Växjö generated over eight shot attempts per 60 minutes more with him out there than without him before the injury. To put it in context, it was the second-most on the team, just behind Andrew Calof. Even though this number has dropped since his return by four shot attempts, he still makes Växjö a better and more dangerous team.
Samuel Johannesson, RHD, Rögle BK (Columbus Blue Jackets)
Johannesson has spent the majority of the campaign in a sheltered role. He has had a couple of stretches where he saw around 15 minutes of action per game, but they did not last for very long. It happened at the turn of September and October for the first time. He played in five contests with one goal and two points while averaging almost 15 minutes per night. But then he was suddenly benched for three games. The period of inconsistent opportunities has begun. His ice time has varied a lot from zero to three to six to almost 17 minutes on January 2nd against Örebro.
The second stretch of constant playing began on January 21st and continued till February 23rd. This period lasted for 11 outings, and his ice time was fluctuating around 16 minutes per game. However, even though he collected just one assist, his main contribution was hiding in his possession numbers. Rögle was generating over ten shot attempts per 60 minutes more with Johannesson out there than without him. That puts him at the very top of the team, even in front of Daniel Zaar, who is currently the league's top-scoring player.
I would love to see him get more opportunities. It has been a pretty inconsistent season for him, but when he got the chance, he did not look bad at all. I feel like he has some offensive qualities that he has not fully shown yet, and I want to see that. Here is a clip of him and his pretty slick hands from October.
Albin Sundsvik, RW, Skellefteå AIK (Anaheim Ducks)
There is not a lot of players who have improved production-wise more than Sundsvik in 2021. The 19-year-old forward collected just two goals and three points in 23 contests in 2020. However, it has been a whole new story since January 1st. Sundsvik has appeared in 19 outings in this period and recorded four goals and ten points. It puts him in seventh place on the team during this span. The fact that he has been putting up these numbers with almost no change in ice time between the two time stretches is quite impressive. It has only increased from 10:40 in 2020 to 10:58 in 2021.
As a result of this offensive outburst, his points per 60 minutes have rapidly escalated. From January 1st to this moment, he has been averaging  3.66 points per 60 minutes of play. It is the second-most in the league. The only player better than Sundkvist is his teammate Tyler Morley with 4.09 points per 60. It is an easily noticeable improvement, as he has drastically elevated the numbers from just 0.96 points per 60 in 2020.
Yes, the pucks have been going his way. His expected goals even dropped a bit from 2.80 in 2020 to 2.66 in 2021. But to his credit, he has been maintaining this poise for over two months now. He even recorded a goal and three points in the past five games. It seems like he has the right mindset and all the tools to be very useful for Skellefteå. If he can keep this up for even longer, he could be a secret weapon for the team in the playoffs.
Adam Wilsby, LHD, Skellefteå AIK (Nashville Predators)
Nice and steady progress. That is what defines Wilsby throughout the whole campaign. The 20-year-old defenseman has been slowly improving his production and overall game on both ends of the ice. His biggest strengths remain the same: mobility and good movement with and without the puck. He likes to carry the puck up the ice but is also a good passer with an ability to read the game quite well.
His confidence has been visibly rising lately, which is a byproduct of increased production and more ice time. Since the beginning of the year, Wilsby has played in 20 contests and recorded three goals and ten points while seeing around 17 minutes of action every night. He has also logged one goal and three points in the last three outings. All that while maintaining some of the best possession numbers on the team.
However, he still has a lot of work to do when it comes to defense. Wilsby can use his stick and usually positions himself well, but the physicality and consistency are not there yet. There are a lot of advantages that come with efficient usage of the body in the defensive zone. Among other things, it could help him stabilize his defensive performance. He still has room for improvement, but I think he is on a good path.
Emil Heineman, LW/RW, Leksand IF (Florida Panthers)
It looks like late February might have been a turning point for the young winger. In the absence of at least one of three of the best scoring players on the team in the past four games – Peter Cehlárik, Carter Ashton, and Carter Camper – Heineman got a lot more opportunities. He spent the last three outings on the first line with former Rangers and Flames forward Marek Hrivík. This promotion helped Heineman mainly with his production. The thing that he struggled with for the majority of the campaign. As of now, Heineman scored two goals and three points in the last four contests.
I know what you may be thinking. The four-game sample size is too small to make any judgments. Yes, you might be right. But there is more to it. Heineman averaged over 15 minutes of action in these four consecutive outings. The only time it happened during this season was in October last year.
The main reason for his lack of usage might be that he has not helped Leksand generate much offense so far, quite the opposite. The team has fired almost six shot attempts per 60 minutes more without him out there. That makes him easily the worst player on the team from this perspective.
However, getting more minutes and having Hrivík alongside him sounds like a good opportunity for Heineman to turn things around. Better production could increase his confidence and contribution to the team, mainly in the offensive zone. I am curious to see whether he can take advantage of it, especially with the upcoming playoffs.
Underwhelming
Philip Broberg, LHD, Skellefteå AIK (Edmonton Oilers)
If I had to describe Broberg's season, I would say that it has been kind of mediocre. He started well with good preseason and solid performance at the beginning of the campaign. But as the games went on, more and more mistakes, especially in the defensive zone, sneaked up to his game. On the plus side, his offense has been solid, even though the production is not on the level he would want it to be, I assume. Three goals and 13 points in 41 outings are exactly "not great, not terrible" for the 19-year-old defenseman.
If we take a closer look at Broberg's performance throughout the season, we will notice that a lot has changed since he came back from World Juniors. His average ice time dropped from 19:03 to 14:53, and as a result, he has been averaging around a minute less on both power play and penalty kill. Broberg's contributions to the team have not been the same, mainly on the back end. Since his return, Skellefteå has been allowing over four shot attempts per 60 minutes more than they did in his presence before his departure.
Broberg is a player that has not entirely fulfilled my expectations so far. I think that he could be more active in the offensive zone but mainly better defensively. When he is on the ice for a penalty kill or just ordinarily defending, I sometimes find myself thinking, "Do not blow this!". Maybe I am too harsh now, but steadiness, reliability, and composure have not been his greatest assets.
Thank you for reading this article! If you liked it, please follow me on Twitter: @TZahorak for more updates throughout the season.
LATEST RADIO & DRAFTCASTS