KHL Update: March 2021
admin
2021-03-20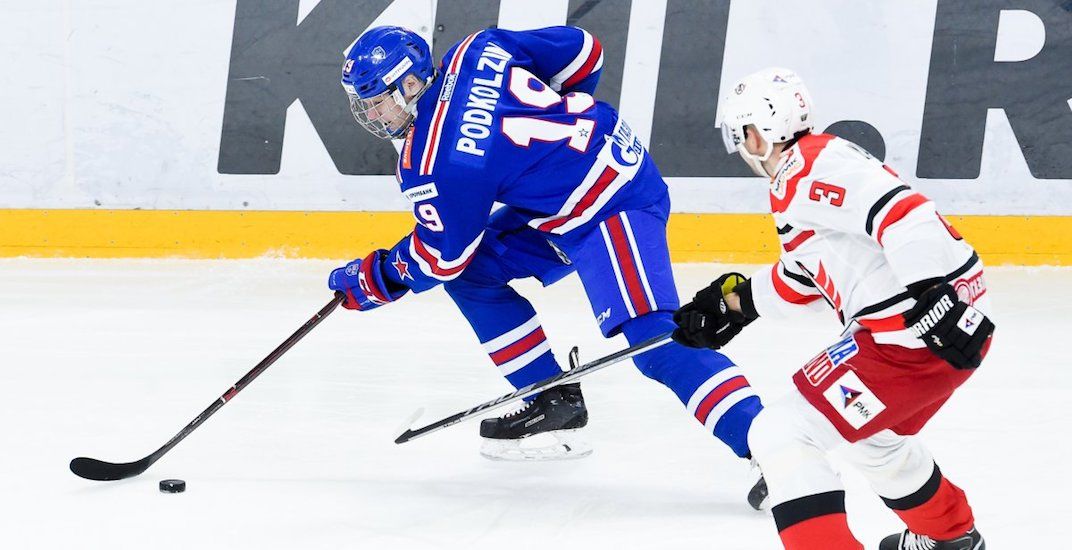 The month of March has been a momentous time in the KHL, as it has seen the conclusion of the regular season and the beginning of the Gagarin Cup playoffs. This tournament presents a unique opportunity for some of the most promising prospects in the league to prove themselves in what will be, for some, the highest stakes and highest-level competition they have faced so far in their young careers. This month's report will focus on some of those prospects whose teams have competed in these playoffs so far.
Ivan Chekhovich, LW, Torpedo Nizhny Novgorod (San Jose Sharks)
Chekohovich completed a very productive regular season for Torpedo, finishing with a total of 34 points in 43 games. However, his hopes to make an impact for his squad in the postseason went unfulfilled, with Torpedo being swept in four games by top-seeded AK Bars Kazan, although Chekhovich did score two goals in the four postseason games. On this tally, he demonstrated yet again why his wrist shot is considered the strong point of his offensive game, pinching aggressively towards the net and taking advantage of a choice rebound to snap one past the Kazan netminder.
Overall, Chekhovich's 2020-21 campaign was a major success and turnaround following his struggles the previous season playing in the AHL for the San Jose Barracuda. Next up for the Sharks prospect is a second chance at stateside success, as he is set to join the Barracuda once again following a mandatory quarantine period.
Vitaly Kravtsov, LW, Traktor Chelyabinsk (New York Rangers)
Traktor may have bowed out of the Gagarin Cup playoffs in the first round, but Kravtsov still showed the talent and potential that he has on the offensive side of the puck. Kravtsov scored two goals and two assists in the five games of the first round. When scoring this goal Kravtsov demonstrated his strength and accuracy as a shooter as well as his ability to anticipate the play developing, leaping up to be ready as his line-mate stole the puck, then making a quick move around the remaining defender and beating the goaltender.
Kravtsov now heads across the Atlantic for his much-anticipated NHL debut. The Rangers have developed a strong pipeline of wing prospects in the past several years, and Kravtsov will now join Kaapo Kakko and Alexis Lafreniere as part of that group in the blue and white.
Artur Kayumov, LW, Lokomotiv Yaroslavl (Chicago Blackhawks)
The Chicago Blackhawks continue to show a strong track record for finding unheralded prospects across Europe, and Kayumov may well be the next one to pleasantly surprise Blackhawk fans. Kayumov is not the most prolific scorer, but he plays a well-balanced two-way game, with results to show in both the regular season and playoffs. Through the first round, Kayumov has totaled two assists, while averaging a total of 17:25 in ice time.
Kayumov is under contract with Lokomotiv through the 2021-22 season, so at minimum he would not join the Blackhawks until after that time.
Vasili Podkolzin, LW, SKA St. Petersburg (Vancouver Canucks)
Vancouver Canucks fans have long been frustrated with Podkolzin's ice time (or lack thereof) with KHL powerhouse SKA St. Petersburg, but such is the way of stalwart bench boss Valeri Bragin and his coaching staff. However, he is starting to earn his keep as SKA enters its first round of playoff action. In his first series, Podkolzin has made the most of what he has been given (13:27 average ice time), with a goal and two assists for three total points.
Despite its struggles this season, the Canucks have steadily developed a pipeline of top prospects in recent years, starting with Brock Boeser, and continuing with Elias Pettersson, Quinn Hughes, and now in 2021, Nils Hoglander. If this year's disappointing campaign is to be a mere speedbump in a successful rebuild, then Podkolzin coming over and making his NHL debut in 2021-22 will be a key part of that process.
Yegor Chinakhov, RW, Avangard Omsk (Columbus Blue Jackets)
Chinakhov was off to a promising start for Team Russia in the 2021 World Juniors prior to sustaining a lower body injury that kept him out of Avangard's lineup until late February. He finished the regular season with a total of 17 points in 32 games, and has so far been quiet in Avangard's first round victory of the Gagarin Cup playoffs, with no points and 11:17 average ice time. However, in a recent interview, he received a vote of confidence from his coach, Stanley Cup winner Bob Hartley, who praised his work ethic and growth during the season. Hopefully, this will lead to him getting more opportunities to show why he was taken in the first round of the 2020 Draft as Avangard's playoff run continues, as well as into the next KHL season.
Kirill Marchenko, RW/LW, SKA St. Petersburg (Columbus Blue Jackets)
Marchenko established himself as one of Russia's most promising young prospects this season. He led all under 21 players in the KHL in scoring, both total points and points per game. In SKA's first round playoff victory, he has strayed off that pace slightly, with two points in five games. However, the fact that his average ice time in these playoff games has increased from his regular season total has increased should be taken as a sign of the trust that he has earned the trust of SKA's notoriously tough coaching staff.
Unfortunately for impatient NHL prospect watchers, SKA has also been aggressive in its efforts to keep their homegrown players in Russia for as long as possible, and thus Marchenko has been signed to a contract that will keep him in Russia until at least 2022. This year he has raised the ceiling of what he could eventually be for Columbus into a possible top six player.
Ivan Morozov, C, SKA St. Petersburg (Vegas Golden Knights)
When it comes to SKA St. Petersburg's contingent of younger players, the most exceptional of all so far has been Ivan Morozov. Morozov has been a force on the ice for SKA, over a point per game in their first-round victory over Dinamo Minsk. More of a playmaker than a pure goal scorer, Morozov shows here that his shot can be a dangerous weapon as well:
He has also continued to demonstrate his physical presence on the ice, perhaps even to a fault given his twenty-seven penalty minutes in the series. Earning a consistent top six center spot with SKA is no mean feat, but Morozov has proved that he belongs there. As his current contract with SKA will keep him in Russia through at least the 2021-22 season, Vegas will have to wait to see if he can play at least a bottom six role for them, if not more.
Thank you all so much for reading, you can follow me on Twitter at @CiottyPippen
LATEST RADIO & DRAFTCASTS