Breathe. Yaroslav Askarov is still Amazing
Tony Ferrari
2021-01-13
The World Juniors have come and gone once again. The Americans defeated the Canadians in a game where Trevor Zegras proved that Canada hadn't faced a team like them. The Finns showed their typical cohesion, picking the Russians apart slowly to take the bronze medal. We saw Tim Stützle do a lot of really exciting and dynamic things as he did his best to show off the emerging talent in Germany. Sweden's round-robin wind streak was extended from 52 games to 54 before snapping it by finishing the tournament with three straight losses to the Americas, Russians, and their rival Finns in their quarterfinal. Even in a year marred by a global pandemic, with many players having to skip the event because of COVID-19, the World Juniors was once again the holiday treat that hockey fans can't seem to get enough of.
This year was a bit different, however. There was no NHL hockey going on at the same time. This meant even more increased concentration and focus on the annual U20 event. With the World Juniors already being the most popular event for "two-week scouts" as Rachel Doerrie from Elite Prospects put it, the criticisms and the praise of players can go a bit to the extremes. We saw that early on in the tournament with gold medal goaltender Spencer Knight after his poor start in the first game. We saw it again a couple of days later when Cole Caufield and Quinton Byfield didn't load up the stat sheet in their team's early tournament blowout wins. We also saw Yaroslav Askarov stumble in the first period of the quarter-final against Canada.
Here is the thing about the World Juniors. It doesn't really play that big of a role in the grand scheme of things when you are trying to determine who will be a quality NHL player in the future. That may even be more true for the defender of the twine. For every Justin Pogge who looks great on a stacked team there is a Frederik Andersen who struggles with a smaller nation. Jack Campbell was a World Junior star and he's become a very good backup at the NHL level. Tuukka Rask and Henrik Lundqvist were good as 18-year-olds but looked to regress in a big way as 19-year-olds. Of course, there are stars that look special at the event. From Roberto Luongo to Jacob Markstrom to John Gibson, we have seen stars step up and dominate. So why didn't the best goalie prospect since Carey Price carry the Russian squad to a medal? Did the Nashville Predators make a mistake by taking Askarov instead of Anton Lundell or Rodion Amirov?
Historically Speaking
Yaroslav Askarov | 6GP | 3-3-0 | 2.49 GAA | .914 S% 
On the surface, these numbers look fairly respectable. The win-loss record isn't encouraging but we are well beyond wins and losses being the be-all and end-all of a goalie's performance. Goals against average is a team stat that often finds it's way onto the goaltender's hockey card, otherwise I wouldn't have included it. On the surface, his save percentage, the most reliable of the mainstream hockey card goalie stats, is okay. It's not 'carry a team to a medal'-good but it isn't 'the reason your team lost'-bad. It's about average. Let's take a quick look at some of the other netminders who had some significant playing time in their second to last year of junior eligibility, as Askarov was in this year.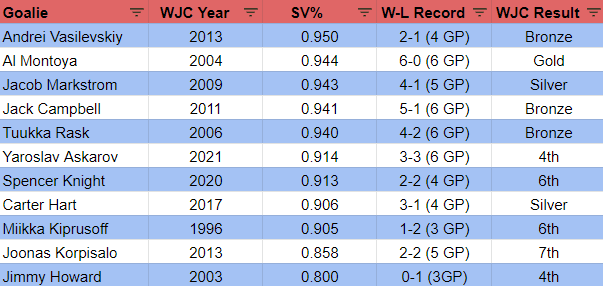 The first thing we can derive from this quick data set is that there are varying levels of goaltenders. Some were high-level prospects and never panned out fully, others were unheralded picks later in the draft that turned into NHL Stars. The selection of these goaltenders was intentional. It was meant to show that regardless of who you are, be it Al Montoya or Miikka Kiprusoff, the performance you have over this two-week tournament really doesn't matter in the long run.
Goalies such as Justin Pogge and Andrei Makarov found stardom on the World Junior stage. Others like Hockey Hall of Famers Martin Brodeur and Patrick Roy among others, never even made the World Junior rosters with names like Mike Fountain and Norm Foster making it over them respectively. This is all to say that before we get into Yaroslav Askarov's numbers and 2021 World Junior review, none of it really matters.
Yaroslav Askarov bails out a horrific play at the blue line by the SKA defenseman with a nice save on a breakaway.

Pulled out after this save because of an equipment issue #Preds pic.twitter.com/m57dGubjLP

— Brandon Holmes (@BHolmes_Hockey) October 28, 2020
Goaltending is an area that requires nuance. It's being framed as a poor tournament for Askarov but the reality is that when you take away the semi-final against Canada, Askarov had a .925 save percentage. The reality is that you can't take that one game away and the Russian stud prospect finished with a .914 save percentage. Sometimes, especially in small samples, a goalie's numbers can be skewed and with the already sour taste of the 2020 World Juniors in our minds coming into this year's event, we may have already written off Askarov and were just waiting for a weak moment to pounce.
Comparing and Contrasting
One of the biggest factors for goaltenders is always going to be the quality of the chances that the team in front of them allows. This is a good jumping-off point to begin analyzing the performance of the top goalies at the 2021 World Juniors. For the purposes of this exercise, the four goaltenders who will be looked at will be Spencer Knight from Team USA,  Devon Levi from the Canadian squad, Swedish netminder Hugo Alnefelt and our primary focus, Yaroslav Askarov.
The shot charts below show shot attempts (x), shots on goal (black dot), and goals (red dot) and include all of the goaltender's data from the World Juniors only.
So let's make a few quick observations about each netminder's shot chart. Devon Levi and Spencer Knight both faced around the same amount of pressure with 213 and 211 shot attempts respectively and the locations of their shots against were fairly similar. The one area that the U.S. defensive corps did a bit better of a job at was the high slot. Levi was better from in tight but Knight was better virtually everywhere else save for one goal allowed from the right faceoff dot. Knight seemed to face a bit less threat because much of the action above the hash marks were kept to the outside. Overall, both Levi and Knight seemed to face a solid workload and it looks as if they did their jobs.
Hugo Alnefelt played the least of these netminders and his shot chart clearly indicates that. With that said, they seemed to keep the puck out of the mid-high slot and force most shots to the outside of the dots. When they do allow shots from the slot, they are around the crease and in tight. With that said, he wound up with the lowest crease area save percentage. All things considered and expectedly, Alnefelt looked like the least stable of the four at a quick glance.
This brings us to Askarov and his shot chart. The first thing you notice is that Askarov faced about a game's worth of shot attempts more than any other goaltender. That should be expected seeing as he played two more games than Alnefelt, but he played the same amount of games as Knight and one less game than Levi. The most telling thing that you notice is how many of the shots are coming from the home plate area on the ice.  The chart below shows each goaltender's total shot attempts against with being the high-danger (home plate) shot attempts the primary focus.
Sorted by high-danger shot attempt percentage (HD SHAtt%), Askarov led the way facing 37.6% of his attempts from the home plate. Levi and Knight both faced much fewer shots from the high danger areas. Alnefelt's data is close to Askarov's data but in a much smaller sample and with much worse results. Almost the entire difference of shot attempts between Levi/Knight and Askarov are all courtesy of slot shots. With such a large percentage of the shots that he faces coming from the most dangerous areas of the ice, the issue should be with the Russian defense group rather than their young netminder.
The next question that has to be answered when seeing these results is why they are the way they are. Let's remove Alnefelt from the example for the time being for the purpose of keeping sample sizes similar. When you look at the teams in front of each goalie, Canada and the U.S. were both weaker on the back end than in many years but with players like Bowen Byram and Jamie Drysdale patrolling the blueline for Canada and the American's having the ability to throw out Cam York or Jake Sanderson at any point help give each team a couple of high-quality defenders, all of which were drafted in the top-15 with only York going outside the top-six. While ~28% high-danger chances is not the greatest mark, it is a respectable number.
The Russian defense group relied upon a slightly younger group of blueliners (19.09 years old) than both Canada (19.32) and the U.S. (19.45) which could help explain it but the difference doesn't seem large enough to really be impactful, despite small age gaps being massive at this age. The real difference is that the Canadians relied upon Bowen Byram (19.59), Jamie Drysdale (18.77), and Thomas Harley (19.41) and the American club had Cam York (20.03), Jake Sanderson (18.52), and Henry Thrun (19.85) playing the most minutes. Canada's top-three average out at 19.26 and the U.S. teams 'Big-3' average out to 19.47 years old. In comparison, the Russian rode their young guns with Shakir Mukhamadullin (19.02) and Kirill Kirsanov (18.32) both playing over 20 minutes a night while veteran Semyon Chistyakov (19.44) rounded out the top-three defensive ice-time leaders, averaging out to 18.92 years old. Both Canada and the U.S. relied on players that not only possess more star power with two top-15 picks in each group and Canada having three first-rounders, but they were also a bit further along in their development. Russia on the other hand relied on their younger defenders. Averaging under 19 years of age for your defenders in a primarily 19-year-old tournament isn't a great idea unless you have the high-end star power. Russia didn't have that.
Reasons to Stay Calm
Breathe. Let's all take a minute to remember that Askarov was so heralded last year for a reason. This is the same goalie that beat the thought to be unbeatable 2001-born American squad (that just won the World Juniors) at the World U18s in 2019. He took down the likes of Quinton Byfield and Jamie Drysdale at the 2019 Hlinka-Gretzky Cup. Hell, this is the very same goalie that led a Russian U20