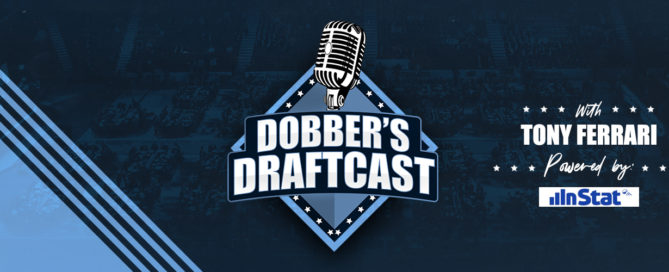 Summary
On this episode of the DraftCast, Tony is joined by TSN …
Spotify
YouTube
iTunes
Follow
Guests on this podcast: Craig Button @CraigJButton
Dobber's DraftCast is Powered by InStat Hockey @InStatHockey
Also Available On
Contents
On this episode of the DraftCast, Tony is joined by TSN's Director of Scouting, Craig Button! They dive into the World Juniors as a whole and what the bubble was like for him and the players! Craig and Tony go into the medal rounds and what made each game exciting as well as how the winners accomplished their goal. After that, they dive into the draft-eligible prospects on each team at the World Juniors from Jesper Wallstedt to Stanislav Svozil, they cover all of the big names and the standouts! They also touch on Brad Lambert, Juraj Slafkovsky, and the 2022 NHL Draft prospects as well!
Support for the DraftCast is brought to you by ​MANSCAPED™! Use promo code "DRAFTCAST" for 20% off AND free shipping at MANSCAPED.com!
Follow us on Twitter: @DobberDraftCast, @theTonyFerrari, @CraigJButton 
Dobber's DraftCast is brought to you by DobberProspects and InStat Hockey!
Prospects Covered:
Canada:
We touched on Owen Power, Brandt Clarke and Carson Lambos briefly because Canada had no draft eligible prospects this year
Sweden: 
Jesper Wallstedt / G / Luleå (SHL) / 2002-11-14 / 6-3 / 214lbs
2GP  2.40 GAA  .923 SV% 
Oskar Olausson / W / HV71 (SHL) / 2002-11-10 / 6-1 / 177lbs
0G-0A-0P  0PIM  +/-0  
Czech Republic:
Stanislav Svozil / LD / Kometa Brno (Czech ExtraLiga) / 2003-01-17 / 6-1 / 172lbs 
0G-1A-1P  16PIM  -1
David Jiricek / RD / HC Plzen (Czech ExtraLiga) / 2003-11-28 / 6-3 / 176lbs
1G-1A-2P  2PIM  -1
Finland: 
Samuel Helenius / C / JYP (Liiga) / 2002-11-26 / 6-6 / 201lbs 
2G-2A-4P  18PIM  +2
Brad Lambert / C / JYP (Liiga) / 2003-12-19 / 6-0 / 172lbs 
1G-4A-5P  0PIM  -1
Austria:
Marco Kasper / C /  Rögle BK J20 (J20 Nationell) / 2004-04-08 / 6-0 / 176lbs
0G-1A-1P  2PIM  -3
Russia: 
Kirill Kirsanov / LD / SKA St. Petersburg (KHL) / 2002-09-19 / 6-1 / 194
1G-1A-2P  2PIM  +1
Daniil Chayka / LD / CSKA Moskva (KHL) / 2002-10-22 / 6-3 / 187
0G-0A-0P  2PIM  -2
Slovakia: 
Oleksii Myklukha / C / Rouyn-Noranda (QMJHL) / 2002-11-25 / 5-10 / 156
1G-0A-1P  8PIM  -2
Juraj Slafkovsky / C/LW / TPS-U20 (u20 SM-sarja) / 2004-03-30 / 6-4 / 218lbs
0G-0A-0P  2PIM  -5
Simon Nemec / RD /  HK Nitra (Slovakia) / 2004-02-15 / 6-1 / 192lbs
0G-4A-4P  2PIM  -4
Switzerland: 
Noah Meier / LD / Zürich (NLB) / 2002-09-24 / 5-11 / 172lbs
1G-1A-2P  0PIM  -5
Lorenzo Canonica / C / Shawinigan (QMJHL) / 2003-09-03 / 5-11 / 179lbs
0G-1A-1P  6PIM  -2
Germany: 
Florian Elias / W / Mannheim (DEL/DNL) / 2002-08-07 / 5-8 / 161lbs
4G-5A-9P  4PIM  -2 
USA:
Matthew Beniers / C/W / Michigan (NCAA) / 2002-11-05 / 6-2 / 174lbs
1G-2A-3P  2PIM  +3