USHL Report: January 2021
Hadi Kalakeche
2021-01-08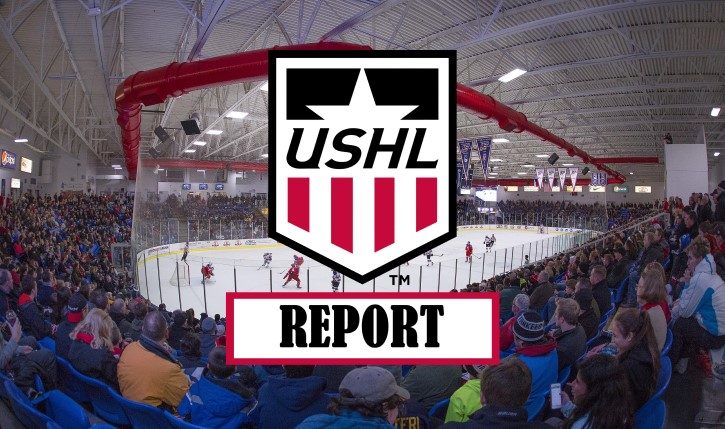 Three players to watch on the USNTDP
With the 2020-2021 USHL season well underway, the members of the United States National Team Development Program, or USNTDP, have already played a handful of games against their USHL counterparts; the improvement of the other USHL programs in the circuit, outlined in last month's report on the Chicago Steel, has led the USNTDP to struggle within their Western division, with a record of 5-5-2 through 12 games. The Steel sit comfortably in first place, with an 11-2-2 record through 15 bouts, followed by Green Bay and Muskegon, two other programs out West that keep growing every year.
However, the USNTDP is quite the filter for decent NHL prospects; given that most of the Program's cuts disperse to the remaining USHL teams (then, following their draft year, to the NCAA), many of the top NHL draft picks from that league will come from the U-18 program. Therefore, I have curated a list of USNTDP prospects to watch for the next couple of Draft classes, prospects that could become excellent long-term NHLers in the near future. Each player will get a playing style evaluation, a player comparison, and a rating from 1 to 10 in both fantasy upside and NHL certainty. Let's take a look at three of them today:
1. Luke Hughes, LHD (2021 Draft-eligible)
We start with the most obvious – brother of Jack, the Devils' first overall pick in 2019, and Quinn, the Canucks' 2018 seventh overall selection, Luke shares much of his abilities with his brothers, a by-product of having extremely similar environments in the early stages of their development, but has more size than his brothers at 6-2.
Small samples!! Luke Hughes#43 is an elusive skater. He is si calm and good against the offensive pressure. A good heads up player who carry the puck really well till the offensive zone. Need to improve his shot and could be more creative in the offensive zone #nhldraft2021 pic.twitter.com/JldmO1d2Zi

— Alexandre Morand (@alexmorehockey) May 15, 2020
Luke shows the superior skating ability we've come to expect from the Hughes's, combined with the mind required to spot soft areas both offensively and defensively. He rarely bobbles a pass, showing great consistency in both his distribution and reception of the puck. This consistency is due to his ability to receive pucks in all ways – on his forehand, his backhand, in stride or inside pivots – allowing him to gain a step on his opponent and to make, more often than not, the play he wants to make, rather than option B or C. His ability to play deep in the offensive zone is also impressive, as he is often seen around the faceoff circles and occasionally behind the opposing goal line, while rarely getting caught on the counter. He shows decent gap control and stick positioning as well, playing in the face of opposing forwards despite being 176 pounds and at risk of getting run over.
When you see a prospect impressing in Junior even before his Draft year, who has very similar assets to his brothers, both of whom are marquee players for their NHL teams, the choice seems safe. In a 2021 class that is wide open at the top end, I can see Hughes going first overall, despite the growing games of Brandt Clarke, Carson Lambos, Owen Power and Simon Edvinsson, all of which are left-handed defensemen who could hear their names in the top five on Draft day. Of the players mentioned here, I believe Hughes' potential to be both the highest and the most certain.
Player comparison: Quinn Hughes, Neal Pionk
Fantasy upside: 7.0
NHL certainty: 7.5
2. Isaac Howard, LW (2022 draft-eligible)
It is not often that a player two years removed from their draft year will lead their Junior team in points, much less the US National Team Development Program. Isaac Howard, the Wisconsin-native freshman, has impressed with his offensive consistency since the start of the USHL season.
Isaac Howard had this nifty snipe in the NTDP U17s first victory. Howard is a dangerous goal scorer having scored 7 goals, only trailing Matvei Michkov, at the Youth Olympics.

Howard is a top prospect for the #2022NHLDraft. pic.twitter.com/Hj4OnOQRel

— TPEHockey (@TPEHockey) October 5, 2020
As a 5-10, 175 pound forward, he is far from the type to blow you away with his physicality, but he can score goals on any given night. In Shattuck-St. Mary's, the highly-touted high school prep program in Minnesota, Howard approached the goal-per-game mark in both of his seasons, and has nine goals through six games to start the USHL season, leading the team with twelve points overall. He also scored seven goals in four games at the Youth Olympics for Team USA, playing top minutes against his age group. 
His shooting abilities stem from a knack for finding soft spots in defensive coverage and his tendency to cut through center ice for a better shot angle, as well as his talent for pre-shot movement (changing the shooting angle slightly before the shot to fool the goaltender). Howard really seems to know how to maximise his shooting threat, and a couple of years to work on his strength will surely improve his release, which does not have the same explosiveness to it as a Holtz or a Caufield. His playmaking and stickhandling are above average as well, and his skating is strong enough to carry him to higher levels of hockey.
As Howard ages, many of the issues in his game are sure to round out; he shies away from the peripheral game, instead parking himself in high danger areas and adjusting his stance slightly to open up lanes to exploit. A peripheral player is seldom positively impacted by physical development, as their game naturally gravitates away from the aspects in which good bodywork is more important (shoving off defenders, reacting quickly for rebounds/deflections while tied up, keeping your stick active and away from stick lifts, etc.). For Howard, however, physicality will be essential to his role as he faces more capable, more robust defence cores that will continually attempt to gain body leverage in front of the net. Still, when a 16-year-old's physicality is one of his only setbacks, it is a very good sign of things to come.
Player comparison: Reilly Smith, Jaden Schwartz
Fantasy upside: 8.0
NHL certainty: 8.0
3. Rutger McGroarty, C (2022 draft-eligible)
The USNTDP has in McGroarty a player that, in his documented Junior career, had never gone under a point per game until this season, in which he is only one point shy of eight in eight games. Even more impressive, in his U15 AAA season last year with Oakland, McGroarty accumulated a mind-blowing 160 points in 63 games, including 82 goals. Simply put, that is the highest single-season goal tally in U15 AAA history, and the second-highest point tally after USNTDP teammate Cole Spicer (Spicer played on a stacked Honeybaked team, while McGroarty was by far Oakland's best forward). There is a lot to love with Rutger McGroarty, but let's start with his shooting abilities.
As this clip shows, McGroarty's main scoring weapon is his deadly one-timer, which he employs from his favorite spot at the right circle. His hands, however, aren't any less deadly; his passes are crisp and he can stickhandle extremely well, fool goaltenders with shifty backhand-forehand moves, and even scored a Kucherov-style fake on a penalty shot early in the 2019-2020 season.
Rutger McGroarty has been absolutely torching the 15U scene. The Nebraska native has an unstoppable combination of speed, strength, and skill that makes him a menace to opposing teams.

28GP 41G 38A 79TP

McGroarty is a top 5 prospect for the #2022NHLDraft pic.twitter.com/F3S0GCjuE3

— TPEHockey (@TPEHockey) November 1, 2019
McGroarty's ceiling is very high, as he could compete for a top five pick in the 2022 draft. His dynamism, confidence, lethal scoring touch and soft hands should see him continue on his career point-per-game tendency, and he is shaping up to be a great prospect.
Player comparison: Tyler Seguin, Mika Zibanejad
Fantasy upside: 9.0
NHL certainty: 8.0
Honorable mentions: Frank Nazar, Cruz Lucius, Sasha Pastujov, Aidan Hreschuk, Sean Behrens
As we delve deeper into the 2020-2021 USHL season, more names will appear on the radar as players get used to their line mates, systems and environment. See you next month for more USHL players to watch, and stay safe until then!
*******************************
Hadi Kalakeche 
Follow me on Twitter @HadiK_Scouting
LATEST RADIO & DRAFTCASTS