Prospect Ramblings: Sell High or Buy Low on World Junior Stocks
Pat Quinn
2021-01-06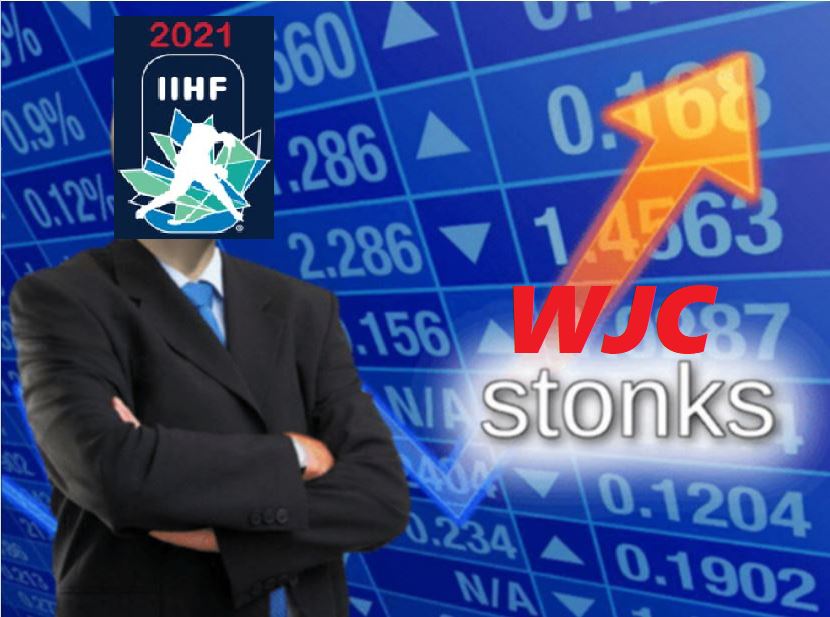 Welcome to the Thursday Prospect Ramblings the day after the World Junior Championship concluded. Who does not love the tournament, such great games. No, some teams should not be cut out, let them represent their countries. I would prefer more countries join in hopes to grow hockey. It would lead to years of blow outs, sure, but countries would work to improve and we could possibly have the best WJC ever with all teams competitive.
For these ramblings I want to channel my inner Jeff Angus and let you know which prospects stock has risen and which has fell. If you added some prospects that took part (serious, always add a few) you could sell them high to other GMs, and if you want a top prospect who produced poorly, now is your chance to grab them.
Here is my #GoodTweet of the week:
*****************
Sell High
Trevor Zegras (ANA)
Why on earth would I put Zegras who just posted 18 points in seven games and dominated the tournament? It is because everyone I have seen is treating him like the next coming of a top five NHL player. If you are in a keeper league and want to rebuild, for sure hold on to him. However, if you are in the middle of the pack, or in the top few, competing and can move him for a top 10-20 NHL player do it ASAP. It is not to say Zegras could not become a top 20-point producer, but always trade the potential production for the actual player who has a track record of the production. Right now, would fantasy GMs get upset if Zegras was traded one-for-one right now for Huberdeau, or Marner, or Point, for example(s)? I doubt it. Hold if you want but his value is through the roof right now.
Dylan Cozens (BUF)
The second leading scorer who is primed to join the Sabres roster is also a sell high. Right now, he does not have a top six spot, and it unknown who he would bump out of the roster currently, but he is being treated like an immediate top six impact player. An overly excited GM should pay you a legit NHL top six player for Cozens, who really has yet to fill out physically and will probably not hit his stride production-wise for a couple seasons.
Anton Lundell (FLA)
Lundell lead Finland to bronze and scored 10 points in seven games. However, he is never moving Barkov out of the 1C role and may not make the NHL for at least a season or two longer, so if you can sell him for help now do it. There is no guarantee he even sees 1PP time in the NHL for at least a couple of seasons once he joins it, so why not get the help now in a top six forward on the 1PP for a team.
John-Jason Peterka (BUF)
The German second-round selection for Buffalo finished tied for third in points and posted an average of two points per game. Right now, he very much looks like an impact NHL player, but he was also selected in the second round, which has a lower likelihood of making the NHL as a first-round selection. How much of this production was tied to being on a like with Stutzle and getting over 20 minutes a night? You could risk the potential upside, or move him for a more legit NHL prospect (with higher upside and potential to make it) or a top six NHL player.
Tim Stützle (OTT)
Named the best forward of the WJC tournament, Stutzle looks a lock for the Ottawa roster. That roster is not a very good roster though, so what type of production would you expect. He is not as hyped up as Zegras is right now due to Germany being eliminated a couple games earlier. Every fantasy GM seems to be treating Stutzle as a top line and 1PP player, but will he be there. This is a tough sell high for me because he should be given tons of time in Ottawa with no one really blocking him (Anaheim has more vets in Zegras' way), but they will also not be a great team. If you can get a top 20-25-point producer for Stutzle do it but he is not the worst to hold on to considering Ottawa wants him to be the main guy.
Topi Niemelä (TOR)
Named the best defenseman of the WJC tournament, the third-round selection is still a third-round selection. He is also on a deep Leafs team that will give him all the time he needs to develop, so when will he even get a roster chance? The Leafs still have yet to give Sandin and Liljegren a legit shot on the roster. If you can find a GM willing to give up a player who will give you points over the three to five years it will take Niemela to even make the Leafs roster full time do it. Do it now.
Elmer Söderblom (DET)
Hyped up every game Sweden played you should be able to move this hulking player. He looked great on the 1PP for Sweden, and looked good when he was imposing his size on the smaller opposition. Yet there were also times when he acted more like a 5-8 finesse player instead of a player who can move anyone he wants. He has a lot to learn to make the NHL. Soderblom was also a sixth-round selection and has a low probability to make the NHL in the first place, so if you can get a top nine player for him then move him before everyone forgets about him.
Devon Levi (FLA)
A stand out for a high-powered Canada team won the best goaltender of the tournament. He looked great every game. Do not forget though: he is a goalie, was drafted in the seventh-round selection, is not the golden boy in the organization, and has a way to go before getting a shot in the NHL. If you can move him for a goalie who is much closer to getting an NHL shot, a legit forward or defense prospect, or a top-nine NHLer, then trade him.
Buy Low
Alexander Holtz (NJ)
You could almost put every Swedish player here after the World Juniors. Holtz is the one that needed to be first on my list of buy low after just three points in five game. He could not buy a goal, ever, unless he was behind the net on a random shot. Thankfully, defensive play is not needed to be talked about for fantasy purposes so I can skip that criticism. He led Sweden in shots with 26, so he was incredibly snake-bitten. If you can find a frustrated GM to pry away this soon to be top goal-scoring NHLer do it.
Quinton Byfield (LA)
Byfield has been criticized non-stop for his lack of production the past two world juniors. Last years was not deserved, but this year he deserves some. Usually, it is impossibly to pry the #2 selection away from any fantasy GM, but people who rely on the WJC as 90% of prospect evaluation would likely consider moving him, especially when he had six points in one game, and one point in the remaining six games. I would try to get him now, though there may also be a great shot to get him if he does not make the Kings' squad in a week.
Rodion Amirov (TOR)
Six points in seven games are good, and he was the top scoring Russian in the tournament, but no Russian player really took any game over. People will only remember the final two losses. Amirov is a worthwhile prospect to own, especially as he is already playing regular minutes in the KHL and will have a spot next to Matthews or Tavares when he reaches the NHL. Now may be the best time to acquire him.
Vasili Podkolzin (VAN)
You will not get him from a Canucks fan, let us just get that out of the way. I do not know what it is but Podkolzin looks so good on the ice, and has great metrics for his play, but points avoid him like Eugene Melnyk avoids contracts with salaries above the cap hit. Aside from his three points in one game, he only had one point in the other six games. A panicking GM could move him for a lesser prospect.
Lucas Raymond (DET)
Five points in five games is great, but the #4 overall selection did not take over any game for Sweden. He stood out at times and could also not stop the collapses Sweden had. A smart GM will not move him but a GM that could panic because he did not dominate could move him. It is probably a stretch at you could buy low, but right now is the time to ask.
**********************
Thanks for reading, follow my twitter: @FHPQuinn
LATEST RADIO & DRAFTCASTS